The Michigan Online Global programs are a "no brainer", with "return on investment (ROI), almost immediate" declares Head Honcho, Dave Yancho, Vice President and co-owner of Armor Protective Packaging (ARMOR). Dave is a forceful advocate for three reasons: 1) his international customers, 2) the immediate financial ROI and 3) the ease of working with IBT Online.

Today, ARMOR has best practice, optimally localized business development websites working hard 24/7 in Canada, Mexico, China and India, with Japan and Germany on the way!
ARMOR is a global rust prevention and removal company specializing in clean, safe and easy to use vapor corrosion inhibitor packaging. As Dave says "That's a heck of a mouthful so what's it mean? We take safe rust prevention chemistry and infuse it into packaging materials. No need for oils or nasty chemicals!" ARMOR has been nominated a Michigan Crains' Cool Place to Work, the last three years (finishing #7 in the state in 2018), INC Magazine's National Best Workplaces for 2018 & 2019 and Michigan's Most Engaged Workplace for 2019 by Michigan Celebrates Association. ARMOR provides the industry's cleanest, easiest, safest and most effective corrosion management systems for metal products. ARMOR's full line of VCI packaging products, desiccants and its rust removal and prevention liquids are designed to protect metals before, during and after transport or storage.
During the COVID19 crisis and beyond, Dave and his team at ARMOR don their Brooks Brother's suits (figuratively speaking!) to make international sales calls 24/7 and 365 days a year!

To grow ARMOR's business, nothing is more important to Dave than his 100's of faithful customers, and that includes his fast growing number of international customers. ARMOR provides rust preventative packaging materials and liquids to more than 90% of the Fortune 500 industrial companies, Original Equipment Manufacturers (OEM's), Tier 1, 2 and 3 metal manufacturers, across all the major industrial sectors including aerospace, automotive, construction, and agriculture, and that, around the globe.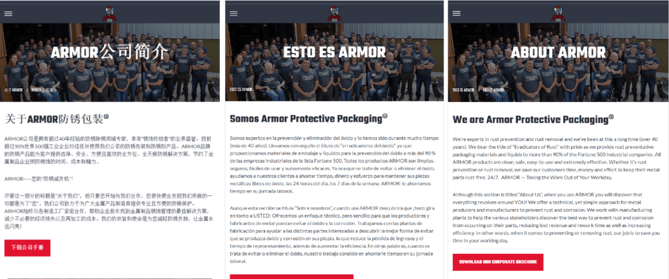 Recently, home-based-and-working, Dave invited the audience during a webinar on "Michigan Online Global programs and grants, business development websites to help grow your sales, brand and business in a COVID-19 age" to guess whether he was wearing "pajamas, a robe or a Brooks Brother suit".FYI we never found out! But, Dave went on to instruct the C-Suite, business leaders, directors and managers audience to:
"put that Brooks Brother suit out there on the internet, it is so important, as your international customers can't see your location, your HQ, your buildings, your company…, so the online presence becomes even more important."
As a personal mission, Dave seeks to "
Delight the Customer!",
and the
#1 communication route ARMOR has today is multiple localized websites
, communicating directly with Dave's clients in their own language: Chinese, Spanish, Japanese and German…, making ARMOR easy to understand, do business with, and so delight clients.
The cost of ARMOR's six best practice, optimally localized business development websites is $36,000, but Michigan grants helped reduce that by 66%! If your focus is ROI, read on as this the "immediate ROI" and financial "no brainer" paragraph. Back in 2018, ARMOR decided to grow their international client base in Canada and Mexico and therefore chose localized websites as a key tool for these markets. It was the right choice, so in 2019, China and India localized websites were added, followed by Japan and Germany in 2020. The cost has been $12,000 every year. However, throughout this time, Dave worked with the MEDC, notably helped by Jake Schroeder, the MEDC Intl Trade Manager, and lead manager for Canada, to ensure access to, and approval for state grants. these amounted up to $15,000 annually from the MEDC for approved, export-related activities, including up to $6,000 total in website localization projects, and up to $6,000 total in design of marketing media. Further to this, and thanks to excellent MEDC grants management, Michigan companies can benefit from the U.S. Small Business Administration (SBA) State Trade and Export Promotion (STEP) Grant Program, which provides grants to States to carry out export programs that assist eligible small business concerns.
Over the past 3 years, the ARMOR Online Global Teamwork Projects, have been organized in a structured, chronological series of tasks allowing Dave and his team, notably Marketing Assistant Kelsey Tokan, to always have a clear picture of how the projects are progressing. All information and communications are recorded in one place, making working collaboratively easy and seamless. IBT Online does the heavy lifting, enabling the ARMOR team to focus on their clients. Online Global programs are by definition technical, complicated, time consuming, resource demanding, requiring subject matter experts, as well as our team of international digital natives, and a collaborative effort with our clients. Over the past 18 years, IBT Online has successfully delivered 100's of Online Global projects, in >40 countries, and >20 languages. A part of our secret source is our Online Global Teamwork Projects (Teamwork) which provides the perfect project management platform for an organized, transparent and effective collaboration. Dave shared that the IBT Online tech team made the projects "extremely easy, the back and forth was flawless, and I can't say enough how great they were".