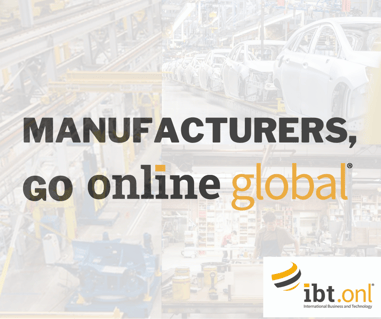 Never before has your website served a more significant role in sales and business development. To stay competitive in today's online marketplace, manufacturers must have a digital strategy to be found, be understood, and easy to business in their international target markets.
Beth Bauer of Michigan-based manufacturer Fullerton Tool Company says having localized websites to reach your target markets is "just a smart business decision." Fullerton Tool Company is one of many US manufacturers that have partnered with IBT Online to launch international websites to reach their target customers around the world.
Since 2002, we have been helping US manufacturers grow their exports, sales, brands, and business online and globally. Our Online Global Programs help manufacturers create an online presence in their target markets, in the form of a localized, best-practice website and enhance their reach and grow sales through digital marketing strategies in overseas markets worldwide.
Whether you are in the B2B, B2C, or even B2G space, your website is the most powerful tool for building trust and brand awareness in your target markets and therefore growing your export sales pipeline. Here are three reasons why your manufacturing operation would benefit and grow from an international, localized business development website in each of your target markets.
1. Support Distributors and Grow Sales
In the manufacturing industry, it is common to have an international distributor network that represents and showcases your products in specific markets. This is the traditional route most manufacturers take to increase export sales. However, this strategy will only get you so far.
Jonathan Szucs, the President and Founder of Advanced Superabrasives in Mars Hill, North Carolina, was eager to grow sales in Canada and Mexico. Yet, his distributors weren't getting traction in these markets. "Our representatives were struggling to find new customers and new opportunities" he admits.Szucs realized that they needed to enhance their online presence in these markets and help their distributors showcase their products. They hired IBT Online to build two new localized websites for them, one in each market.
"Within weeks of going live, our new websites in Mexico and Canada started generating over ten requests for quotes per week!" says Szucs. Their localized websites, supported by targeted online marketing strategies, became a lead generation machine for their manufacturing operation.
2. Grow your brand awareness by being found, understood, and becoming easier to do business with
A recognizable digital presence will differentiate your brand from your competitors. CHRON says, "Branding is key for the long-term success of manufacturers because it impacts both trade buyers and the consumer market."
David Yancho, owner of Armor Protective Packaging, in Howell Michigan, knows the importance of brand recognition for manufacturing success. The company has devoted 40 years to building its brand and establishing a global customer base. Given their global customer base, Yancho recognized the need to create digital footprints in their key markets in order to enhance their brand's credibility and recognition in the eyes of their customers. They partnered with IBT Online to launch localized websites in Germany, Mexico, Canada, China, and India that mirror their US website and branding.
The new websites are optimized in each local language, using local currency and keywords, on local servers so that customers overseas will find, recognize and become champions of their brand; "I'm happy with how the new websites reflect the consistency of our brand." says Yancho.
Having multiple, localized websites that are adapted and tailored to the market whilst also remaining consistent with your brand is essential for growing your brand awareness. In fact, having an online presence allows your reach to be limitless. It is a highly cost-effective way of growing brand awareness in a market and the first step in having a global reach as a company.
However, building a brand and increasing awareness is not an overnight task -- it is a long-term goal that requires an investment of time and resources and for this business strategy to be truly successful you need to help from experts with a global perspective help guide you, and that's where IBT Online comes in to play.
"I could not be happier with the service from IBT Online" says Yancho. "Everyone is easy to work with, and it made my job easier and for my team."
At IBT Online, we specialize in developing customized online marketing strategies to ensure your company is found, understood, and thrives in all your target markets.
An online marketing strategy that supports a localized website in a foreign market provides the best solution for manufacturers wishing to grow their traffic, engagement, and conversions by reaching a much wider audience. This is necessary for an online presence in a foreign market that will continue to generate leads and connect you with new customers for years to come.
For Advanced Superabrasives Inc (ASI), IBT Online designed and implemented online marketing strategies that include a strong and prolific social media presence, which includes being active on "different platforms like Facebook, LinkedIn, WhatsApp, Google Ads, and so many more applications" says Szucs. The aim of this strategy is to widen ASI's reach and boost brand awareness in their target markets, thus allowing them to connect with more customers and generate more leads.
For ASI the localized websites and online marketing strategies were a great success, and as Szucs says; "the results speak for themselves!"
3. Establish Credibility and Earn Trust with your Prospective Clients
First impressions are critical, especially online. You can lose trust in a matter of seconds. That's why Armor Protective Packaging decided to launch customized websites for each of its target audiences. Their packaging solutions are complex. Their customers are engineers who need to analyze details to see if it's the right fit for them. If the language translation is wrong, or product measurements aren't in the local units, they lose credibility -- and therefore sales.
Yancho says, "When an engineer in China, India or Germany finds our website, they see the same as they would in the US, except it's in their language."
When you have a localized website that's optimized for your prospective clients it immediately lends credibility to your brand as they can better understand you, relate to you, and engage with you. This helps your brand earn customer trust and therefore yields a successful buyer's journey through your organization's sales cycle.
Beth Bauer, of Michigan-based manufacturer Fullerton Tool Company, leveraged IBT Online's services to launch two new localized websites. These two new websites helped Fullerton Tool Company overcome the challenges of penetrating foreign markets by demonstrating a commitment to the market and a commitment to serving the prospective clients with an online presence that is familiar, easy, and adapted to them. As Bauer explains; "The Online Global program has helped us reach Spanish and French-speaking customers, helped our brand become more accessible in these markets and improve our overall market share."
Having a localized online presence helps to establish your brand's commitment to the market which prospective clients appreciate and respond to; "It is very important that international markets can find information on our companies locally, in the languages that they speak" says Bauer. This builds trust with international prospects and establishes a good relationship right from the beginning.
Fullerton's new localized websites are built with a customer-centric approach that keeps the prospect at the center of focus and is tailored to the market that the customer is in. Having an online presence and a marketing strategy that is tailored both to the client and to the specific market means that your presence is geared towards how those prospective clients are searching and behaving online. Depending on your target audience, you can offer the consumer a wealth of options to engage with your content and learn more about your products and services. Down the line, this strategy leads to a much richer level of interaction from your prospect and therefore a more engaged and dedicated consumer who wishes to return to your brand. As Bauer says: "I think website localization is crucial in this day and age when we conduct the majority of our business online and I think it's just a smart business decision to ensure that you have globalized websites that reach all of your markets internationally."
How to Get Started?
People around the world are searching online for your products. Without an online presence that is fit-for-purpose, you're missing out on online opportunities every day. It's time to launch localized, optimized websites to capture web traffic in all of your international target markets.
The Online Global Program offers manufacturers the complete package; from strategic planning to website (re)design and content localization, website management, and online marketing programs designed to help you grow your manufacturing and exporting successes online, globally.