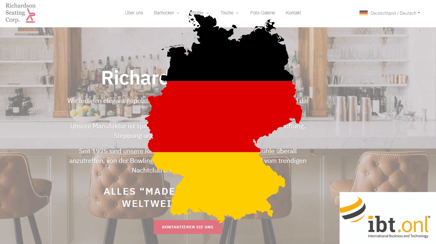 Germany is a real powerhouse in Europe and a long-term strong import/export partner for the US. But why, we hear you ask, is your brand awareness and reach in the market is so hard to establish from the US?
The answer is simple - in order to succeed you will need an online presence that is optimized for the German audience, which means a localized German website, a .de, and a dedicated German marketing strategy.
Why do you need a localized .de website?
Germany is a major economy as a producer, importer, exporter, manufacturer etc. it's got it all. In fact, Germany has the largest population in Europe, with 83 million people, and the fourth largest GDP in the world. It is a real powerhouse in Europe and thanks to its unique position nestled between Austria, Belgium, and Switzerland, its reach is widened. Its neighboring countries hold German-speaking regions, so one German website has the expanded reach of up to 100 million people.
Germany is also a highly connected and mature market; they have one of the highest internet penetration rates in the world, and a total of 78 million internet users in Germany, this means that 94% of the population is online. The German population is active online and internet savvy, which means your customers, prospects and partners are all online in Germany.
This tells you that Germany is a highly attractive but also competitive market. Thanks to their rich and diverse market, German consumers want to search and buy in German – they don't need to settle for less. This means that in order to stand out, you need to have a localized German website!
Having a German website to act as your localized springboard in Europe's German-speaking regions is vital for establishing credibility to your brand and business in this market. The credibility and trustworthiness of your website is an extremely important factor for its success as it impacts your viewers' purchasing decisions. The value placed on trustworthiness and credibility speaks to why Germany leads the way in Europe in terms of digital compliance. Not being GDPR compliant and having no localized presence will be off-putting to the German viewers, making them likely to purchase elsewhere. The good news is, once your website is hosted locally – with a relevant domain name and is GDPR certified, your German customers and clients will appreciate and respond accordingly!
Once the technical elements are established, we move on to creating great content for the German audience!
Optimally localized websites are the key to growing your exports, sales, brand, and business in foreign markets. This is true especially for Germany because of how Germans engage with online content.
Most Germans are well versed in English, but when searching online and researching their best business partner or next purchase, they would rather do so in German. So, you must ensure your website content is not only localized to enable the pages to index on Google.de and be found but also include relevant, German references that will make it feel local to your reader, engaging with them and building trust.
Consistent with their style, German websites can be quite formal, aesthetically simple, and rich in quality content. In terms of content for your website, don't just rely on text, it is important to support your German website with a rich amount of diversified content in the form of blogs, videos, infographics etc. all of which will lend further credibility and trust to your brand and business.
The German consumer engages with online content in an active and deliberate way, so when consumers do engage with you online, you can be sure that it is considered high-quality engagement.
Germans will spend time reading reviews, double-checking information, and scrolling through your website resources. A vital way to ensure all your German viewer's questions and apprehensions are addressed as well as adding further credibility to your business is to support your website with a strong social media presence.
This is where your localized online marketing strategy comes into play!
Did you know that Google is also localized? For your German users, Google.de is the obvious choice, so your first objective to ensure a successful international marketing strategy is to ensure you have the right keywords and have used them correctly to optimize your localized website for local search engines.
Google Germany will prioritize German websites that respond best to the German-prospects searches. This is why if you are trying to reach new prospects in Germany you need to make sure your website is optimized for Germany's preferred search engines and ranks highly in people's searches. Your new website should be designed with the German customer's preferences in mind, using their keywords and phrases and their preferred platforms.
Next on the list is your social media presence.
To grow your reach and drive traffic back to your website you need to be present and active on Germany's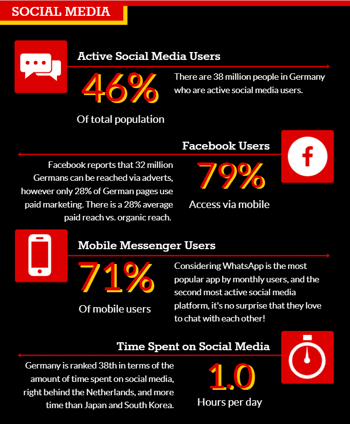 preferred social media channels, notably Facebook and Instagram.
True to form; Germans use social media platforms as alternatives to search engines; to find the right product and services and learn more about who they are buying from.
And Facebook is no exception. With 30 million Germans active on Facebook this is a great opportunity to enhance your brand's credibility whilst promoting your services or products. Your German prospects will be checking your company's Facebook profile as a way to verify your authority and credibility in the market space. Finally, since the German prospect is an engaged online consumer remember to focus on the quality of your messaging - not just the quantity of your posts – don't hesitate to add more information and context where possible and always respond to inquiries promptly.
Instagram is not a platform to be overlooked when seeking to grow in the German market. In fact, 45% of the German population are active Instagram users, thus adding 37 million users to your potential reach. Instagram also has the highest engagement rate of all social media platforms in Germany, creating an opportunity to connect, communicate and follow any of your prospects and partners in an immediate and responsive manner.
For Germans, Instagram is not just a platform for brand imagery and advertising, rather it is linked to purchasing decisions and can be a valuable platform to reinforce trust and credibility for your brand. So don't shy away from long posts and additional context.
A rewarding and leading market within Europe
Germans value honesty, transparency as well as efficiency, and these values are reflected in their online environment. Therefore, for your website to be successful and for you to grow your brand and business in this market you can't expect to skip any steps or cut any corners. You need to make sure your website is fully GDPR compliant, that you have strong, diversified content on your German site, and that you support your online presence with social media platforms that remain consistent with your brand.
Although it may seem daunting to begin with, the Germans are deliberate and engaged when searching online for their next products or services and will appreciate your site all the more thanks to your established credibility.
With a pro-technology culture, the second largest ecommerce market in Europe, and playing a decisive role in European decision-making, Germany continues to be a great opportunity as your next target export market. At IBT Online we can support your journey by helping you establish a localized German website and international online marketing strategy so that you can be found, understood, and easy to do business with, in this rewarding market.