Check out how Supercritical Fluid Technologies Revamped their Site and have seen Immediate Uptick in Web Traffic
We live in an online world. More and more business transactions are taking place online than ever before. Many internet users rely on Google or other leading search engines to help them find what they are looking for online.
Supercritical Fluid Technologies decided to focus on optimizing their website for their global audience so that more potential clients can find them overseas. This proved to be a savvy export strategy in 2020 when international business travel was not safe, and many international trade shows were canceled due to COVID-19.
Located in Newark, Delaware, Supercritical Fluid Technologies (SFT), has been a worldwide industry leader in supercritical fluid extraction and high-pressure chemistry for more than 26 years. They sell analytical equipment, extractors and reactors, laboratory services, and even perform contract research. Their products and services are highly technical and can be challenging to explain to those outside the industry. Yet, there are still chemists worldwide who turn to the internet to find solutions that SFT offers.
About 50 percent of SFT's business comes from exports. They work with distributors in foreign countries to help represent their products. Typically, the company participates in two to three international trade shows every year. With COVID-19 preventing international travel in 2020, they decided to invest in their website to reach more people around the world.
"Anything we can do to expand into new markets and grow our export sales is helpful," says Krewson.
Export Delaware introduced SFT to IBT Online, a firm that specializes in global website optimization for exporters. SFT signed an agreement with them and focused their efforts on two markets: Italy and Latin America. SFT had distributors in these nations, and they wanted their website to support them better.
"The world is changing how it does business. With the pandemic, we needed to try some other things."
– Ken Krewson, VP of Sales & Marketing
Websites: A Valuable Tool for Exporters
"If you were setting up a retail store, you certainly wouldn't open without a sign. These days your storefront sign is your website," said Krewson.
The world is online, and a website is a critical branding tool for every company. "This is the direction the world is going. People are online more, and you want your website to be found first," says Heather Cloud, SFT's Global Sales Manager and Logistics Director.
SFT had a great website, but they wanted to increase their site's effectiveness in different countries. They chose to partner with IBT Online to optimize their website and perform localization services. This type of investment is an eligible expense in the STEP program, so 50% of the project was funded by the SBA STEP grant administered by Export Delaware.
SFT chose to focus on Italy because it serves as an entry point to the European Union, and they have good relationships with their current distributors there. Now their distributors have a better tool to represent them there, and they are equipped to do a better job.
They chose Latin America because many of the nations there are hard to reach. There was a need to equip their representatives and distributors to understand their products and services better.
"We looked for our strengths. We have strong distributors in these nations, so these efforts build on what we already have. It was not random. Our product can be complicated; the more we can support our distributors, the more we can succeed."
– Ken Krewson
Delaware Online Global Initiative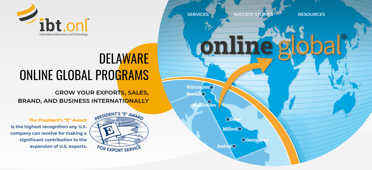 Export Delaware launched the Delaware Online Global Initiative with IBT Online in Spring 2020. The goal of the initiative was to help Delaware small business optimize their websites for the global audience to help increase exports. At the time, the COVID-19 pandemic caused the cancellation of many trade shows and prevented international travel. Delaware small businesses needed new strategies to reach customers around the world.
Export Delaware choose to partner with IBT online because of the company's reputation. In 2020, IBT Online received the President's "E" Award, which is the highest recognition any US company can receive for making a significant contribution to the expansion of US exports. They have expertise in digital marketing and website development and have helped many US exporters expand their reach overseas.
SFT learned about the importance of website globalization from a webinar Export Delaware hosted with IBT Online. After the webinar, Export Delaware coordinated with SFT and IBT online to formally launch SFT's project.
The process of revamping their website was multi-step. First, IBT Online worked on translating SFT's website content for each local audience. Then, SFT had their distributors review the content to ensure accuracy. Next, IBT built online platforms in both markets. Now SFT has fully localized, optimized, and functioning websites that serve their Latin American and Italian distributors and generate leads in these nations.
"Our goal was to increase our presence. We should have been doing this before, but the pandemic motivated us to get it done."
– Heather Cloud
Immediate Uptick in Website Traffic
Their new optimized website will help SFT generate leads, create awareness of their products and services, and provide after-sale support. Even though SFT is not an e-commerce business, its website serves as a tool throughout the customer acquisition process. Having the site optimized for these foreign markets will drive up export sales.
"We've already seen an uptick in website traffic in these nations. Undoubtedly this will lead to new clients and export business in the future." – Ken Krewson
Resources
As previously published for Export Delaware: https://export.delaware.gov/2021/01/28/getting-found-online-by-international-customers-on-the-world-wide-web/