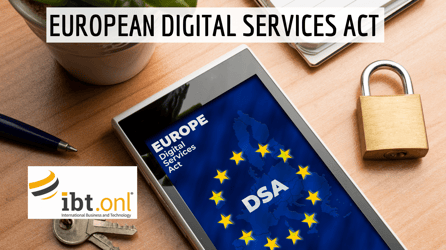 The European Union put forward the Digital Services Act with the goal of creating a safer and more open digital space. This Act includes a concerted effort from EU leaders to crack down on "Big Tech" platforms like Google, Meta (Facebook), and Twitter and encourage accountability. The Digital Services Act was announced right after the Digital Markets Act.
These two acts should not be confused – as they each have very different implications for those who operate businesses online, nonetheless both Acts work in synchrony to encourage safety and further accountability to online services and providers.
Here's what you need to know about the Digital Services Act and how it will affect your business activities in Europe. IBT Online has launched the Online Global Programs to best position your business within this new landscape and optimized their programs to ensure the long-term growth of your exports, sales, brand, and business in Europe. Check out the Online Global Programs here!
Why Do We Need New Rules?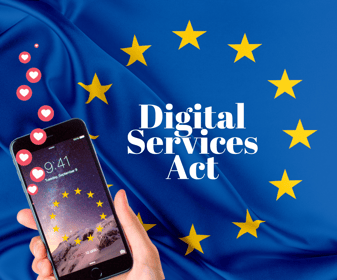 Online platforms and services have boosted new habits of communicating, shopping, learning, and accessing information. The rapid and widespread adoption of digital solutions has also facilitated greater and more efficient cross-border trading within the EU as well as internationally. Although the benefits are undeniable, this landscape has also created a situation whereby certain players now exercise their power within online eco-systems. These players have become known as 'gatekeepers' in the digital market space, which can result in unfair market conditions for smaller businesses.
The EU recognizes this shift and asserts that "Europe requires a modern legal framework that ensures the safety of users online, establishes governance with the protection of fundamental rights at its forefront, and maintains fair and open online platform environment".
Accountability Lies with Big Tech!
The new regulations enacted by the Digital Services Act intend to "help create a safe and accountable online environment" says Margrethe Vestager, the EU's Commissioner for Competition. This legislation along with the Digital Markets Act form a set of principles and rules that will be applicable across the EU to create a safer and more open digital space. As laid out by the European Commission the objectives include:
to create a safer digital space in which the fundamental rights of all users of digital services are protected;

to establish a level playing field to foster innovation, growth, and competitiveness, both in the European Single Market and globally.
In line with these objectives, the EU is placing more responsibility and accountability on the shoulders of online platforms, search engines and service providers – ensuring it is their job to make the internet a safer place for users. According to the Financial Times, if these companies fail to comply they will be subject to fines (up to 6% of annual global revenue) and could even be banned from operating in the EU.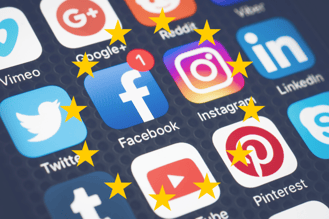 The Digital Services Act will place further responsibility on the following players:
Google and other search engines

Service providers such as caching, hosting, and networking infrastructure

Online platforms such as app stores, online marketplaces, and social media platforms

Very large platforms with 45 million active monthly users in the EU
User Safety at the Forefront
To make the internet safer, the EU has outlined several regulations and bans. In line with these, online platforms will now be required to be much more transparent on how they operate. Here are a few of the highlights:
Connecting to EU Customers via Your Online Global Program
So how will the Digital Services Act impact your European website and online marketing campaigns? It will affect the website host your site is built on, the social media platforms you use to promote your brand, and the search engines you use to lead customers to your content. In summary, your strategy will likely need to change.
The Act will greatly affect the online platforms we depend upon, notably Google, Facebook, Wordpress, Shopify, as players respond and adapt to the regulations. Overall, the responsibility to adhere to the Digital Services Act lies on the online platform and service providers. They will make company-wide policies that will be pushed out onto your website and social media platforms. You can expect more user guidelines, more transparency, and hopefully terms and conditions that are easier to understand.
IBT Online continues to research, update and optimize the Online Global programs, to ensure your digital footprint and marketing strategy are law compliant, fully operational, and optimized to thrive in European markets!