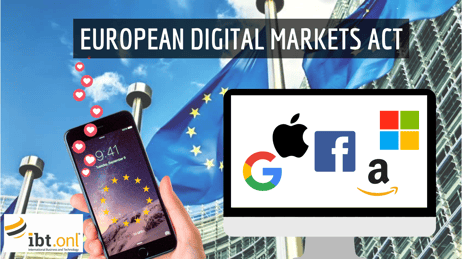 In late March 2022, the European Parliament and EU member states reached what media outlets are dubbing a "historic deal" – the Digital Markets Act. EU leaders see this as their most significant overhaul of the digital marketplace in 20 years.
The Act has not reached full approval yet, but when the EU sets up digital regulations, you can expect a ripple effect around the world – just like when the General Data Protection Regulation (GDPR) policies were enacted.
Here's what you need to know about the Digital Markets Act, how it will affect your business activities in Europe, and how you can leverage the Online Global programs to thrive in the European market.
The Act aims to allow smaller companies and organizations a better chance at capturing the market, decentralizing the largest players and empowering the consumer with more flexibility to make choices. Within this updated marketplace, it is crucial that exporters growing and selling in Europe are compliant and informed as to the latest regulations in order to capture the opportunities for innovation and growth. IBT Online has launched the Online Global Programs to best position your business within this new landscape and optimized their programs to ensure the long-term growth of your exports, sales, brand, and business in Europe. Check out the Online Global Programs here!
How The Act WILL Hold Big Tech Liable
The Digital Markets Act targets large tech companies, or what the EU calls "Gatekeepers". These are companies such as Google, Amazon, Meta (Facebook), Apple, and Microsoft.
According to the Act, responsible companies must now meet the following criteria:
Companies that have a market capitalization of at least 83 billion USD, or annual revenues within the EU of at least 7.5 billion Euros in the past three years

The service provided is one core online "platform" such as a social network or web browser

The platform has 45 million monthly users or 10,000 business users in the EU
According to

CNBC

, the motive of EU leaders is "curbing dominance" of these tech giants to allow the opportunity for smaller companies to take more market share. Violators of the new rules will face fines of up to 10% of annual revenue. To a degree, the Act will provide benefits to consumers, including better privacy,

although

that is not the

main focus

of these new regulations.



How The Act Will Affect Consumers
The Act will force qualifying tech companies to provide more options to consumers over what apps they can use on their smartphones. Instead of using Apple's Safari web browser, consumers will have the choice to download and use alternative browsers to increase their privacy. For example, they could use DuckDuckGo, a search engine that blocks data tracking. Of course, Apple already allows this, but when the Digital Markets Act goes into place, it will legally force Apple and the other tech giants to continue to provide this option to consumers.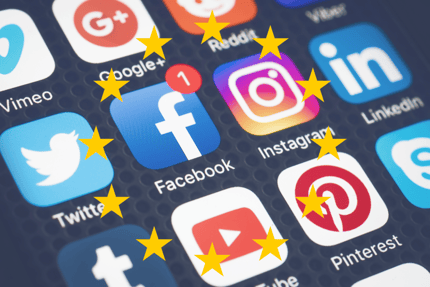 One of the biggest changes the Act will bring is the "interoperability" of messaging apps. The EU doesn't want any messenger app users to be siloed. Instead, users should be able to communicate across messenger platforms to connect with their contacts.
For example, a WhatsApp message could be received, read, and responded to on Apple iMessenger or Facebook Messenger.
For the privacy-conscious consumer, this will allow them to use their preferred encrypted messaging apps, such as Element, and correspond to friends via text message who aren't using the same app.
Specific Benefits to Consumers:
Consumers will have the option to download and use their preferred email and messaging apps on their smartphones

Consumers will have the opportunity to download and use their preferred search engine on their smartphones

Consumers will be able to download and use apps outside of their app store

Users will have the legal right to uninstall applications

Messaging services will be forced to interact with alternative apps
Leveraging The Online Global Programs to Access the European markets
The Act will undoubtedly affect all aspects of your business and exporting activities in Europe, whether online or physical. It is necessary therefore to be aware and aligned with the latest regulations in order to shape your future business strategies to ensure continued business growth.
The Act will place a larger emphasis on consumer choice, and this will consumer behavior. What percentage of consumers will go out of their way to download and use other applications on their devices? The Act will likely affect where you connect with your customers, such as search engines and social media platforms. Perhaps these new regulations could bring Google Search Engine off its high pedestal as the most popular search engine, which would require adapting your current SEO strategy. In addition, some ecommerce platforms may qualify for the new regulations, such as Shopify and Alibaba.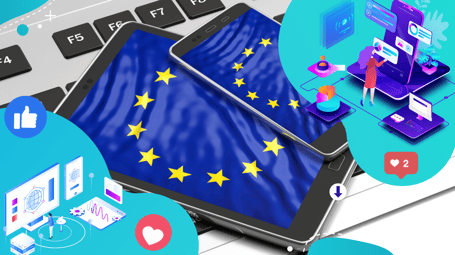 The Act will also seek to remove impediments and 'overregulation' that often hinder the successes of smaller businesses.
According to the European Parliament: "small businesses will get more access to business-relevant data and the online advertising market will become fairer." If well leveraged, it is possible that smaller businesses could benefit from the obligations imposed upon the 'gatekeeps' to refrain from them offering preferential placement of their own services or products over smaller providers.
The most important aspect that business owners need to understand is that what happens in the EU affects the whole world. When the GDPR policies rolled out in Europe a few years ago, everyone worldwide had to enact the proper website modifications to ensure compliance. You can anticipate that the Digital Markets Act will have the same effect.
To be law compliant, fully operational and optimized to thrive in European markets, IBT Online continues to research, update and optimize the Online Global programs, ensuring that your business is leveraging the most up-to-date strategies and advantages within this changing landscape.
The Online Global Programs are designed to help your prospects understand your business, relate to you, and engage with you in your target markets within Europe. IBT Online works with your team to create best-practice, optimally localized business development websites as well as strategic marketing campaigns that help your company be found, be understood, and do business in any target market in Europe.