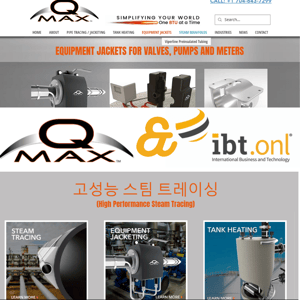 Whether you have an in-house marketing department to help, or you're planning on taking the challenge on yourself, website re-design can be a daunting project…
But with the right partner at your side, designing, launching, and tracking the benefits of your newly designed international websites can be easy!
IBT Online Global Programs have been designed to do just that – provide you with optimally localized business development websites, whilst taking the heavy lifting and all the technical aspects off your desk.

Michelle Fronzaglia, the Sales and Marketing Coordinator of North Carolina-based QMax Industries, was dreading revamping the company website for the Korean and EU markets, and instead, QMax found in IBT Online a reliable professional partner that delivered two best-practice, optimally localized websites ahead of schedule: "Our experience with IBT Online was phenomenal," says Fronzaglia, "I thought it would take a lot of my time. In actuality, they built our websites in a timeframe that was much faster than I expected -- this was a pleasant surprise."
"Honestly, I thought it would take a solid three months and eat up a lot of my time," says Fronzaglia. Little did she know that the IBT Online team specializes in working quickly and efficiently in creating localized websites that generate engagement, growing traffic, and conversions in foreign markets. Read how QMax partnered with IBT Online to enhance their brand awareness and grow their business and sales in South Korea and the European Union in less than three months!
Building Brand Awareness and Trust takes a Local Footprint
QMax is an industrial manufacturing and engineering company headquartered in Charlotte, North Carolina. Previously, they had done some business in South Korea, the Netherlands, Belgium, and other countries in the European Union but were struggling to really expand and grow in these foreign markets.
"We hadn't thought about planting ourselves in those markets other than our agent representation," says Fronzaglia.
They quickly realized how much potential business they were missing by not having localized websites. As Fronzaglia explains: "If a potential client were to Google 'steam tracing' and we only had a US-based website and they were located in South Korea, they might not see us at all!" They decided to partner with IBT Online to fix the issue and reach more potential customers and grow their sales in South Korea and Europe.
"We learned it's really important to have a foothold in those markets," says Fronzaglia, "We could create better brand awareness."
Most companies don't realize that website localization is the first step to expanding brand presence in a new market. It's a critical component to increase awareness and, more importantly, build trust with potential clients. When you have a localized website that's optimized for your prospective clients, they can better understand you, relate to you, and engage with you. The outcome is a successful buyer's journey and increased export sales.
"We thought this would be a wonderful way to have better brand awareness in those markets, and IBT could help us get there and we would have a better online presence!" - Michelle Fronzaglia, QMax.
Many of our IBT Online clients experience a significant increase in brand awareness after their new localized, optimized websites have launched. Website engagement and local website traffic go up. Conversion rates increase as potential customers spend more time on the website and eventually purchase products. Over time, sales grow exponentially as a direct result of the new website!
Low Investment, High Reward for Enhanced Online Presence
QMax received grant funding from the Economic Development Partnership of North Carolina to support the project. "That really helped us make the choice," says Fronzaglia, "and made this a very low-risk endeavor". The grant was able to fund most of the costs of setting up the websites.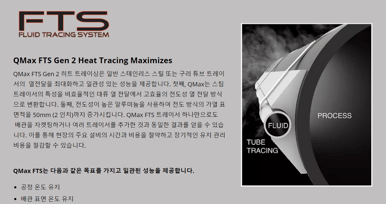 Within three months QMax had two new best-practice, optimally localized business development websites: one for the South Korean market and the other for the European Union. You can check them out here:
At a glance, the EU website may not look very different from QMax's USA website (https://www.qmaxindustries.com/). But there's so much more than meets the eye! The English text was modified to reflect the nuances of the English dialect that is spoken across Europe. Also, specific keywords were added to enhance SEO so that European customers can easily find the website, relate to QMax and understand their product offerings. In addition, the new website includes a .eu domain, which is an essential component of the local "footprint". Without expertise, this can be difficult to obtain for companies located outside of Europe, but IBT Online helped to make this process seamless for QMax. IBT Online did extensive localization, translation and SEO optimizations for the South Korean website as well.
Now QMax has two optimally localized websites to attract potential customers, build trust, and generate sales in these foreign markets! And they were able to do this in less than three months.
But it's not just about the technical expertise - Another benefit of working with IBT Online was the energy and commitment that the IBT team brought to the project and finding in IBT Online a professional partner to rely on in the future as Fronzaglia says:. "It was so easy to work with IBT Online, they had a team of people that built these sites. The IBT Online team always had a positive frame of mind, which generated a lot of excitement for me, which then overflowed into our team in North Carolina."