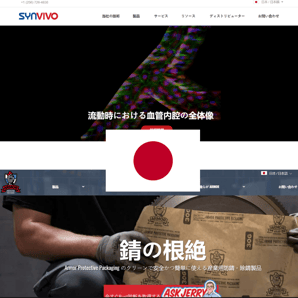 The unique Japanese online environment is difficult to enter but can be extremely rewarding when you are equipped with a localized website and best-practice marketing strategy.
Japan is well known by US Exporters for its large, strong economy – 3rd largest in the world, and a powerhouse for both import and export. But it is also well known for how difficult it can be to enter!
A less known fact perhaps is how plugged in Japan is, with over 92% of their 127 million population using the internet on regular basis.
So what does this mean to you? Your customers, prospects, partners are all online in Japan, and so you should be too!
IBT Online has a proven track record of supporting US Exporters to leverage their #1 business development tool - (no, not your sales team) – your website, to be found, be understood, and become easy to do business with in Japan.
With one of the highest internet penetration rates in the world, Japan is very connected and extremely mobile. To ensure your business can not only be found, but that your content can be easily understood by your prospects, you need a localized website.
Optimally localized websites are the key to growing your exports, sales, brand, and business in foreign markets. This is true especially for Japan because of its unique online environment.
Not only being mindful of their complex language structure, which reflects the Japanese importance for hierarchy in society but considering everything from domain names to design. Two key elements to get right are:
Ensuring your website is hosted locally and has a relevant domain name
Ensuring your content is fully localized and we did not say translated, we mean localized
Developing a localized marketing strategy
Ensuring your website is hosted locally and has a relevant domain name
Japan has a very mature and busy online environment, with very little overseas competition. Taking ecommerce for example, Japan is the 4th largest market in the world. But unlike many other countries where you can find your usual suspects – think Amazon or Alibaba, Japan is dominated by local players, with platforms like Rakuten and Uniqlo leading the way. It's also fair to admit you'll also find Amazon, but the look-and-feel, will be very different to what you're used to!
Most importantly, Japan has one of the lowest cross-border shopping rates of any major country, with only 10% of Japanese consumers shopping from international sites, compared to over 50% in the US.
If you look at the most visited websites – they are all Japanese. Of the top 10, 6 have the .jp domain name and the others are all in Japanese so don't be fooled by google.com.
But how can you be found in such a busy market? The key is to ensure you have a local domain name! Unfortunately, registering a Japanese CountryCode Top-Level Domain (ccTLD, or .jp for you and I!) can be a difficult process and often impossible if you do not have an established and registered presence in Japan. But don't worry, many exporters have successfully settled for a sub-domain that can work just as well in the long term as Google recognizes it as relevant to Japan.
Once the technical elements are resolved, we move onto the most important element, your website content.
Localize your content for your Japanese audience, not for your corporate office
Localizing your website for your Japanese audience means that when talking about website content, it's important to note that for them the written word and the visual elements are just as important.
Most Japanese are well versed with English, but when searching online and researching their best business partner, they will do so in Japanese. So you must ensure your website content is not only localized to enable the pages to index on Google.jp and be found, but also include relevant, Japanese references that will make if feel local to your reader, engaging them and building trust.
As a generalization, the Japanese are fond of their visual cues: think about the pervasiveness of comic-book culture at all levels of society; the obsession for diagrams and scaled-down models shown by the TV networks whenever discussing current affairs. So for Japanese websites, make sure you have good visual cues!
For design, you'll often see several contrasting colours and design elements which are often used within small spaces. The challenge in making great Japanese user experience is that the Japanese favour minimalist design on the one hand, but they also want a lot of information on the website.
While non-Japanese websites look to emphasize user benefits through content that taps into people's desires and motivations, Japanese websites will focus more on the technology that actually makes those benefits possible, so more data, more text, more information. And of course for any website design in today's world, it has to be mobile-enabled, because as mentioned, so many Japanese go online using their phones.
Now that you have your website locally hosted and optimally-localized for the Japanese market you can sit back and relax, right? Sorry, not quite yet!
To make sure your website can work hard for you and help you grow your traffic, engagements, and conversions, you need a strong – and you guessed it, localized – marketing strategy!
For online marketing, you can rely on the usual suspects: Google, Facebook, Twitter, but there are some Japan players like Line and Yahoo! Japan who are rapidly gaining market share.
Twitter is very popular – in fact Japan is Twitter's second largest market, far outpacing Facebook for example. Maybe one reason is that Twitter chimes culturally with the Japanese, redolent of haikus.
One added ingredient to the Japan online environment that is important when you are looking to do marketing is abiding by the online compliance regulations. Japan is one of few countries in Asia to have exchanged joint adequacy findings with the EU and the GDPR. Digital compliance in Japan is important so you need to make sure your websites and marketing are all compliant with standards similar to the EU's.
In conclusion, the Japanese online environment is rather unique and can feel complex from the outside but it can also be incredibly rewarding for your business as Japanese buyers – consumers and businesses – appreciate and respond to websites and marketing that are relevant for them.