Read all about it! In fact, you should watch it. It's official, video has killed the copywriting star, a one minute video has the same value as 1.8 million words. Video is destined to be the #1 medium for both business to consumer (B2C) and business to business (B2B) communications. All industry metrics tell us that companies with brands to develop are investing more in videos and their platforms. Corporate videos of all nature and purpose (presentation, mission, explainer, product, testimonial…) are finding their way onto their own and/or 3rd party websites as well as their social media channels including You Tube, Vimeo, Facebook, Twitter, Instagram, We Chat and, of course, LinkedIn. Video is the evident future powerhouse of content, replacing heavy duty and time consuming text. Roll over the guidelines from the likes of David Ogilvy's "7 Tips for Writing Copy That Sells" and rise up the visual instructions from those at YouTube and Videolicious!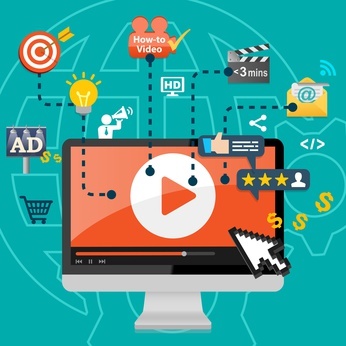 Driving and facilitating this dramatic and rapid shift has been the enabling technologies of video creation including, of course, the ubiquitous smart phone. Behind this stand the burgeoning global online video platform (OVP) market, itself growing at >14% per annum, expected to be valued at $735M by 2019 (source Technavio.com). Those Service as a Software (SaaS) providers now deliver all-in-one management platforms services including hosting, marketing and analytical tools. Disconcerting for those industry players, are the cloud-based, open source and free-of-charge platforms, where 58% now use free video hosting and sharing services, of which the biggest is – you guessed it - YouTube. Finding hard stats from YouTube is surprisingly difficult, but YouTube itself declares they have over a billion users–almost a third of all people on the Internet–and viewers watch hundreds of millions of hours of YouTube videos and generate billions of views every day.
Growth in viewing time on YouTube has accelerated and is up by 50% y/y for 3 years straight.
The number of people watching YouTube each day has increased by 40% y/y since March 2014.
80% of YouTube's views are from outside of the U.S.
YouTube has launched local versions in more than 88 countries.
You can navigate YouTube in a total of 76 different languages (covering 95% of the Internet population).
Now over to the businesses, from entrenched multinationals, via the plethora of mid-cap companies to the smallest "mom and pop" concerns, all can and are deploying video to achieve their brand communications, in their home and international markets, in ways unimaginable in recent years. Amongst the various studies documenting this, is 'Wyzowl' with their "The State of Video Marketing 2016" report. Under Usage & Spending we learn that "61% of businesses told us they currently use video as a marketing tool. Of these, 66% were NOT using video just 12 months ago. 91% of businesses say they plan to increase or maintain their spending on video in 2016. 67% of businesses say they plan to spend more on video in 2016". Further under Distribution & Promotion they state that 45% of businesses who use video say they have an explainer video on their home page. Of these businesses, 83% say their home page explainer video is effective. 47% of businesses who use video use it in their email campaigns. Of these, 80% believe it to be an effective tactic. 87% of businesses who use video say they use it on social media. Of these businesses, 78% say they believe it to be an effective tactic. Thanks to the 2015 B2B Video Content Marketing Survey, conducted by the Web Video Marketing Council (WVMC), ReelSEO and Flimp Media, we know that 63% of companies started using video for marketing in the past 5 years, (so its recent…), 73% indicate that online video is having a positive impact on their marketing (so it works…), 56% indicate that sales results have been positively impacted by using video (yep and it generates sales…). The study concludes "With 96% of survey respondents indicating they are using online video for various marketing and sales applications, it is clear that online video has become an important part of content marketing for B2B companies".

Back to how video killed the copywriter. Dr. James McQuivey of Forrester Research, signed their death warrant when he told us that "a one minute video has the same value as 1.8 million words"! This calculation is made through our ability to retain information from what we watch, hear and feel all generated through video stimulus. It seems no average corporate web site has the same value as a single video. If the average corporate web page has just 60 pages with each one weighing in at 600 words, then we need some 3,000 pages. So we are about 2,940 pages short! Another way to look at this challenge is that a good copywriter can deliver 600 words per hour, so diligently working away for 8 hours a day, crafting 4,800 words per day, that would be just over a year's work to deliver 1.8 million words…..enough to kill most copywriters!