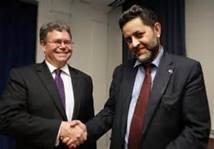 New York, NY hosted, for four days between the 20 to 24 April 2015, the 9th round of U.S. – EU Transatlantic Trade and Investment Partnership (TTIP) negotiations. Traditionally, this respectfully rotated between Brussels, Belgium and Washington DC. What next? Las Vegas, to compete with Mayweather and Pacquiao? Somehow the latter's $300M television rights alone makes the drawing power competition somewhat unequal. Despite, or even perhaps because of the venue change, the US and EU Chief Negotiators, Dan Mullaney and Ignacio Garcia Bercero led their respective negotiating teams fighting strategically, leveraging data and information harvested from previous rounds and covered much needed ground. It must be flagged up that the TTIP rounds concern USD$ Trillions in terms of bi-lateral trade and investment. So relatively speaking Mayweather and Pacquiao are fighting over peanuts. We should all be watching Mullaney and Bercero. They advanced the TTIP agenda including market access, rules and regulations, they held accomplished Stakeholder Forums and a remarkably informative closing briefing. And guess what, you can watch it: https://www.dvidshub.net/video/400543/new-york-foreign-press-center-briefing#.VUSils9FCUk. As ever, US and EU small and medium-sized enterprises (SMEs) were on the TTIP agenda, ensuring continued debate and dissent as to potential benefits or otherwise. A very timely new report on EU SME's and TTIP has just been published by the European Commission. It is a great and useful read.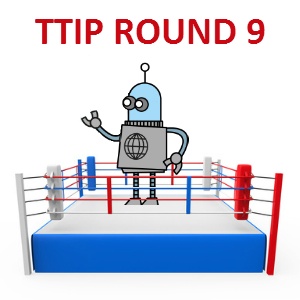 Opponents maintain TTIP is all about big business. However, a survey conducted in 2014 on SME challenges when exporting to the US disagrees. Cecilia Malmström, European Commissioner for Trade said: "Small and medium-sized enterprises are the backbone of the European economy. These companies will channel the benefits of TTIP back to their local communities. That's why the EU and the US are working to deliver an ambitious agreement that meets their concerns. This report helps us do that, by pointing out the concrete obstacles and the problems that we have to solve. This is one of the issues to be discussed when our negotiators are meeting this week." Elżbieta Bieńkowska, Commissioner for Internal Market, Industry, Entrepreneurship and SMEs added: "SMEs stand to benefit most when we reduce non-tariff barriers and cut red tape. We are working on that in the EU Single Market and here we can see why it is so important to do the same thing in the TTIP negotiations." 150,000 EU SMEs exported to the United States in 2012, accounting for 28% of all EU exports there. SMEs in sectors linked to food, beverages & agriculture; clothing, textiles & leather; as well as chemicals had an above-average share of EU exports. The survey highlighted that EU SMEs see challenges in exporting to the US market:
Complying with technical rules and regulations for all goods, which is the most frequently cited issue;
Accessing information about what regulation applies to their product. Close to a third of the respondents were unable to identify the actual source (i.e. the US federal government of US states) of the regulatory issue they face.;
Being legally excluded from the market, as in many parts of public procurement;
Compliance with customs rules, which can become very costly and act as de facto trade barriers;
Differences in regulation between US states;
It is evident that TTIP has and is evolving to address these concerns. Governments, negotiating teams and stakeholders clearly have taken the SME message onboard and intend to deliver. If you want a copy of the report, let me know. And watch this space for more EU/US SME TTIP updates.
Back to the negotiating rounds. The TTIP 10th round will in fact be held in Brussels before the summer, probably in June. Before then we can look forward to a considerable amount of information diffusion and demonstrations of transparency as all sides seek to prepare the politicians on both sides of the Atlantic, who risk losing step, if not left completely behind the rapidly advancing negotiations that could see fruition before the end of the year. I was in Washington DC in April, attending the State International Development Organization's 2015 very useful Forum. TTIP did, of course, rear its inevitable head, and we even had the pleasure of hearing David O'Sullivan, Ambassador/Head of Delegation give us his upbeat take on TTIP and the negotiations. On the more contentious issues of TTIP politics, O'Sullivan observed that if he listened to everything said in Washington and Brussels, little would get done and that to-date, all trade agreements completed had subsequently been ratified. That's a good precedent.
Another question was raised as to how many trade agreements the EU is currently negotiating on behalf of its 28 member countries. Nobody in the Forum was able to answer that, so I dug around and here is the answer, are you ready? The EU has eleven trade negotiations under way and several more trade and development negotiations (EPAs) ongoing, including with the USA, China, Japan, Southeast Asian Nations (ASEAN), Southern Mediterranean, India, Mercosur, Gulf Cooperation Council, African and Caribbean and Pacific countries (ACP). Note that a trade agreement has just been completed with Canada. I certainly have a new respect for Cecilia Malmström and her team at the European Commission Department of Trade as they pursue "an ambitious trade agenda to the benefit of European citizens, SMEs and the broader economy". We see the SME prioritized again, excellent I say, supporting and privileging SME's on both sides of the Atlantic.