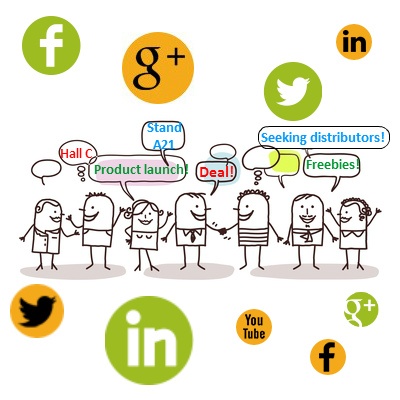 Over 30,000 trade shows each year are managed by thousands of organisers (who employ tens of thousands of people), mobilise millions of exhibitors, entice hundreds of millions of visitors and generate >US$26Bn in revenues.
From a fringe techy activity, social media at trade fairs has exploded and today is an obligation if you wish to achieve successful trade show metrics.
The Association of the German Trade Fair Industry, conducted a survey of 500 companies of which "83% classed trade shows as the 2nd most important tool in the marketing mix, after their corporate web site". And there is the link. Today, trade fairs remain as crucial to business development as ever, despite fears that the internet would replace those vital face to face meetings. But there is now a communications space where corporate online and their trade fair offline communications overlap, (the on and offline colliding), a major part of which is called social media.
What exactly is this burgeoning, much bandied, misunderstood term "social media". Amongst the many good definitions, one that is short and sweet, social media: "is a social instrument of communication". I like it as we get the social - the people - that is, you, me, everyone, up front. The instrument is interesting as it is open to wide interpretation, which justly reflects the thousands of tools currently used and those in development, in which we can work and play. And of course communications: those conversations that we all enjoy and even those less enjoyable ones. A more detailed definition states that social media, "is the collective of online communications channels dedicated to community-based input, interaction, content-sharing and collaboration. Websites and applications dedicated to forums, microblogging, social networking , social bookmarking, social curation, and wikis are among the different types of social media".
Social media means different things to different purveyors and works differently with regards to their respective targeted audiences. A text book case study are the trade shows which have distinct and competing social media voices and ears, including: the organisers, exhibitors, visitors, speakers, sponsors and journalists. This vocal multitude, ensures an element of competition in a closed environment, which can give rise to shouting, and hence an almost impossible social media din. The targeted audiences, crowded with noise in the end cannot hear the messages of the purveyors. Social media at trade fairs is at an interesting point of development. We are at the beginning of the trade fair social media story, a brave new frontier for command of those $Bns in revenues mentioned above.
Today we (the social), are the lucky beneficiaries of >5,000 social media tools (instruments - see below), many of which are built to include services for the divergent interests of trade show organisers, exhibitors and visitors. All start from the same question: "who are your target audiences" and promise to deliver your messages (of communication)! Social media is all about mobile, and no trade show is complete without at least one mobile (sometimes two) device per person, active on social media while walking, talking, meeting, eating and even using the misnamed rest rooms. The big social media platforms including Facebook, LinkedIn, YouTube, Twitter, Instagram, Google+, Pinterest and Slideshare, have won the market share battle and propose solutions for all trade fair stakeholders. There are now many niche social media solutions providers targeting just the organisers, the exhibitors and the visitors.
For the thousands of trade show organisers, social media is all about revenues from and services for their exhibitors, visitors and sponsors. Organiser social media platforms and providers must deliver profiled audience targeting acquisition and retention content strategies through the marketing platforms that then monetize the messages and become sustainable revenue strategies. This is done before, during and crucially, after each trade show. It is a tall order. Translated into metrics, that means an increase in their exhibitor base, driving up visitor attendance and turning their shows into valuable, memorable events for the sponsors. Today organisers must equip themselves with a full scope of services and management teams for each event's specific communities, tactically engaging with their exhibitors and visitors via all the big platforms: Facebook, LinkedIn, YouTube, Twitter, Instagram as well as blogging, listening to and connecting with their audiences, while tying those multiple tactical engagements with their overall strategic marketing and communications plans.
For millions of trade show exhibitors, social media is all about getting more of the right target audiences to their stand, then capturing and creating value from that contact. The social media process starts about three months before the trade show, with a clear strategy and defined gaols, peaks in terms of resource consumption (management time and money) during the show and continues afterwards to deliver the required metrics. The usual suspects are required including: Facebook, LinkedIn, YouTube, Twitter, Instagram as well as blogging. There are many organisations providing useful actionable tactics exhibitors, tips and guidelines for trade show exhibitors. There is one, 24 Social Media Tips For Trade Show Exhibitors, see sources below.
For the hundreds of millions of trade show visitors, social media is all about meeting the right people and that means getting to the right stand and networking effectively. There is an obligation to plan ahead to make the most of these trade fair opportunities, including setting specific goals, setting up appointments in advance (via social media), contacting the trade organisers, especially reviewing online web sites and social media presence. The web site should provide visitors with organizational charts, exhibitor databases, networking events, maps (to download), register and purchase ticket options and other useful information. The larger trade fairs make available apps, where visitors can have access to the entire exhibitor list, with detailed exhibitor information (company and products), the event program, information and useful services for accessing during the fair visit. The best visitor apps are customizable and personalised, including all the big platform social media links Facebook, LinkedIn, YouTube, Twitter, Instagram and blogging. Visitors can now actively engage in "social media" while on the go, with exhibitors and other visitors, while attending events, providing mapping and timetable functions. There are also indoor positioning systems with navigation, driven by social media messaging, while proposing the fastest routes within the halls to selected destinations. Presumably the next step is trade show visitor social media with augmented reality…
Note: Today, there are >5,000 social media media tools. The Conversation Prism below helps to illustrate that social media profusion. It is an interesting visualization of the social media landscape, tracking the dominant and promising social networks and organizes them by how they're used in everyday life, including trade shows. Check out events, discussions and forums, business, social commerce and marketplace!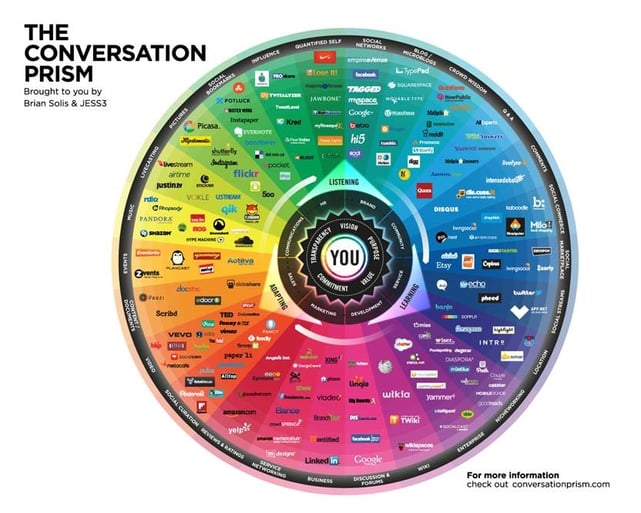 Sources:
https://www.slideshare.net/Nimlok_Exhibits/24-social-media-tips-for-trade-show-exhibitors
http://www.skylinetradeshowtips.com/12-tips-about-social-media-for-trade-shows/
http://exhibitoronline.com/topics/article.asp?ID=1275
http://conversationprism.com