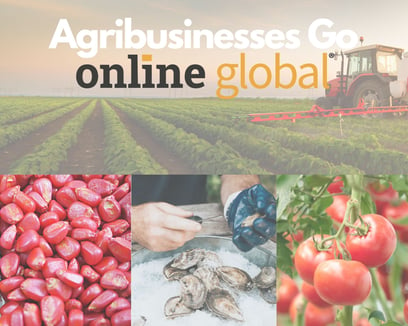 What do sea cucumbers, soup seasoning, cattle, and safflower seeds have in common? They are all being promoted and sold online around the world via our Online Global Programs.
IBT Online has helped many agriculture exporting companies enhance their global reach by building best-practice, optimally localized websites and designing and implementing international online marketing strategies in their export target markets around the world.
Through the Online Global Programs, we've transformed agribusiness websites and their online corporate footprint so that they can be found, understood, and easy to do business with online in their chosen target markets.
Agribusiness Export Trends
Before working with us, many of our agribusiness clients didn't understand how the Online Global Program would benefit them. But in fact, agriculture exports are on the rise and agriculture companies are increasingly seeking online tools and resources to support their online presence and support distributors in their target markets. According to Statista, economists predict that by the end of 2021, total agricultural exports will reach $164 billion US dollars. According to industry-leading resources, exports generate 20% of income for U.S. farmers.
As an agriculture grower, producer, or seller, exporting can become a major part of your income, and you should focus on specific strategies to increase exports sales. As the world relies more and more on online tools and digital marketing, it's an excellent time to optimize and localize your website and connect with your ideal customers and partners around the world.
The Online Global Programs for Agribusiness: How it Works
Your prospects, target clients, and vendors are all online. In fact, your website and online presence can often be the very first encounter a prospect can have with your brand. For this reason, your website should be the best possible representation of your brand and business and optimized to showcase your product lines, quickly becoming your #1 business development tool. Having a great online presence that is cohesive with your brand and up to date with your latest products means that it can speak for you, and that way, you can focus on what you do best — growing and producing the finest local-made food products.
Growth markets for agribusiness include Canada (the largest export market for US agriculture products), Mexico, and Asia. Customers in these markets respect the quality of products grown in the U.S. and are looking for producers like you.
IBT Online has created hundreds of websites for our clients in North America, Latin America, and Asia. We have the expertise to design and develop localized websites in these markets that attract the right prospects and produce qualified leads.
But what are the key benefits of the Online Global Program for Agribusiness exporters?
1. Lead Generation: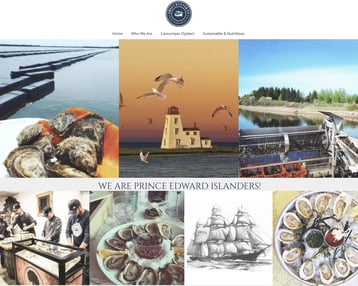 When you have a localized website in the regional language of your ideal clients, your website will be easier to find via search engines like Google or Baidu (the most popular alternative to Google in China).
The Online Global Programs can set you up with an optimally localized business development website to effectively build your sales pipeline, grow brand awareness, and give you credibility in foreign markets. We're here to help you turn your website into a lead-generating machine.
A great example of this is the oyster farming company, Sweet Oyster based in Prince Edward Island, Canada. Sweet Oyster were struggling to get noticed by high-end restaurants on the East Coast of North America. They wanted to sell more oysters in Montreal, Toronto, and the New England area. Having two localized, best-practice websites enabled Sweet Oyster to grow their brand awareness, distinguish their product line in this competitive market and significantly increase their visibility to prospective distributors.
Check Out Sweet Oyster's localized, best-practice websites for the North American and French-speaking Canadian regions:
French Canada: https://fr.sweetoyster.ca/
North America: https://sweetoyster.ca/
2. Support Your International Representatives:
If your agribusiness works with international vendors, distributors, and sales representatives, you will benefit from having an up-to-date, localized website that your team can use to showcase your products.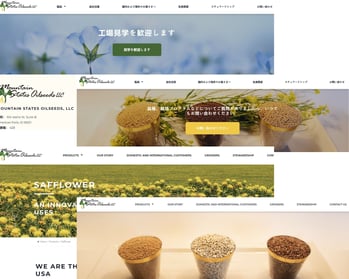 Mountain State Oilseed is an Idaho-based exporter of mustard, flax, and safflower seeds. Despite their quality products, they were struggling to get traction in their chosen target markets: the U.K. and Japan. Mountain State Oilseeds realized that they needed optimally localized websites to showcase their products, share their story and resonate with the local market. Therefore helping their representatives on the ground establish long-lasting relationships with consumers and partners.
Especially for markets such as Japan that rewards local brands, the new Japanese website has helped Mountain State Oilseed support their representatives by giving them an in-house resource to showcase their products in the local language, with a clear Japanese-user-centric experience.
Check out Mountain State Oilseed's new optimally localized websites for the U.K. and Japanese market:
Japan: https://msoilseeds.jp
3. Stand Out From Competition:
In the raw foods and commodities markets, it can be challenging to stand out. You have to articulate what makes your cider, shellfish, or cod different from your competitors.
Scotian Gold, a Nova Scotia-based company, is one of the largest apple exporters in Canada. The apple market is very competitive, but Scotian Gold has set itself apart by adding value to their brand. They do this by showcasing information about their products to educate customers about their journey and the quality of their products. When they do this, they aren't just selling apples; they are selling knowledge about apples and their craftsmanship, and therefore making a compelling case to buy from them.
Scotian Gold has done a great job of empowering its international distributors with this message, and it has paid off well for them. Now they hope to capture more of the online market share, specifically in Vietnam and Singapore. IBT Online has launched two new websites for them in these markets. They will serve as an educational tool to raise awareness about their product and demonstrate what makes their apples different. The long-term result is increased sales and overall business growth as they continue to edge out their competition.
4. Grow Brand Awareness and Credibility:
By launching optimally localized websites for your business in your specific target markets, your website will become a powerful tool that consistently increases brand awareness and establishes credibility in the local market.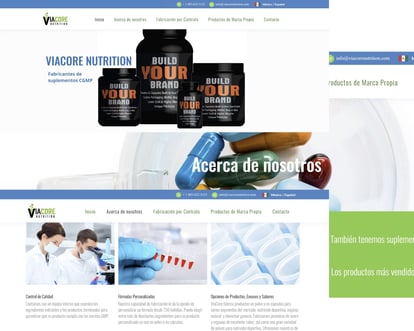 ViaCore Nutrition is an Oklahoma company that specializes in contract manufacturing of nutraceuticals. They sell private label protein shakes and vitamin supplements. They wanted to connect with sports facilities, brands, and gyms in Mexico interested in selling their own brands on the premise.
When it comes to manufacturing health products that make specific claims about nutritional value, there is often increased concern and scrutiny by local health agencies. For this industry especially, credibility and reputation are significant factors in developing new customer relationships.
For ViaCore Nutrition their new website legitimizes and validates their products in the Mexican market. Prospective partners are more willing to engage with them and trust them thanks to the credibility that the website establishes.
How to Get Started!
To make sure your website is working hard to grow your exports, sales, brand, and business consider partnering with IBT Online! As part of the Online Global Program, we've broken down the process into ten steps, ranging from the right content management system to build the website, keyword research, content localization, international search engine optimization, and digital compliance.
Our experts will handle the steps for you and ensure that your website connects you with your ideal customers and equips your sales team to win new export business.
Don't let your website's potential remain undiscovered, contact us to get started today!