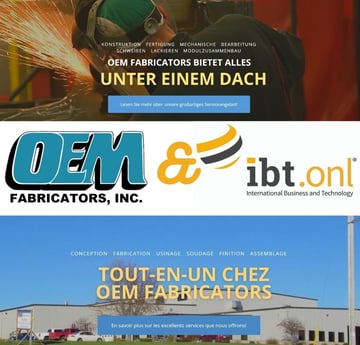 How it all starts – you have a small team, everyone wears hundreds of different hats and no one speaks a foreign language. You know there is demand for your product, but how can you reach them?
This is exactly the conundrum OEM Fabricators, a manufacturing company based in Wisconsin, faced. No one on their team speaks an international language. There is demand for their products in Canada, specifically among those who speak the French-Canadian language as well as Germany.
So, instead of opening up the Rosetta Stone and facing this challenge alone, OEM turned to IBT Online to help them to boost their presence in these markets and reach more Canadian and German customers. Find out whether your home state offers the Online Global program & grants!
IBT Online designed, built, optimized and launched a new best-practice, localized business development websites for OEM for the French-Canadian as well as German market. Listen to Christian Gausman, Director of Strategic Initiatives, explain OEM's Online Global journey:
Check out the best-practice, localized business development websites here:
Gausman says the new website helps "reduce uncertainty and hesitation from prospects." Now, OEM gets more responses from prospects because they see the website in their native language and OEM as no longer a foreign company but rather a supplier that is geared towards their needs. As Gausman explains: "There is a familiarity that we don't have with those customers. By creating websites in our prospect's native language, it increases their willingness to talk to someone like OEM." Learn more about website localization right here!
Here are the top 3 reasons why localized websites help you be found online, be understood, and easy to do business with your international prospects.
1. Being Found
OEM has three facilities in Wisconsin where they manufacture machine components for original equipment manufacturers. Typically, their exporting strategy includes exhibiting at international trade shows. Unfortunately, due to COVID19, many trade shows have been canceled and physical attendance has dropped. OEM was looking for alternative strategies to boost their presence and showcase their products. This is how they discovered IBT Online.
According to Gausman the top reason to invest in a localized website is "to increase our search engine optimization (SEO)" thus allowing OEM's products to be found faster and more frequently by prospects in these target markets.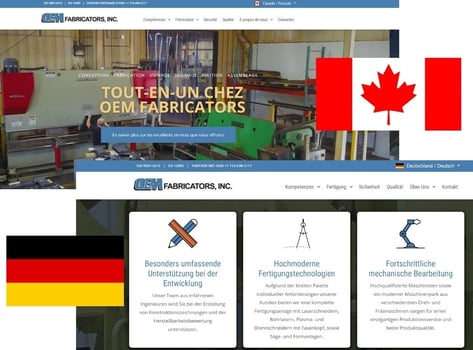 A properly localized website can bring better Search Engine Optimization results. You can't assume that your USA-based English website will show up in a Google search by a prospect in Canada or Germany. In fact, your US website is essentially invisible to Google Canada for example; it's just how Google works.
To ensure you have a lead-generating website in a specific region, it must be adapted to the local language of your prospect (in this case, French-Canadian or German), and it must be localized for the target market so it can show up on local search engines. IBT Online's team are experts in localizing content, optimizing your website's SEO performance and can also help you in the process of acquiring the best domains for your target region.
Gausman and the OEM team recognized quickly that the new localized websites brought in better SEO results and therefore went a long way in helping OEM's products be found and searched for by local prospects: "For companies our size, this is a great way to put yourself out there in front of customers you may not otherwise be in front of" says Gausman.
2. Being Understood
You may wonder why OEM needed to launch a new website in Canada when the national language is English. Why wouldn't their current English-language website work in that market?
According to the Government of Canada, 21% of Canadians speak French. If OEM neglects to localize their website and marketing materials into French-Canadian, they would be ignoring nearly a quarter of their target customers!
IBT Online has a team of specialists who speak many international languages and are experts in localizing content for foreign markets. The new website is location-specific, connects with local prospects and incorporates the regional dialect. OEM's newly launched localized website enables prospects to discover the product details in their own language, currency, and local measurement units. As Gausman asserts, localization create an immediate familiarity:
"Prospecting to clients who do not speak the same language can be a challenge for us. There is a familiarity that we don't have with those customers. By creating websites in our prospect's native language, it increases their willingness to talk to someone like OEM."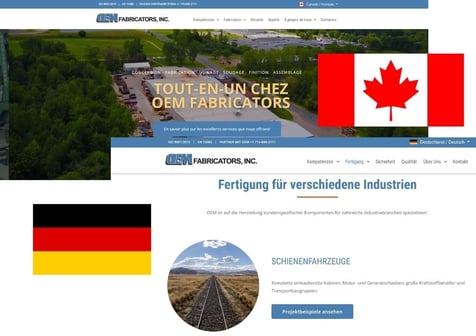 In addition, you can't simply copy and paste the website text into Google Translate. It will produce a crude translation of basic French or German. The French-Canadian dialect is very different than the French spoken in other parts of the world. Marketing today is all about offering the prospect as personalized an experience of your brand as possible, people expect to view brands that are tailored and speak to their needs and habits. These sophisticated consumers need to see website content specific to them. If the translation is slightly off, they will immediately distrust the company and navigate away from the webpage (and likely hop onto a competitors' website). That is the worst-case scenario!
IBT Online's team considers dialect, colloquialisms, keywords, imagery, and more when launching new websites. They analyze every word to ensure it is translated to appeal to the local audience. When a prospect finds the website and begins to read the content, they can easily understand the company information and products. An immediate sense of familiarity and an effort to communicate on their terms means that you have earned your prospect's trust, and they are more willing to do business with you! Gausman noticed this: "Our prospects see the website in their native language, which makes them more comfortable with us."
3. Being Easy To Do Business With
In today's digital world, a localized website is an essential marketing tool that enables your business to be found, be understood, and be easy to do business with in your target markets. This is more true today than it ever has been thanks to the increasing importance of putting the customer's experience at the center of marketing strategies.
Localizing a website for an international market achieves just that! Localization is more than just translating the content to a different language. IBT Online's team of experts knows that localizing will optimize for the best consumer experience, ensuring that your new website is mobile-enabled, adapted to the currency and time zone, and optimized for online purchases and instant messaging.
OEM's new website is optimized for best practices which allow the new prospect to navigate easily, communicate if needed, and engage with the website in a dynamic way. As Gausman explains: "When we are out there trying to sell, a localized website reduces uncertainty with prospects and gets more responses."
The positive customer experience that comes from a localized website leads to higher levels of customer satisfaction, higher levels of engagement, and ultimately sales. When customers can easily find what they are looking for, easily communicate and easily pay they are more likely to take that final step in making a purchase.
Localizing your website ultimately enables your company to operate in a new market without the overhead costs such as having physical offices, staff, legal fees etc. This streamlining allows for a much faster product expansion across your target market, making sure that your new export strategy has a fantastic ROI. As Gausman says: "We are a small company and don't have a lot of resources. We have no international language speakers here, so we would not have been able to do this without IBT Online."