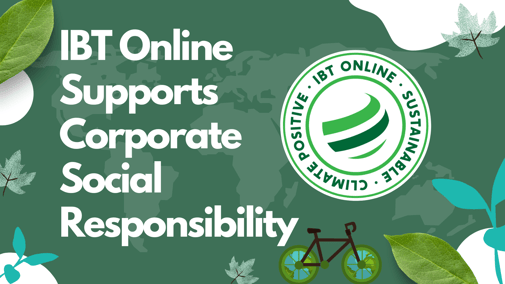 The momentum for corporate social responsibility and sustainability continues to accelerate and the role for businesses is clear: we need to turn risk into opportunity.
At IBT Online we seek to incorporate corporate social responsibility and sustainability efforts for the success of our clients, our business and our planet.
The current climate crisis represents one of the biggest risks to our planet and we therefore feel we have a responsibility to make changes to our business practices as well as our services in order to mitigate and offset our impact.
We also believe that finding sustainable business solutions is the best way to set up our business as well as our client's for long-term growth that is resilient to a trade landscape impacted by climate change. Here are the top reasons why we believe all exporters should choose business solutions that incorporate sustainability and climate change mitigation within their business objectives.
Climate Change impacts international trade!
The consequences from climate change have a great potential to disrupt international trade and business as we know it today and have already begun to do so. According to the Organization for Economic Co-operation and Development (OECD); "Direct consequences of climate change on trade could come from more frequent extreme weather events and rising sea levels. Supply, transport and distribution chains infrastructure are likely to become more vulnerable to disruptions due to climate change."
Extreme weather events and new climate patterns are already causing large disruptions to areas of trade that countries and regions have historically relied upon. Significantly, it is also the smallest states and the less empowered communities that have the least capacity to manage the risks and to adapt to the environmental, economic, and social fallouts they are already experiencing.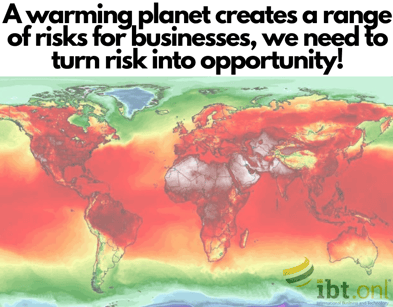 Nonetheless, the physical as well as the regulatory impacts imposed by climate change have the potential to disrupt the development and expansion of trade for all parts of the world. A warming planet creates a wide range of risks for businesses and has the potential to disrupt all elements of the business landscape today; supply chains, insurance costs, labour challenges etc. According to Deloitte's Global report 1 in 4 organization's worldwide are already feeling the effects of climate change.
However, according to the United Nations Conference on Trade and Development: "there may also be enhanced trade and investment opportunities in economic sectors associated with the transition to a lower carbon or "green economy" and these should be pursued".
Considering the impacts of climate change on international trade is therefore vital for anticipating the challenges and risks that exporters will face in the future but also the opportunities for growth. Foreseeing and incorporating new practices, services and technologies that are more environmentally friendly will be vital for companies seeking to maintain a competitive edge in this new environment.
Climate change impacts trade regulations
The World Trade Organisation is building a multilateral framework that will help to guide regulations and behaviour of exporting companies that will be more supportive of positive environmental related efforts; "Countries have undertaken a number of environment-related efforts under the World Trade Organization (WTO) framework including negotiating tariff reductions in environmental goods and services, seeking more clarity on the relationship between existing WTO rules and specific trade obligations in multilateral environmental agreements."

Under this new framework, WTO members are working to eliminate trade barriers in the goods and services that can benefit the environment and foster innovation towards mitigation and adaptation technologies that can assist in the challenge of climate change.
The Committee on Technical Barriers to Trade (TBT Committee) looks at climate change measures to ensure they do not pose unnecessary obstacles to international trade, while still achieving the legitimate objective of protecting the environment. To ensure legitimacy whilst exporting to a foreign market, it is vital for exporters to be aligned with the climate change related technical regulations; "examples of regulations discussed so far include: fuel economy standards for cars; eco-design requirements for energy-using products; energy efficiency programmes for consumer products and emission limit values for diesel engines", TBT Committee. It is also important for exporters to be compliant with the latest international standards as set by the International Organization for Standardization (ISO), that include requirements for quantification and reporting of greenhouse gas emissions and reductions.
Successful negotiations and regulations related to climate change will help to reinforce a positive relationship between environmental protection and trade. Exporters and companies seeking to do business internationally need to be confident that they are aligned with the latest regulations and incentives outlines by the regulatory bodies. Being compliant however is only the first step, it is up to companies to approach this new landscape as an opportunity for growth and development.
Climate change impacts business trends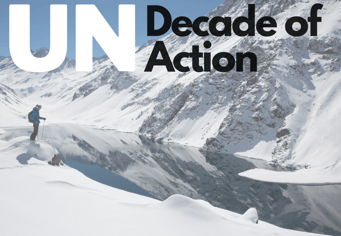 Given the present consensus in the international community for multilateralism and concerted actions to combat climate change, commitments to reducing GHG emissions and taking action towards environmental stewardship by companies cannot be overemphasized. In fact, the success of climate change mitigation and adaptation efforts cannot succeed without the active participation of companies of all sizes, and across all sectors.
Luckily, sustainability has moved into the corporate mainstream. The United Nations has declared that as of 2020 this will be the Decade of Action, whereby all sectors are called upon to mobilize and take action to reach the Sustainable Development Goals in the next 10 years.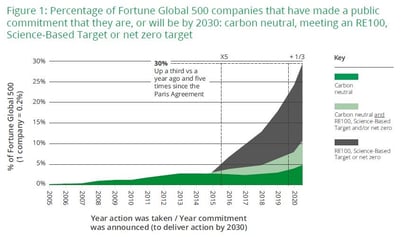 Companies are increasingly motivated to include environment related goals and take actions, engage with services, and partner up with other companies that are environmentally conscious. According to the figure taken from the Carbon Neutral Protocol: "30% of leading companies have now made at least one public commitment to carbon neutrality, net zero, or the Science Based Targets initiative by 2030".
With a long-term view, becoming more sustainable is good for business. Companies across all sectors have started to recognize that their business and growth is also dependent on the planet's resources, and that therefore we must all take measurable, decisive action to mitigate climate change.
Moreover, some companies are realizing that demonstrating a commitment to sustainable business practices and taking a stance on environmental responsibility gives you an edge in winning new business. One of the business trends to have emerged in the past 10 years is the desire by consumers to align themselves with brands and products that share their values. In fact, "72% of U.S. consumers today believe it is 'more important than ever' to buy from companies that reflect their values" (TouchPoints).
This trend has been exacerbated by the COVID19 pandemic, as consumers are increasingly expressing concerns about the role and impact of businesses within society. Now more than ever loyalty to a brand is established based on shared values, and consumers expect and choose brands that take a stand on societal issues, in fact 67% of people will pay more to contribute to a good cause. Successful examples of brands that have differentiated themselves thanks to their pro-environmental or political stance are companies such as Patagonia and Wipro Eco-Energy.
Check out below the commitments that Patagonia and Wipro Eco-Energy have pledged to achieve, which aim to reduce their CO2e, switch to renewable energy resources, donate a percentage of their profits and lots more: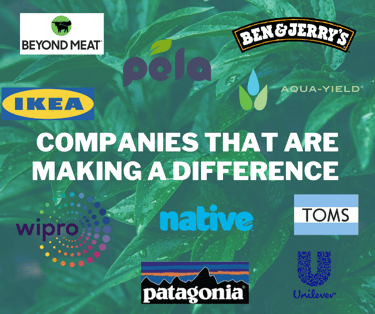 It is evident that consumers today spend more on brands that they believe are having a positive impact and companies have the opportunity to leverage this mobilization: Customers grow more loyal to a brand when they believe in its cause, which can increase lifetime profits by as much as 85%. It is no longer an anomaly to take a stand for the environment and companies are quickly realizing that doing so presents opportunities for growth, has the potential to reduce operational costs and demonstrates brand values alignment to prospects.
Climate change is evidently transforming how consumers, employees and shareholders evaluate companies and interact with them. Companies not only need to measure their exposure to climate-related risks and subsequently manage them, but also incorporate climate change in their strategic plans.
For this reason sustainability is a key part of IBT Online's mission; we help companies access global business opportunities whilst also offering solutions that are sustainable, and reduce our client's as well as our own corporate carbon footprint.