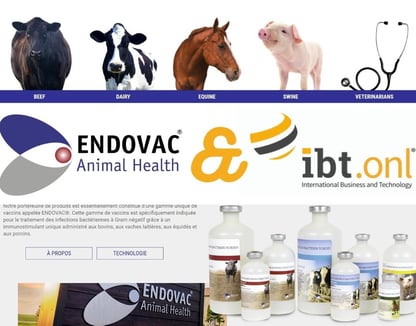 It takes a lot of time and effort to build a strong reputation in your industry, and there is nothing more frustrating than discovering that your brand and products or services are not being found outside of your domestic market!
As an Agribusiness company, Endovac Animal Health recognized that website localization can give their business a competitive advantage, helping their brand stand out in a crowded digital landscape.
Since 1983, Endovac Animal Health has enjoyed an established reputation in the U.S. for its products (livestock vaccines). In an effort to capture new clients and more international market share in the Canadian market Endovac signed up for the Online Global programs with IBT Online and launched two localized websites. "Our goal is to make connections with distributors in Canada and reach more end customers," says Ashley Bauer, Endovac's Marketing Coordinator.
Endovac wanted to offer their prospects a better customer experience and recognized that there is a strong link between in-language content and a consumer's likelihood of making a purchase. According to the Harvard Business Review: "72.4% of consumers said they would be more likely to buy a product with information in their own language". In recognition of this consumer behavior, IBT Online built two localized websites for Endovac: an English-language website and a French-Canadian language website.
Listen to Ashley Bauer tell Endovac's Online Global story here:
And check out the websites:
Both of these websites are geared towards the Canadian audience and help Endovac be found, understood, and easy to do business within the local market. As a result, Endovac offers its prospects a localized website with a more positive customer experience which leads to higher levels of consumer satisfaction, engagement, and ultimately sales. Learn more about website localization right here!
Selling More with Localized Websites
Endovac's initial goal was simple: sell more in Canada. That's why they launched two localized websites, to ensure they could reach both English- and French-speaking Canadian customers.
In today's global marketplace, consumers all over the world are looking online for solutions for their lives and businesses. And the Agribusiness industry is no different! Localized websites are geared to target a specific region of the world. The website content is translated into the local language and vernacular, making it easy to be understood by target customers and distributors there. In addition, the localized features help search engines find the website more easily –- which means customers will find it too! It's the most effective way to get noticed online.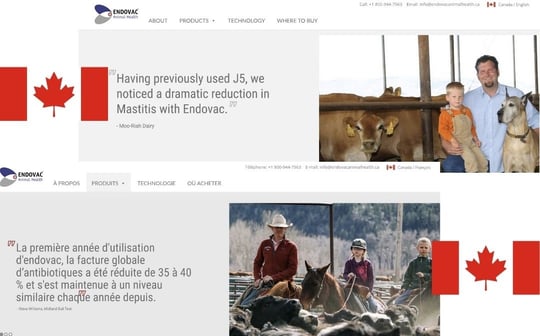 What's more - A, best-practice, localized business development website designed by IBT Online can bring better Search Engine Optimization results. The localized content along with the effective use of keywords means that your site will rank higher on online searches. A website that ranks highly for your target audience translates into higher visibility, increased website traffic, and more engagement from consumers. In simple terms: The more you are found online, and the better you are understood by your target customers, the more you will sell!
The Agribusiness Global Programs are designed to help Agribusiness companies across the U.S. boost their exports, sales, brand, and business in overseas markets. For Endovac, the Canada websites were an obvious first choice in achieving their exporting objectives. According to Bauer: "IBT Online did a great job of helping us expand into this market. The Online Global Program helped us establish business relationships so we can sell more of our product."
The Ongoing Benefits of Localized Websites
Endovac is a family-owned company in Colombia, Missouri, that manufactures vaccines for beef and dairy cattle, horses, and hogs. They are experts in their craft and even built a new production and manufacturing facility to help keep up with demand for their vaccines. However, when it came to international online marketing, they needed help!
Bauer says: "We appreciated IBT Online's expertise in this area. They were able to mirror our current website and help expand and make suggestions for the Canadian market."
Fortunately, Endovac was able to take advantage of the Foreign Agriculture Service's Market Access Program, where they received cost-share assistance on the project. Find out whether your home state offers the Online Global program & grants!
Endovac and IBT Online got to work developing the content for the new Canadian websites. "Our goal is to continue expansion, make new connections with distributors in Canada, and reach end-user customers" says Bauer. To accomplish this goal, the websites needed to focus on the following:
Lead generation

Supporting distributors and reps

Standing out against the competition

Growing brand awareness
The brand new localized websites IBT Online launched for Endovac check all of these boxes and help increase engagement and conversions with their target clients in Canada.
Endovac recognized that website localization can give your business a competitive advantage, helping your brand stand out in a crowded digital landscape. This task can also appear daunting to many companies as it requires market expertise and digital skills that might not be available in-house. For this reason, Endovac called upon IBT Online to help them achieve their exporting objectives. For Endovac this has been a rewarding experience, not only do they have two localized websites that boost their presence and sales in Canada but they have found in IBT Online an ongoing partner that they can call upon to help them achieve their exporting goals. As Bauer explains: "Working with IBT Online was one of the smoothest business relationships I ever experienced. I received answers to my questions within hours, and there was never a moment in time where I felt like I wasn't going to get an update or answer."
"It was a very positive overall experience to help us reach our potential customers in the Canadian market." says Bauer.