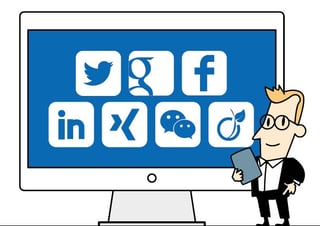 The social media online phenomenon now has unparalleled scale, in which billions of netizens communicate and much, much mullah (dollars, euros, renminbi, yen, pounds, …) is transacted. And know this: those numbers are only going one way and that is up.
Social media, that is websites and applications that enable users to create and share content or to participate in social networking, is at the least an oversized noisy teenager that you can't ignore, or more probably a robust mid-twenties adult to engage with fully. Either way, every business must now know that you ignore social media at your peril.
Successful companies are using social media channels to engage with their target business and consumer audiences and collecting serious money. Just look at the top 100 companies in the Fortune Global ranking: 93% have Facebook pages (updated weekly), 79% have a YouTube channel (average 2 million views of their corporate content) and a Twitter profile. How is your business doing?
It's all about age...
1994 could be the year that you are looking for, if you consider Bulletin Board Systems, Geocities, AOL Instant Messenger and Sixdegrees.com to be the harbinger of social media. Others consider the first real social networks to be Friendster (2002), Myspace (2003) and then Facebook (2004), which makes social media a mid-teen. For those of you that want to dig into the social media age detail, I recommend this factful link at digital trends. Either way, age seriously counts. Whether we are talking the age of social media itself or the age of those that use it!
The Pew Research tells us: Age is strongly correlated with social media usage: Those aged 18 to 29 have always been the most likely users of social media by a considerable margin. Today, 90% of young adults use social media, compared with 12% in 2005, a 78-percentage point increase. At the same time, there has been a 69-point bump among those ages 30-49, from 8% in 2005 to 77% today. Still, usage among those 65 and older has more than tripled since 2010 when 11% used social media. Today, 35% of all those 65 and older report using social media, compared with just 2% in 2005. There is a happy terminology for those younger, permanently online users who get and really use social media. They are the "millennials" and "digital natives" and they are publishing, networking, collaborating, discussing, messaging, sharing, promoting, selling, getting rich and falling in love on social media.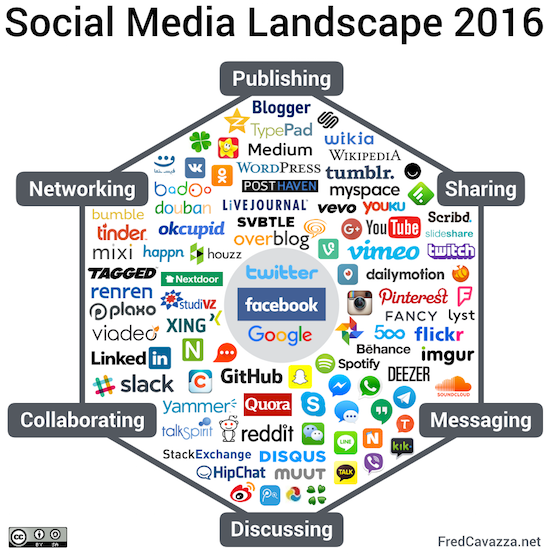 Source: Fred Cavazza
And it's all about size...
The really useful source, We Are Social tells us that the world has 7.4 billion inhabitants, 3.4 billion of which have internet access and that 2.3 billion are regular users of social media. So do the maths and we get 31% of the world's population are using social media. This number is growing fast, by a full 10% per annum, so that makes a further 219 million social media users added in one year (2015/6)! These social media uptake figures are, of course skewed, between the world's leading economies and those that are high growth, and fast catching up. Again, Pew Research tells us "two-thirds of American adults (65%) use social networking sites, up from 7% when Pew Research Center began systematically tracking social media usage in 2005". If you are in the habit of extrapolating information, you will see that it will not be many more years before all the world's inhabitants have internet access and are using social media!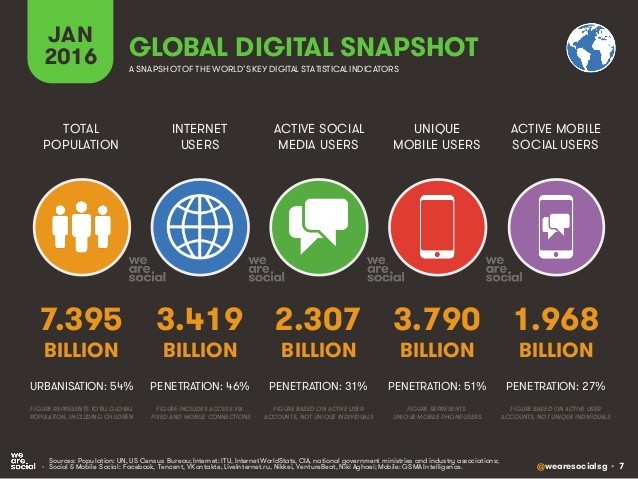 Source: @wearesocialsg Slideshare
Where is social media happening? Let's take a quick dive into the top twelve most important global social media platforms for your business, on an active user per month basis:
#1: Facebook. 1.6 billion. By far the largest social networking site in the world. The first to go > 1 billion user accounts. Network with friends, relatives as well as businesses, sell online, market and/or promote your business, brand and products with paid ads.
#2. WhatsApp. 1 billion. The dominant instant messaging platform. Communicate and share instantly with individuals and groups. Acquired by Facebook in 2014.
#3. YouTube. 1 billion. The leading platform to watch or share video content online. And its Google.
#4. Tencent QQ. 0.9 billion. An instant messaging (chat-based) social media platform. Provides texts, video calls and chats (with built-in translator). Chinese in origin, now in >80 countries.
#5. WeChat. 0.6 billion. An all-in-one communications app for messaging and calling (see WhatsApp). From the Tencent QQ stable.
#6. QZone. 0.6 billion. Share photos, watch videos, listen to songs, write blogs, maintain diaries… Create QZone personal and business webpages. Again, from the Tencent QQ stable.
#7. Tumblr. 0.6 billion. A micro blogging platform, find, follow and post content. Belongs to Yahoo.
#8. LinkedIn. 0.5 billion. The pre-eminent professional social network, personal and corporate pages. Business, brand and product promotion. Belongs to Microsoft.
#9. Instagram. 0.4 billion. The social networking platform for sharing photos and videos, with multiple filters, shared across platforms notably Facebook and Twitter. Guess what, belongs to Facebook.
#10. Twitter. 0.3 billion. Post tweets, short text messages, with a max of 140 characters. Promote brands, business and products.
#11. Google+. 0.3 billion. Share messages, photos, videos, web links, all interest based. Video conferencing, Hangouts and business applications, promote brands and products with business pages. It's Google!
#12. Baidu. 0.3 billion. Primarily, a discussion forum, again interest/topic based to create a network group. Belongs to China based Baidu (the leading search engine, Baidu Tieba).
Ignore these social media platforms at your peril!
From a US and European social media business perspective, the table below is the quick, easy guide. Social media platforms are today's huge opportunity to grow your sales, brand and business. There are considerable costs both direct (paid ads etc.) and indirect (staff and overhead) to build and manage your social media content on selected platforms. It's all important to research, select and then nurture the social media platforms that work best for your business, whether B2B, B2C and C2B. Develop your social media strategy, by understanding your target audience(s), each social media channel and how your business can best use each of these platforms.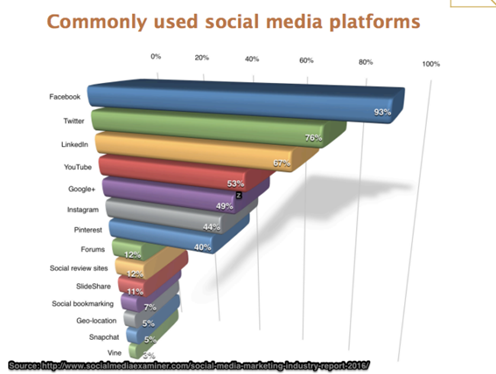 Source: Socialmediaexaminer