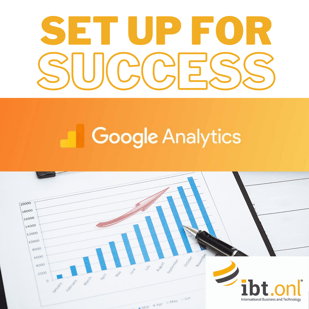 Having an optimally localized online presence is key, but don't stop there! Understanding how your prospects, customers, and why not competitors behave on your website will give you the edge you need to continue growing your exports, sales, brand, and business globally.
Google Analytics is a free, yet fantastic analytics tool that gives you an extremely in-depth look into your Online Global websites' performance and how to leverage it.
Google Analytics is essential for your website as it will allow you to understand whom you are reaching, how they find you, and how they behave and navigate your pages. Having this information at hand will allow you to make strategic decisions for the future and therefore get better results from your website performance.
Having an optimally localized website for each target market helps you be found and be understood but having a clear understanding of the websites' performance will give you the edge over your competitors.
At IBT Online, as part of our go-live procedure, we set up Google Analytics and Search Console for your international websites and ensure your websites are ready to integrate with Google's marketing and advertising platforms and products (including Google Ads, Data Studio, etc), so you can benefit from all these advantages, in all your target markets.
Once the tracking code has been implemented and your new Google Analytics property is tracking your websites' activities, we share access with you and your team, setting you up for success.
But how can an analytics tool help you improve your bottom line? There is so much to discover in Google Analytics, but let's start from the top 3 Benefits:
Grow your traffic - Understand your traffic and adjust your strategy
As part of the 'Acquisition' tracking, Google Analytics gathers data on how your website visitors have found your website, and which page they have landed (i.e. accessed your website) on.
This information should be taken into consideration when reviewing and planning your outreach and marketing strategy, but what data should you look at?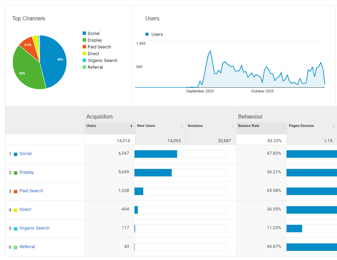 Traffic acquisition is broken down into channels – Direct, Organic, Search, Display, Social – and depending on your breakdown, you can here infer what channel is driving the majority of visitors to your site.
For example, you have recently launched a paid Social Media campaign, but you are not seeing an increase in traffic from "Social"? It's time to investigate your set-up and audience selection.
Or, on the other hand, you have completed an in-depth SEO audit of your website and you are now seeing organic traffic volume increase? You're in for a big win!
Understanding your traffic, where users come from, and what channels are working the hardest for your business can help you (re)structure your marketing strategy, prevent expensive long-term mistakes, and ensure you're always on track.
Grow your engagement – understand user behaviour
You spend a lot of time and energy in designing and localizing your website, now it's time to dig deeper into how your visitors navigate, how they find information, and whether there is anything they are not finding?
Keeping users on the page with relevant, helpful information is only the start of their journey - When analyzing users' behavior, it's important to understand what information they find valuable, what pages are the most popular, and how they engage with your Call-To-Actions.
Understanding what content your visitors engage with, will help you make strategic decisions when designing your marketing strategy, but can also inform your sales and business development strategy – if all users seem to gravitate towards a specific product line, there might be something we can learn there?
Grow your conversions – understand conversion funnels
Conversions, conversions, conversions! Isn't this what we all want?
But what does 'conversions' mean? A Conversion can vary depending on your business model (ecommerce vs. consultancy) but also depending on the stage of the buyers' journey your visitors are currently in.
When analyzing data, it's important to have a clear set of Key Performance Indicators (KPIs) to monitor, in line with the different stages of your audiences' journeys.
For example,
| | | |
| --- | --- | --- |
| Stage | Ecommerce | B2B Bespoke Machinery |
| Awareness | Product page view | Time on product page |
| Consideration | Add to basket | Download specs PDF |
| Decision | Purchase | Request a Quote Form Submission |

Setting Google Analytics Goals to track meaningful actions can save you time, energy (and money!) as you'll always have a clear view of how your top-level metrics (visitors, sessions, etc) are really tracking and how each channel is contributing to your bottom line, increasing your exports and sales.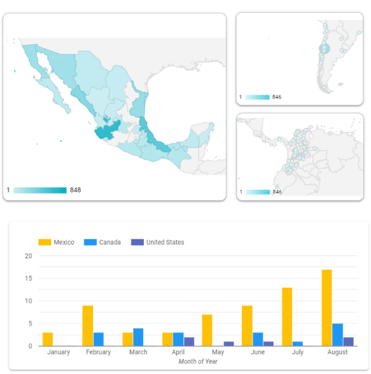 In conclusion, having a firm grasp on how your optimally localized international websites are performing for you – at any time! – will allow you to make quick, data-driven strategic decisions, helping you not only grow your traffic, engagement, and conversions but to continue pushing towards increased exports, sales, brand, and business domestically and internationally.
New to Google Analytics and don't really know where to start? Worry not!
If you feel you need support in monitoring, analyzing, and deciphering the data, IBT Online has the program for you – our Online Marketing Programs have been designed to work in collaboration with you, taking care of all the heavy lifting (and yes, this includes Google Analytics!).
As part of the Online Marketing Program, IBT Online's team of digital natives will work with you to design, implement and monitor the best multi-channel marketing strategy for you and your business, tailored to your business model and international markets.
We know that a strategy is never complete without data – and here is where analytics play a key part. As part of our Online Global Marketing Program, we monitor, analyze, and collate data, provide market and business intelligence, and make recommendations for strategy optimization based on real data. As part of this process, we organize monthly meetings – or as often as needed – to report, review, and discuss together, so we can have a real discussion with you about current performance, your trajectory, and your future goals.
This has been proven to be the key to a successful, proactive marketing strategy, and IBT Online is here to make it happen for you.
Do you have any questions, or would you like to discuss how this can work for you? Get in touch today!