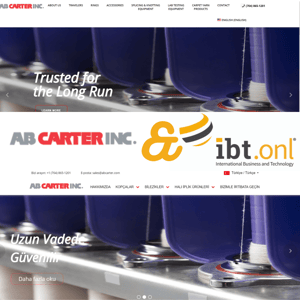 Search Engine Optimization (SEO) is the secret to being found online by your customers around the world. Your international prospects use search engines like Google, Yahoo or Bing to find products and services online.
So how can you guarantee they find you? That's where IBT Online comes in! We design and deliver best-practice, optimally localized international websites that are optimized for search engines in different markets worldwide.
Our SEO strategies make your website easy to be found and understood by your international customers, making it easier for them to do business with you and buy your products!
A.B. Carter Incorporated, a manufacturer of quality yarn spinning solutions in Gastonia, North Carolina worked with IBT Online to launch two newly designed, localized websites in Turkey and Egypt.
"We really wanted to up our game in these emerging markets," says Thomas Genova, A.B. Carter's VP of Sales. "This program really helped us get to the local level so we can reach people that we couldn't otherwise reach."
Setting You Up for SEO Success
Turkey and Egypt are two destinations that were difficult for A.B. Carter to penetrate. They needed to figure out how to get their products -- yarn spinning solutions -- noticed by prospective customers online.
IBT Online's mission is to help small to mid-sized businesses access global opportunities, including achieving brand recognition in foreign markets and overcoming technical barriers. A.B. Carter realized that they needed IBT Online's expertise in helping them reach their exporting objectives. "I don't have any background in websites or IT experience," says Genova. "I couldn't be more pleased with working with IBT Online's team all over the world. They helped me understand what was needed and how to get success in those markets."
For A.B. Carter, IBT Online developed two new localized websites that were optimized for search engines in their target markets as well as the local audience. Each website is designed to revolve around the prospective customer, using keywords and phrases that are relevant to them in their native language.
It's well known that Search Engines – Google, Yahoo, Bing, Yandex, you name it! - are becoming more and more searcher-centric, putting the searcher 1st and making sure that every search result is relevant to them and their previous browsing history and interests – so search results are ranked according to what the searcher will find most relevant.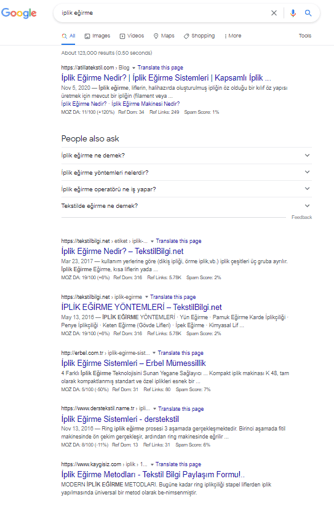 For example, when someone in Turkey types in "iplik eğirme" ("yarn spinning" in Turkish) in a local search engine, the search engine will show websites related to that subject. They are ranked in order of most relevant (listed at the top) to least relevant.
The goal is for A.B Carter's websites to show up at the top of the list! However, that's easier said than done, which is why they relied on IBT Online to help them.
The first step was to perform an in-depth market and keyword research in Turkey and Egypt. The analysis gave the team insight into:
How prospects in Turkey and Egypt communicate about yarn spinning

How prospects in Turkey and Egypt use search engines to find yarn spinning solutions
To be found online in different markets, it's essential to learn how to think like the prospective customer so you can anticipate how they will use search engines to find your products and solutions.
After performing this critical research, IBT Online had the market intelligence necessary to develop optimally localized websites that are both Search Engine and User friendly. As we mentioned, being found is not the end of the game, you need to ensure your prospects understand you, too. This is the secret to how an optimal design offering excellent Local User Experience (LUX), combined with the right keywords both weaved into the website copy and meta-data is key to international online success.
Now A.B. Carter has two optimally localized websites that are easily found by their customers in Turkey and Egypt.
"I would certainly recommend IBT Online to other companies who need to up their game. They are wonderful, helpful, and professional. If you want to take your company to the next level -- you need to contact IBT Online!" - Thomas Genova
The Multiplier Effect: Inbound Marketing Strategies
Having a localized website that is SEO optimized for the target export market is the best first step you can take to grow your online presence and brand awareness in a new market. However, the journey does not end there. An ongoing SEO strategy is needed to ensure your website continues to show up at the top of search engine rankings. You want to create opportunities for your prospective customers to "click" into your website. The more places online available for them to "click," the more likely they are to see your products, learn about your company and buy from you!
SEO Optimization and optimized content are two of the pillars of Inbound Marketing. According to HubSpot, inbound marketing is "a business methodology that attracts customers by creating valuable content and experiences tailored to them."
A complete inbound marketing strategy starts with SEO and requires ongoing optimization and includes elements that span across social media, content creation, and more.
Having a strong inbound marketing strategy is an invaluable asset, but we know it can take time to design, implement and grow.
And this is exactly why we created our Online Global Marketing Programs, designed to be tailored to your business model, goals, and industry, working in collaboration with you to design, implement and deliver bespoke marketing strategies to help you grow your traffic, engagement, and conversions in your international target markets.