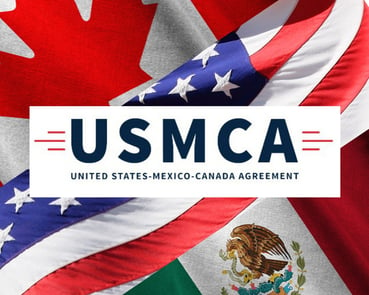 The USMCA updated trade agreement represents a unique opportunity for US exporters wanting to reach new markets other than their domestic US market. This blog will dive into the USMCA landscape and the online tools you need to grow your exports, sales, brand and business in Mexico and Canada!
At IBT Online we specialize in supporting US Exporters enter and thrive in international markets by leveraging their #1 business development tool: their online presence.
Canada and Mexico have always been obvious choices for US exporters, and with today's booming digital landscape, this has only become easier! Thanks to the updated USMCA trade agreement, now is a great time to invest in your exporting strategy to Canada and Mexico, and here are the top reasons why:
USMCA offers profitable market opportunities: Mexico and Canada are attractive and profitable markets for exporters; with a combined GDP of 23 trillion dollars and a combined population of 579 million people, USMCA is a lucrative and obvious first choice for U.S. exporters seeking to reach new markets.
USMCA encourages profitability for small businesses: The new trade agreement is much more aligned with the expectations and needs of exporters today. Specifically, for the needs of small businesses as there is less red tape and lower barriers to entry, therefore making it easier for smaller businesses to succeed and trade.
Given the new landscape, Mexico and Canada are more than ever attractive and profitable markets for exporters. The real question is how do you make this exporting objective a success for your company and ensure that your business thrives in these diverse and very different markets?
The first thing to get right is understanding that your export strategy is not a one-size-fits-all. Mexico and Canada are very different markets to the US, in terms of culture, geography, language, online behavior etc. Also, it is no secret that your US website and current marketing efforts in the States will not be fit for purpose in Canada and Mexico; your website and products or services simply do not appear in Mexico or Canada's local search results and therefore prospects won't be able to find you.
So, having optimally localized business development websites and a defined international marketing strategy is essential in order to succeed and thrive in these markets and ensure long-term growth and success.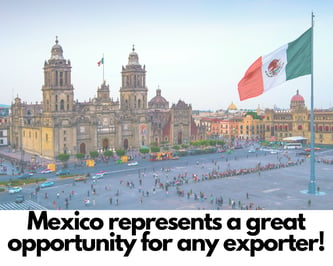 Let's start with Mexico:
Mexico has a population of 130 million and is the 2nd largest economy in Latin America. With a Spanish-speaking population that is tech-savvy and VERY active online, Mexico represents a great opportunity for any exporter as your prospects and partners are all online and already searching.
The most important first step for any exporter seeking to grow in Mexico is to create a localized, online footprint: a .mx website. Having a localized website means that your products and services, now localized for the Spanish-speaking market, will be optimized for the Mexican audiences, aligned with their searching behaviors, their preferred keywords, and in line with best-practice online aesthetics.
Having a localized website for the Mexican market gives your business an immediate presence in a competitive market, making you easy to be found, easy to be understood, and easy to do business with your prospects, business partners, and existing clients.
Your next step is to create a dedicated Mexico marketing strategy that will continue to drive traffic to your .mx website and therefore encourage conversion opportunities.
Of Mexico's population, 100 million people are active social media users. In fact, Mexico ranks 7th in the world for time spent on social media, an average of 3.5 hours a day, with Facebook and YouTube ranking as their favorite platforms.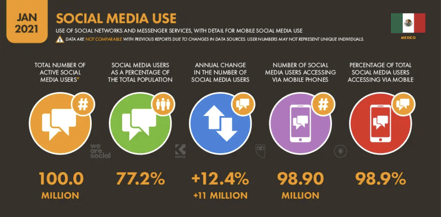 So, to grow your exports, brand, and business in Mexico you have to have an active social media presence, engage with your prospects on these platforms and utilize these platforms as an opportunity to showcase your services or product lines. For Mexico especially, social media channels are a powerful tool to reinforce a sense of familiarity with your business and grow brand awareness and trust.
Given Mexico's geographical landscape, people rely on mobile devices heavily and business, trade and exports are concentrated within urban environments. This is important to know for your marketing strategy; as Mexico is a mobile-first market, they are fast and early adopters of new apps and new technologies. In fact, the percentage of people accessing the internet via mobile devices is 95.9%! When you are creating content for your Mexico audience, you need to make sure it is mobile-friendly. This can be a real game-changer for increasing your sales in the Mexican market, as prospects may be deterred if you are not accessible and aesthetically aligned with their searching preferences, notably via mobile.
Now let's talk about Canada: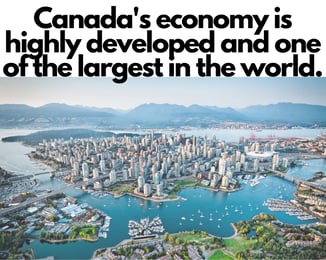 Canada is a highly profitable and rewarding market for US exporters. Canada has a highly developed economy. With a gross domestic product of $1.64 trillion in 2020, Canada ranked 9th largest economy in the world. It is also huge; as the 2nd largest country in the world, Canada has 10 different provinces and 3 territories in the north to keep in mind.
Canada has an online environment that is very plugged in, with 94% of its population using the internet on a daily basis. This represents one of the highest internet penetration rates in the world with Canadians spending an average of 6.5 hours of their time online daily (far more than in the U.S. for example).
Given the prevalence of online activity and internet use, the obvious first step to grow in the Canadian market is to create a localized, best-practice .ca website. Canadian prospects don't need to settle for less as they are used to searching and purchasing in their local market. A Canadian website will therefore ensure your products and services are found by Canadian prospects and that your company looks trustworthy and appealing to the Canadian viewer.
One other major feature to keep in mind when optimizing your Canadian website and engaging with online prospects is that Canadians are much more sensitive about online privacy, data protection, and compliance regulations. To give you an idea, in the US only about 26% of people express concern about how companies use personal data - this compares to about 45% in Canada. Canadians are concerned about their data privacy and this is an important feature to keep in mind when creating your Canadian website and designing your marketing strategy for the Canadian audience.
Your next step to achieving long-term success in the Canadian market is to create a targeted online marketing strategy that will grow brand awareness as well as drive traffic and engagement back to your .ca website.
Google.ca will prioritize Canadian websites that respond best to the Canadian-prospects searches. Therefore, if you are trying to reach new prospects in Canada you need to make sure your website is optimized for Canada's preferred search engines and ranks highly in people's searches.
Your online marketing strategy should therefore include search engine optimization which helps to increase your brand visibility online and will position any optimized content to appear at the top of the search results when Canadian prospects are browsing. This part of the strategy includes optimizing your website as well as your content (blog posts, videos, webinars, articles etc.) with the Canadian customer's preferences in mind, using their keywords and phrases and on their preferred platforms.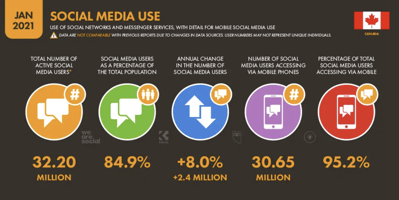 Social media activity reflects the local environment and Canada is no exception. When it comes to creating your social media accounts and your posts you need to remember that there are English-speaking and French-speaking regions in Canada. Both the French as well as English is spoken in Canada are unique and you cannot rely on American or British English or the French spoken in France to resonate with your Canadian prospects. So, for you to succeed in Canada you need to be able to offer your Canadian prospects, business partners, and customers a local user experience, using the language that they would perceive as native and natural to them.
Canada has also historically been a slow adopter of apps and social media trends. However, the percentage of active social media users in Canada is growing consistently, at an active rate of 8% per year. So, when defining your Canadian marketing strategy don't overlook social media platforms, you would be missing the opportunity of connecting with 32 million active social media users.
As you can see, there are huge cultural, business, demographic as well as linguistic differences between the online environments in Mexico and Canada. All these factors influence how your prospects and partners are searching and communicating online and knowing these characteristics will help to guide your strategy to meet and exceed their expectations.
IBT Online can support your USMCA exporting journey! At IBT Online we can support your journey by helping you grow your exports, sales, brand, and business in Mexico and Canada by building optimally localized, best-practice websites and international online marketing strategies that align with your business goals, and we have developed a dedicated USMCA Online Global program that will help to set your company up for long-term growth and success in these competitive export markets.