The digital economy delivers. It lowers costs and barriers to markets, as well as providing access to an unprecedented number of customers (both business and consumer). The traditional routes to markets have eroded. Smart companies, notably web savvy businesses, have created and leveraged technologies to grow their online global sales, brands and businesses.
In any given "home market" there is a truism that the vast majority of your potential clients are located in, by definition, outside in those global markets. Sow the two together, online and global, and you have the driver that ensures B2B and B2C online global retail will represent >$10 trillion of transactions by 2020. And the #1 beneficiaries of the digital economy are small and medium-sized enterprises (SMEs). If you are a decision maker in an SME, please do read on, think through the sales opportunities and the potential value to your brand and business.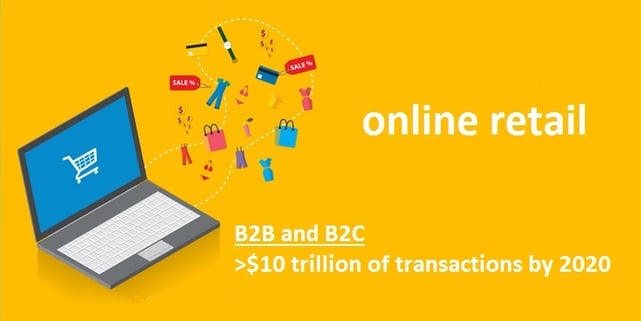 The recent Frost & Sullivan (a consultancy) report entitled "Future of B2B Online Retailing" informs us that "B2B online retail is projected to grow to $6.7 trillion by 2020 due to the rapid migration of manufacturers and wholesalers from legacy systems to open, online platforms. The market is expected to double the B2C online market size and witness much higher transaction volumes". So for B2C, that would be >$3.2 trillion by 2020. The direct impact this has on costs, barriers, markets and customers is already understood, and from which we can extrapolate tomorrow's online retail markets for SMEs.
Costs and barriers are lower. The paradigm shift to online has radically altered business models. The costs of market knowledge, customer information, communication, sales, transactions, logistics, in short every cost of doing business has been reduced, with the exception of those online technology costs themselves, for those that seize the digital opportunities. Communications, to take one example, where digital has enabled companies to communicate directly through VOIP and online portals, and then again indirectly through social media channels, building relationships, brands and business. Barriers, often in the form of local partners, distributors and agents have been replaced by the new model army of going direct to customer, both B2B and B2C. End businesses and consumers generally prefer interfacing with the original equipment manufacturer or service provider for obvious reasons included lower pricing, as well as better access to choice and information.


Markets and customers are international and accessible. Even for the world's single largest market, the USA, >70% of the world's purchasing power and >85% of the world's economic growth is outside, so international (source: US Commercial Services). For smaller countries, this % is obviously substantially higher! Markets and customers, in far flung distant locations, those businesses and consumers are no longer so inaccessible, in fact they are just a click of your mouse away. When demonstrating this digital opportunity, just go to the number of internet users, some 3.8 billion (>51% of the world's population) with social media > 2.9 billion (>39% of the same) active users! And as you can imagine these numbers are only going one way and that is up, and fast. So international markets and customers suddenly become accessible through the digital economy, and everyday more so.

Source: Hootsuite (2017)


The main beneficiaries are SMEs. The $10 trillion online retail revolution is being seized and driven by internet savvy, leaders of small businesses. Access to disparate international markets and customers, once the prerogative of large businesses, is now well within reach of SMEs, those companies with less financial, human and other resources. The internet has given SMEs the ability to compete regardless of where the market and end customer is located. Online solutions now deliver Infrastructure as a Service (IaaS), Platforms as a Service (PaaS) and Software as a Service (SaaS), facilitating SMEs access to markets, wherein they can transact with customers and then scale up, all at lower costs. Business models have changed and substantive examples of that are many of the digital economies new business success stories. The so called Unicorns, technology start-ups valued at >$1 billion, once upon a time the stuff of myth! Uber, founded in 2009, now in >600 cities worldwide, with >80 international localized websites and using every single global social media channel to go to market. AirBnB, founded in 2008, a worldwide accommodation leader, in >65,000 cities and 191 countries, powered by >30 international localized websites and again every global social media channel!