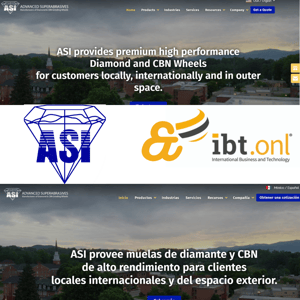 "My company chose IBT Online, and the results speak for themselves!" says Jonathan Szucs, the President and Founder of Advanced Superabrasives. "Within weeks of going live, our new websites in Mexico and Canada started generating over ten requests for quotes per week!"
That's huge for any small business that's entering a new market, just like Advanced Superabrasives.
Read how ASI worked with IBT Online to launch two new websites in Mexico and Canada and support their online presence in these target markets with tailored international online marketing strategies in both Mexico and Canada.
Online Market Entry? Localize your Website
Advanced Superabrasives International (ASI) provides premium high-performance diamond and CBN wheels for customers across the globe. Located in Mars Hill, North Carolina, this business wanted to further expand its customer base to Mexico and Canada.
"They are our largest markets" says Szucs. Canada and Mexico are some of the most accessible markets for small businesses to enter, but that doesn't mean the process is simple! Most companies go the traditional route of hiring representatives and distributors on the ground in these countries.
That's exactly what ASI did. However, Szucs admits, "Our representatives were struggling to find new customers and new opportunities." It was time for ASI to try something new. So they hired IBT Online to build two new localized websites for them, one in each market.
For ASI, the launch of the two new websites was a success and Szucs saw immediate ROI: "When we started working with IBT Online, our website was just based in the U.S., and we had no presence in Mexico or Canada. Within weeks of our websites going live in those markets, we went from cold-calling to getting over 10 requests for quote a week and that's huge."
IBT Online leveraged their expertise in website localization and international online marketing to support ASI in their business objectives and help ASI grow their sales, be found, and be easy to do business with, in Mexico and Canada.
Right from the beginning, Szucs felt that IBT Online was the right partner and very quickly aligned itself behind ASI's international business goals; "What was great about this whole process when working with IBT Online is that they really understood our company and our desires from the beginning, and they gave us options! They gave us the option of just building a website for us in these markets or building these websites and adding digital marketing strategies to help promote the website and our products. IBT Online really does a great job in working with its clients!"
International Online Marketing: The Competitive Advantage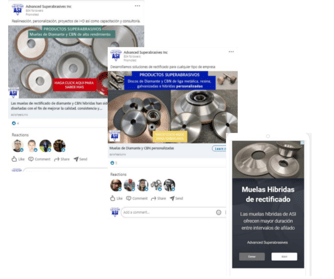 According to Hootsuite, online marketing overtook traditional marketing spend in 2018. Why? Because your customers are online! Whether you sell directly to consumers or through indirect distribution channels, your business prospects are online -- and they are looking for you!
Online marketing is the most effective way to connect and communicate with your ideal target clients across the globe. It works for B2B, B2C, and ecommerce ventures alike. Your localized website, empowered by online marketing strategies, will become a lead generation machine for your business.
To be found online, there are many strategies you can use and it can be challenging to know what to do first or how to scale. That's where IBT Online comes in. Our team specializes in developing customized online marketing strategies that are tailored to your buyer persona and the market they operate within, to ensure you can grow your traffic, engagement, and conversions, turning your localized website into your #1 business development tool.
Here are a few of the elements we cover for you, working together to build a successful online marketing strategy unique to your business:
Search engine optimization

Search Engine Advertising (Google, Bing, Baidu)

Social Media Advertising and help you build a loyal follower base

Content creation and localization

Analytics and Reporting
For ASI, IBT Online developed and manages international online marketing strategies that are optimized for best practices in the Mexican and Canadian markets. This includes leveraging search engines and social media channels that will support ASI's website and product lines as well as communicating to ASI's target audience on their favorite channels, this includes "different platforms like Facebook, LinkedIn, WhatsApp, Google Ads, and so many more applications" says Szucs. As Szucs knows, you can count on IBT Online to expertly utilize these platforms to your business advantage and tailor your strategy to the market you are seeking to reach.
The Online Global journey was a big success for ASI; they have seen measurable ROI and are now equipped to have exponential and sustainable growth in Mexico and Canada. ASI can now look ahead and will continue to rely upon IBT Online as a professional partner to guide and support them in their future online global objectives as well as continued international marketing efforts, as Szucs says: "IBT Online not only understands and takes care of your needs, but they also become a part of your company. In today's Post-Covid world, it's more important for businesses to get out there and globalize your website! And IBT Online is the right company for that and I would recommend them to anyone!"