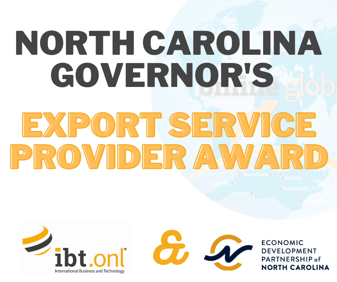 February 9, 2022
IBT ONLINE LLC RECEIVES North Carolina Governor's Export Service Provider Award
IBT Online is proud to announce that we have been presented with the North Carolina Governor's Export Service Provider Award for 2021.
In his addressing message during the award ceremony in Raleigh, NC, Governor Roy Cooper stated that "The companies we honor today demonstrate the importance of international trade to our state's economy and offer great examples of how businesses can grow through global commerce" and IBT Online is proud to be part of this endeavor.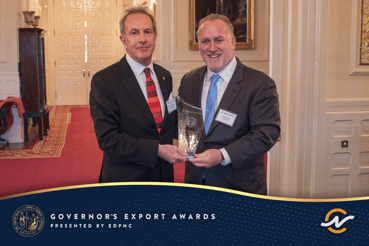 At IBT Online we want to

thank the EDPNC, and notably John Loyack (VP Global Business Services) and Mike Hubbard (Director of International Trade), for the support and opportunity in working together to serve them in fulfilling its mission to support North Carolina companies

in leveraging online business development tools to grow their exports, sales, brand, and business globally.
Since 2002, IBT Online, a proud recipient of the President's "E" Award for Export Service, has specialized in providing online business development tools to North Carolina exporters to help them grow their exports, sales, brand, and business globally.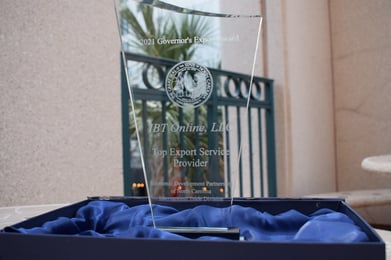 Over the years, and with the invaluable support of our EDPNC partners, we have evolved our North Carolina Online Global Programs which have a proven track record of delivering measurable exports, sales, brand, and business growth for our North Carolina corporate clients.
Delivering best-practice, optimally localized business development websites, designed with an international focus, so North Carolina companies will be found, be understood, and be easy to do business with globally. As well as international online marketing, Search Engine Marketing, Social Media Marketing, and Reporting and Analytics Programs, for North Carolina Exporters to grow their traffic, engagement, and conversions internationally.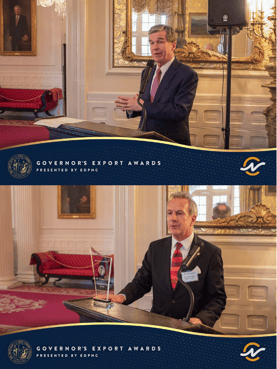 North Carolina Governor Roy Cooper presenting the 8 winners of the 2021 Governor's Export Awards, at the Executive Mansion in Raleigh, NC.

Winners range from a sportfishing boat manufacturer to a Telecommunications equipment supplier.

The 2021 Governor's Export Award winners are:

1. JPS Interoperability Solutions, Inc. in Wake County
2. Barnhardt Manufacturing Company in Mecklenburg County
3. Regulator Marine, Inc. in Chowan County
4. Tanner Pharma Group in Mecklenburg County
5. Oaks Unlimited, Inc. in Haywood County
6. IBT Online, LLC.
7. Allocca Enterprises, Inc.
8. Equilibar, LLC in Buncombe County


John Worthington, CEO, receiving the award on behalf of IBT Online.