Two prior blogs have explored general steps to take in preparing for International Trades Shows and making the most during and after the trade show. In this blog, I explore using your website to enhance results from your trade show investments
Next to your company website, trade show participation may be the most important part of your marketing mix. Even "Personal selling" comes in behind trade shows. Today, trade fairs remain as crucial to business development as ever, despite fears that the internet would replace those vital face to face meetings.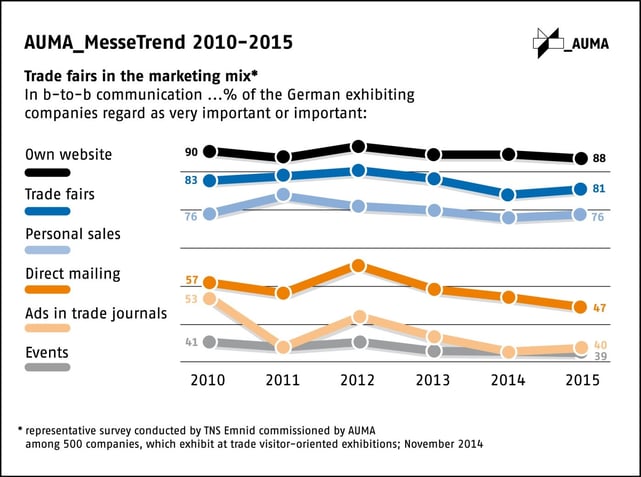 Make the most from your investment. On average companies spend over US$ 60,000 per trade show, with international trade shows adding increased costs. As a rule-of-thumb, quality over quantity is important. Attending one trade show and treating it as an investment is better than attending three trade shows and treating them as expenditures. So how can you. unmake sure your trade show participation generates maximum returns?
Why is your websites one of the best ways to leverage your trade show investment?
In North America and the EU:
93% of businesses research B2B purchases and judge potential business partners online
85% of business procurement commences online
86% of B2B firms use social media
Online Preparation: Your corporate website and social media are two of the most effective tools for preparing and broadcasting your trade show attendance.
Start well in advance ensure your online marketing strategy is in place at least 3 months prior to the trade show. Here are a few suggestions:
Display your company's attendance, with contact details on your website.
Join relevant online groups (LinkedIn etc).
Interact via social media with relevant groups. Note social media is even more prevalent in Europe than in the USA.
Use calls to action and case studies that are relevant to the local target export market. The CTA is the key element to connect your marketing goal with the means of achieving it. Your marketing strategy should have clear CTAs –what do you want your visitors to do: visit your website, tweet about you, share a link….
Leverage your landing pages. The CTA should take visitors to a landing page where they can enter information. Your landing page form can include trade show-specific questions that make it easier for your sales team to follow up with the most engaged leads.
Ensure your trade show involvement is widely known in your company and encourage cross-team communication. This helps leverage existing knowledge or contacts.
During the show:
Include relevant contact information on social media. During a trade show, new prospects are most likely to find you via social media. To ensure increased traffic to your booth, make use of a wide range of social media channels as different prospects use different channels.
Provide regular updates. Let people know you are present during the trade show via regular updates. This will bring more visitors to your booth. If there are people you want to see but you don't have specific meetings planned, give them a way to contact you during the event using social media such as:

Foursquare, a location based social-networking site, is ideal for checking-in and finding out where other people are in the vicinity.
Connect with your leads on LinkedIn soon after meeting them. It is a great way to engage and will help you keep track of your most important leads.
Include a hashtag on your marketing material to encourage others to tweet about you during the show and to start following you on Twitter.
Facebook is increasingly used by companies attending trade shows. Use it to showcase your products and generate interest weeks before the show. Then post photos and videos from the show to bring more visitors to your stand.
Monitor social media and your corporate website. Monitor social media during the event. Watch feeds regularly to pick up any prospect requests and react promptly to them. In addition, monitor the overall traffic to your website. This can give you a good idea of which prospects are checking you out and which online strategies are working best.
Involve participants to get relevant content. Address concerns from prospects in a general way through social media, positioning your company as a problem-solver.
Online Follow Up: Although in person, email and phone follow up are essential, here are several recommendations for how to leverage your online presence:
Collect feedback –Monitor comments about your presence on social media. Note which channels were most productive (YouTube, Twitter, LinkedIn….). Collect constructive insights by emailing a survey or launching a poll question.
Network–Get in touch with the people who wrote about you, and thank them.
Ongoing interaction –Generate new content about the trade show. Take the opportunity to show off your knowledge of the industry but also your commitment to the local export market.
Update your Search Engine Optimization (SEO) –include an updated set of keywords relating to the show and include links to articles that were written about the trade show. Make sure the articles link back to your website for additional inbound links.
Maintain the buzz –Continue the conversation on social media. Monitor the hashtag. See if people are looking for answers to questions about your company.
Download the ibt partners "International Trade shows" whitepaper.
or sign up for our Webinar "Using Trade Shows in Your International Marketing Mix."