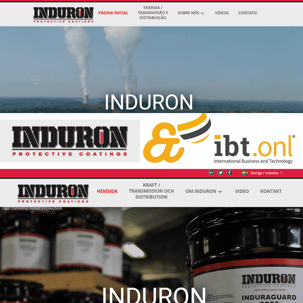 Achieving marketplace recognition overseas to grow your exports, sales, brand, and business globally is not an easy task – you must "look through the lens of the customer!", as Davies Hood, president of Induron Protective Coatings, learned by working with us.
"I like to purchase domestically and in my own language and in US measurements. It made me realize our partners in different parts of the world like to do the same."
At IBT Online we pride ourselves in being able not only to understand our clients' businesses and their goals but also to have a tracked record of being able to build and promote brands that go beyond their domestic market.
IBT Online helped Induron think more like their international consumers instead of like marketing and salespeople, according to Hood; "this was a major mindset shift!"
Customer Facing Content is Key
Induron Protective Coatings is a high-quality industrial paint coating manufacturer headquartered in Birmingham, Alabama. For the last decade, they have tried to grow their international sales efforts. They had some success in Colombia but wanted to increase sales there and expand their reach into other parts of the world. So, when Hood attended one of our webinars about the importance of localized, customer-centric websites, it piqued his interest. This customer focused strategy was all new to Induron.
Induron's paint coatings are designed for bridges, water towers, and other industrial structures. When a customer shops for paint coatings, they need to know how much coverage the product offers. Customers in the US measure gallons per square foot, but most countries worldwide use the Imperial System, measuring square meters per liter.
No one wants to do complicated mathematical conversions while shopping for paint coatings!
After learning about localized customer-focused websites and online marketing strategies from IBT Online, Hood's mindset around marketing completely shifted, "IBT Online forced us to look through the lens of the customer" and understand that in order for Induron products to be found in these target export markets, Induron needed a localized online presence.
Induron decided to launch four new international localized websites designed specifically for customers in Australia, Brazil, Colombia, and Sweden. These new, optimally localized websites showcase their products in the local languages, with product quantities and features converted into the local units of measure and is optimized for the way prospects browse in these markets.
Content Marketing As a Long-term Growth Strategy
IBT Online's vision is to help small to midsize companies access global opportunities and overcome online challenges. Induron's biggest obstacle overseas was marketplace recognition and supporting their local partners: "We are a relatively small company headquartered in the Southeastern United States, not a large publicly-traded company with international recognition," says Hood. "Getting our name out there in different markets has been very important."
To get immediate recognition in a new market, you must have a localized website. IBT Online has found that the best localized websites attract prospects and convert because they are aligned with the prospects in the export market you are trying to reach. Many US companies are so focused on selling and pitching that they forget the customer point of view and neglect to speak in terms that their customer understands, and this strategy simply doesn't work when trying to export your services and products overseas. Hood says, "This mindset change has been beneficial to Induron and me."
IBT Online's team analyzed and localized every word of Induron's websites to appeal to the local consumer in their native culture and language. In addition, we took careful consideration to ensure that the website language and content was optimized for the potential customers and was in line with their online habits and expectations. "When you speak in their language and use their units of measure, the local consumer is more likely to trust you and buy from you" says Hood.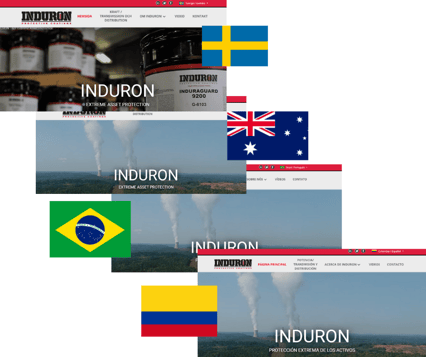 Having a localized website means that your prospect is at the center of the strategy. For Induron, the website localization process was a learning curve in discovering how prospects in Brazil were finding and navigating their sites compared to their prospects in Sweden.
Not only should your website be tailored to the prospects' culture, language and browsing habits,it should also be designed to be user friendly. Ensuring your website offers a local user experience that is easy to navigate and offers conversion opportunities at the right moment. Therefore, we keep the prospect at the center of focus when developing every part of a website to increase engagement and generate leads.
Induron's newly designed, customer-centric websites are the differentiator between them and their global competition and will support the company's route to sustainable, long-term brand growth. In Australia, Brazil, Colombia, and Sweden, Induron's product offerings can easily be found and understood by prospects online. Thus, it's easier for local customers to do business with Induron and purchase their paint coatings again and again.
Thanks to their newly designed, international websites Induron is a recognized and trusted brand in their target export markets and has helped support their partners in each of these markets.
The team at Induron continue to leverage their exporting opportunities in foreign markets and seek the help and guidance of IBT Online as a trusted and expert partner in supporting their export strategy: "My experience with IBT Online has been absolutely fantastic. The attention to detail from everyone on the team has been great. This may sound cheesy, but I view many of the people at IBT Online as friends!"