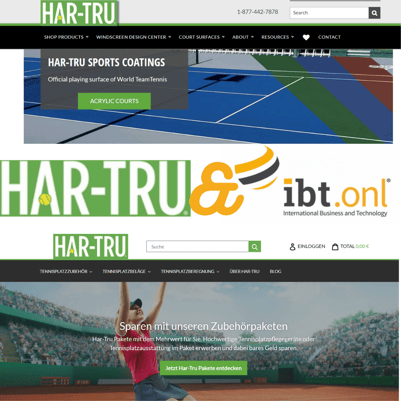 Now is the time to start selling cross-border, but with only 20% of 2020 sales coming from the US, if your ecommerce website is designed only towards your US audience, you're missing out on 80% of the sales!
We know that international ecommerce can be daunting. You need a robust ecommerce platform that is equipped to handle cross-border tax rates and shipping functionalities, as well as an enticing online store front. But that's where IBT Online's expertise comes in with a secret weapon -- Shopify.
You may have heard of this dynamic ecommerce platform, but did you know they operate in over 175 countries around the world? IBT Online Global Programs are designed to leverage this platform by creating optimally localized dynamic ecommerce websites tailored to your target markets, by using Shopify's global platform. The IBT Online team is ready to get your international online shops launched.
With an already established ecommerce presence in the US, Har-Tru LLC worked with IBT Online to optimize their existing German site, and launch two new ecommerce sites for their target customers in France, and the UK. IBT Online "helped us launch our sites from A to Z" says Brandy Gentry, Marketing Director at Har-Tru. "They completely translated everything for us and figured out how to sell our products in different markets! I talk to them more about marketing internationally than my colleagues and I love every member of the IBT Online team.""
1. Building a Digital Footprint
Har-Tru is a global tennis company based in Charlottesville, Virginia. They are the leading source for premium tennis-related products and court surfaces, including the official playing surface of the World Team Tennis. They have grown a successful ecommerce business in the US, but launching cross-border was a significant challenge.
They set a goal to build a footprint in Germany, France, and the UK and increase Har-Tru's brand awareness and international online sales in these target markets.
"We struggled to build brand awareness in an international market that we had no footprint in" said Gentry. "With the language barrier, we had to re-learn how to do marketing. It's completely different in Europe than it is here in almost every way imaginable."
2. An Online Shop with a Local Experience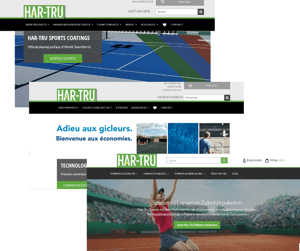 When building a localized ecommerce website, IBT Online always keeps your ideal target customer top of mind. Every part of the website is carefully designed so that your brand can be found, understood, and easy to do business with in your target market As Shopify themselves also say it: the goal is to help your customers "feel right at home, no matter where they are."
Your customer in France needs to read the product information and descriptions in French, and they need to check out and pay in Euros. In Russia, they want to browse Russian-language websites and pay in Rubles.
Ensuring your content, pricing, and inventory is localized for each specific target market does not have to be a management nightmare either; each localized website has its own shop, all easily manageable via the Shopify interface. For Har-Tru, the IBT Online team not only localized their site, but also ensured that German, French, and UK-English language names, description, and specific meta-data were added for each product. For each market, the pricing, currency, and inventory were set. The shop pages were then embedded into each localized website that IBT Online optimized and built for the different markets. The shopping experience is geared towards the target customers, thus encouraging them to shop and buy.
3. Ecommerce Marketing Plays a Major Role in Market Entry
After the websites are launched, the real work begins! Successful ecommerce is all about studying online consumer behavior to learn what they want to see and what is important to them.
The IBT Online team brought their expertise on online buyer behavior to the table and helped Har-Tru's team think through their ongoing strategy, as well as support them in designing, delivering and optimizing their international ecommerce marketing strategy in Europe.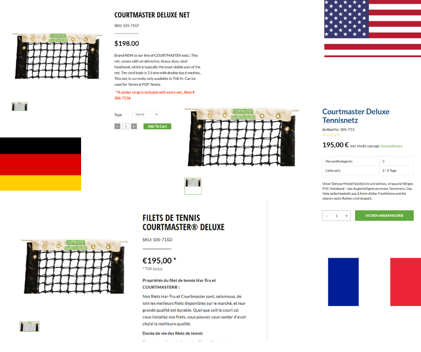 "They helped us build a marketing strategy that not only reaches but actively engages the online consumer base that we are trying to build" says Gentry. "They helped us learn what the market is doing and how our audience is reacting; this was life-saving, honestly."
To ensure their localized ecommerce website can gain visibility and generate sales for them, Har-Tru continues to work with IBT Online as they launched a multi-country, multi-channel Online Global Marketing Program to help them grow traffic, engagement and – your guessed it! – sales.
Leveraging platforms like Google Ads, but also increasing their presence through Social Media, the IBT Online marketing team work very closely with Gentry and Har-Tru to continuously evolve and optimize their strategy based on each market requirements, as well as keeping alignment with Har-Tru's global business strategy: "It shows how hard they work by figuring out the markets for us" says Gentry.
Brandy Gentry now sees IBT Online as a crucial partner in achieving Har Tru's business and marketing objectives: "I talk to them more about marketing internationally than my colleagues and I love every member of the team."