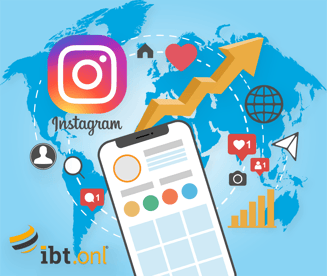 Why Instagram?
Instagram is huge! With over 1 billion active users monthly, it is the second largest social media platform worldwide. Only Facebook is bigger. But that could change, as Instagram's rise shows no sign of slacking. Why is that important for businesses? Because in today's world businesses need to reach their clients and prospective clients on the platforms of their choice. And Instagram is a great choice for businesses.
Today, 80% of all Instagram users follow at least one business account. But that's not all. Instagram has the highest engagement rate of all social media platforms with 4.2 billion likes and 9.4 billion taps generated every day. That makes Instagram the ideal platform for your business to create brand awareness, attract new prospects, direct sales and create loyalty and retention. Especially if you have international ambitions. So, if you haven't already created an Instagram Business account, now is the time. Instagram is rapidly becoming the indispensable global platform for growing your brand awareness.
Number of Monthly Subscribers to Instagram (2010-2018)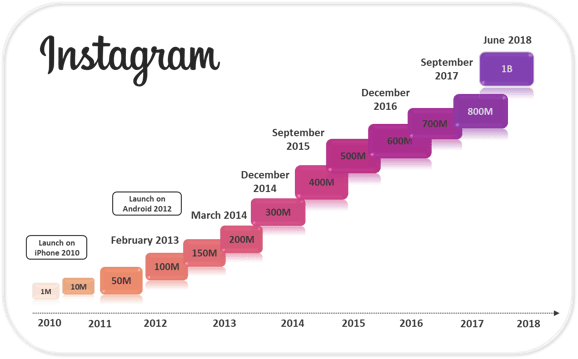 Source: techcrunch.com
Which markets can you reach?
Instagram is used by people all over the world. But each country differs when it comes to the number of users, time spent on the app and demographics. Let's have a look at the top markets to gather their main differences.
The number one Instagram market is the United States with about 120 million users, followed by India with 67 million users and Brazil with around 63 million users. But number of users is not the only criterion to look at. Brazil is not only the third largest Instagram user, but also a leader when it comes to time spent on social media. Brazilians spend 3h 39min on average on social media every day! Just as a comparison, Indian users spend a daily average of 2h 26min and users from the United States 2h on social media.
Another difference between the top Instagram markets are the average age group and gender. While in the United States and Brazil a majority of 25 to 34-year-old women are using Instagram, in India a majority of 18 to 24-year-old men are using the app. Here's a table to summarize these top 3 Instagram markets: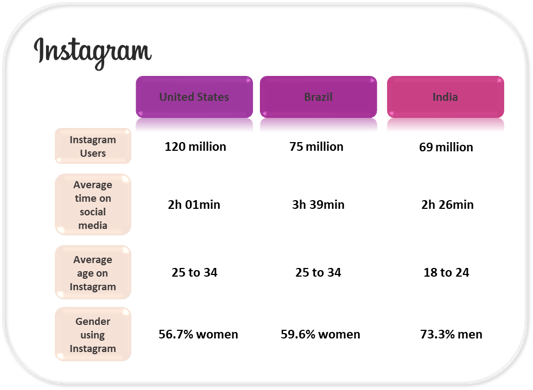 Your Instagram Business Profile
Been tasked to get your company on Instagram? No worries- we've got you covered. The first step to get started on Instagram is creating an account for your company (You can learn how to do this here). You might also consider switching your personal account to a business account and connect it to your company's business email. The Instagram business account enables you to see insights of your Instagram performance, such as impressions, reach, website clicks and profile viewers. You can use this information to optimize the content you post on the platform.
After setting up your account, it is important to add a relevant profile picture, such as your brand logo or any other relevant image for your business or industry. Afterwards, you can add content to your bio. The bio is a small introduction on the top of your profile, limited to 150 characters. That gives you the opportunity to display your business, goals, industry or other features that you think your followers should know. Don't forget to add some hashtags and emojis 😊!
The bio also gives you the chance to add one website. So, choose wisely! which link might be the most relevant for your target audience.
Stories vs Feed vs IGTV
Let's get started with your content on Instagram! There are three ways to post on Instagram: Story, Feed and IGTV. Here's what you need to know about each:
Story:
Instagram stories represent your unofficial social media brand. Posting stories on a regular basis with updates on your products, insights on your company, brand message or team helps boost your Instagram engagement. Stories only last 24 hours and then disappear from the profile. That gives you lots of room for experimentation.
Here are some ideas of what you can post in your Instagram story:
Teasers of your company and products
Promote products by integrating links into the story
Behind the scenes
Take polls
Promote blog posts
While your story content is set to disappear after 24 hours, there is an option to save the story to highlights. You can structure the highlights by relevant themes, and they will appear above your regular feed on the page.
Feed:
Unlike the Instagram stories, the feed shows your official brand. Whatever you post stays in the profile. For that reason, professional looking pictures and a consistent layout are important.
The feed is the ideal tool to increase your reach. People love scrolling around in Instagram's 'discover' area. So, posting in your feed is a terrific way to extend your natural audience.
IGTV:
IGTV is a great way of publishing longer videos. While the Instagram Feed has a restriction of 60 seconds, an IGTV video has a maximum length of 15 minutes when uploaded from a mobile device and 60 minutes when uploaded from the web. You can upload the first seconds in your feed and give viewers the opportunity to switch to IGTV to continue watching. The IGTV feature of Instagram is relatively new and no ads are available yet. Nevertheless, it is a fantastic feature to provide your customers video material such as 'How-to' and instruction videos.
How to keep your viewers engaged
Uploading content to the different channels of Instagram is a good start. To achieve good results in terms of reach and engagement, there are a few points to keep in mind:
Engage with your audience by asking questions and replying to comments and direct messages.
Post consistently: In the best case you should post between 1 and 3 times per day in a consistent frequency. BUT quality still goes over quantity, so make sure that you only publish relevant content rather than flooding your audience.
Post at the right time: To reach as many relevant people as possible, you want to post when you audience is online. You can run some tests to see at which times you get the highest engagement. In general, the best time to post is between 10am and 3pm.
Mobile friendly images and videos: Instagram is predominantly a mobile app. Only a low percentage of users access the social media platform via desktop. So, make sure that your images and videos are mobile friendly.
Use the right image and video format: the most popular formats are vertical (9:16) followed by square (1:1). Content posted in landscape (16:9) has low engagement rates.
Don't risk shadowbanning: By using too many hashtags, bots or inappropriate content, Instagram could block your content in a way you wouldn't even notice it. Even 'innocent' hashtags, which are flooded by spammy or inappropriate content can lead to banning. The best way to avoid being banned is therefore checking Instagram's blacklist. The shadowbanning usually lasts for 14 days. During this time frame your posts get a very low reach. Afterwards, the account goes back to normal.
Overall, Instagram has become an essential part of social media. It is a great tool to reach your audience, enhance engagement and gives you a variety of possibilities to share content with your target group.
Got a question on Instagram? Contact us today - we'd love to hear from you 😊
Sources:
Animoto
Emarketer https://www.emarketer.com/content/the-social-series-who-s-using-instagram
Instagram Help Centre https://help.instagram.com/
HubSpot Academy https://app.hubspot.com/academy/
Napoleon Cat https://napoleoncat.com/stats/instagram-users-in-brazil/2018/10
https://napoleoncat.com/stats/instagram-users-in-india/2018/11
TechCrunch https://techcrunch.com/2018/06/20/instagram-1-billion-users/
Sproutsocial https://sproutsocial.com/insights/instagram-stats/
Statista https://www.statista.com/statistics/578364/countries-with-most-instagram-users/
https://www.statista.com/statistics/530498/instagram-users-in-the-us-by-gender/
Social square https://www.sociablesquare.com/instagram-shadowban-2019/
https://www.dappergoat.com/blog/banned-instagram-hashtags-2019/