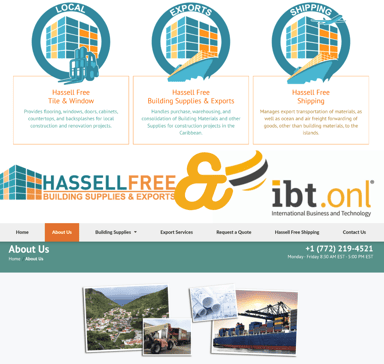 While a beautiful location to visit, the Caribbean can be a challenging export market. The islands are spread out geographically, the population is multi-cultural, and there are several different languages spoken there! How can you grow your business and boost exports in this geographically dispersed and diverse market?
Hillary Hassell of Hassell Free Exports came to IBT Online with that very question! "IBT Online set us in the right direction moving forward, I definitely see a long-term partnership with them!" says Hassell. IBT Online supported them with the build and launch of a localized website presence in this market, backed by strategic online marketing campaigns to ensure the Hassell Free brand would get noticed and ensure long-term business growth in this region.
Keep reading to learn how this Florida-based company launched a bespoke exporting strategy and boosted their sales in this tropical and multicultural market.
Watch this video of Hillary Hassell, from Hassell Free Exports, discussing localized websites and ongoing international marketing campaigns, all delivered by IBT Online. As Hassell states: "I definitely feel like IBT Online is a great resource for businesses that are exporting!"
Getting Started: Keywords and Optimization
Hassell Free Exports is a family-owned company that exports building materials. Based in Palm City, Florida, they have a long history of exporting materials for large projects in the Caribbean Islands. They wanted to reach more customers there, specifically, they recognized the need to offer an online eco-system tailored and optimized for their prospective clients. "We've managed our website in-house for years" says Hassell, but when it came to building a new website for the Caribbean audience, their team lacked the expertise: "We needed direction on how to best host the new website and manage it".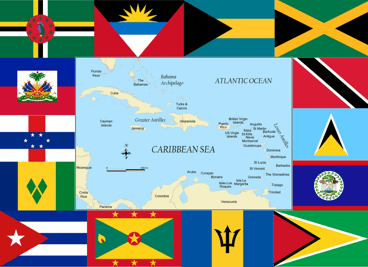 For a region as geographically dispersed as the Caribbean Islands it is essential to do your research first and identify the preferred social platforms, search engines, languages, and online behaviors that will allow you to tailor your online strategy to this multi-cultural market.
The Caribbean Islands are dependent on exports, which means consumers are used to turning to search engines like Google to do their initial product research. Even supply chain managers go online to find partners and companies who can best serve them. In order for Hassell Free Exports to appear at the top of the search results, they need to have content that is relevant and tailored to the searcher.
Search engines work by "indexing" or organizing local websites. Think of it as a massive virtual filing cabinet. Google, one of the most popular search engines, has different cabinet drawers for various keywords. You want to fill up your website with the right keywords so that Goggle can pull your site out of the "cabinet drawer" first.
Someone searching in the Caribbean for "building supplies" may type in lots of different words, including "flooring," "cabinets," "windows," and more. The key to being found online via search engines is to skilfully write website content that has the right keywords in the right place. Luckily, this is one of IBT Online's specialties! As Hassell says: "IBT Online made everything simple for us. We didn't have to get too involved but could focus on running our business."

Refining the Communications Strategy: Localiz

ation
When it comes to website content, it's essential to cater to the individual consumers in the region; communicating in their preferred languages and platforms. The first step was to launch best-practice optimally localized websites to reach these target markets. Luckily, IBT Online has a team of specialists who speak many international languages and are experts in localizing content for foreign markets.
The two most common languages spoken in the Caribbean are local versions of English and Dutch. For this reason, IBT Online built two new websites to serve these target audiences: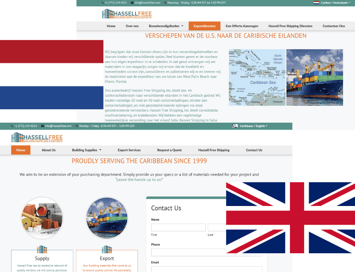 Both websites are built, localized, and managed by IBT Online's team of web design experts, check out the Online Global Website Localization programs here.
The new websites are location-specific, connect with local prospects and incorporate the regional dialects and colloquialisms.
The Dutch Caribbean, sometimes referred to as the Netherlands Antilles, refers to six islands in the Caribbean Sea. Without a Dutch website, Hassell Free Exports has very little chance of being found by prospects in these nations.
Caribbean English primarily traces its roots to British English and West African languages. Many essential keywords and phrases are completely unique to Caribbean English and would not appear if your website was in British or American English.
Dialect, linguistics, and proper grammar are all key to building trust with your audience and establishing your company as a reputable organization. When used correctly, you blend in with the local audience. When you have a typo or use colloquial slang, it's clear -- you're an outsider. IBT Online's team considers dialect, colloquialisms, keywords, imagery, and more when launching new websites. They analyze every word to ensure it is translated to appeal to the local audience. By getting their websites translated and localized properly by IBT Online, Hassell Free Exports shows their prospective customers that they are trustworthy and have a vested interest in the local market.
Having a localized website that speaks to your target market also goes a long way to solidifying relationships with distributors on the ground. The localized website offers distributors in the region the opportunity to showcase the products with a full language and relevant content experience that conveys the brand and reputation of Hassell Free. This type of commitment to the market becomes the foundation for long-term, profitable and sustainable relationships with your distributors.
Amplifying the Message: Marketing
"This year, we decided to pull the trigger and work with IBT Online, and we are very glad we did" says Hassell. Excited by the success of the localized websites, Hassell Free Exports decided to invest further in their exporting strategy and continue using IBT Online's services to do so. IBT Online launched both a domestic online marketing as well as an international online marketing strategy for Hassell Free Exports which included: email marketing, social media marketing, and ongoing search engine optimization.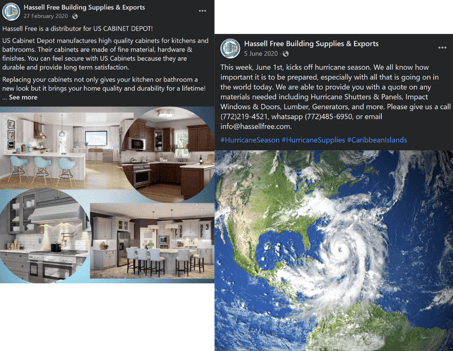 The online marketing efforts continue to support Hassell Free Exports distributors and partners in the Caribbean as well as the U.S., drive traffic to the website, and connect with prospective customers.
The Caribbean market is dependent on exports. The small islands don't have the resources that larger countries do. Consumers and business professionals depend on searching online to find solutions. By catering to their Caribbean prospects searching online, Hassell Free Exports is opening themselves up to a lot more business in the Caribbean! The online marketing campaigns have been effective in driving prospects to the new websites and boosting conversions.
Hassell Free Export's established presence on Facebook, Google Ads, LinkedIn, SEO, blogging, and more have all been handled and leveraged by IBT Online's team of digital experts. Check out our international online marketing programs here!
"Before, we were just going with the flow" admits Hassell, but now Hassell Free Export's business growth strategy is carefully tailored to best position their brand and business for the diversity and multiplicity of the Caribbean markets as well as their domestic U.S. market. With their new localized websites and ongoing online marketing program, the company now has a lead generation system that will expose and promote their brand to reach new customers.