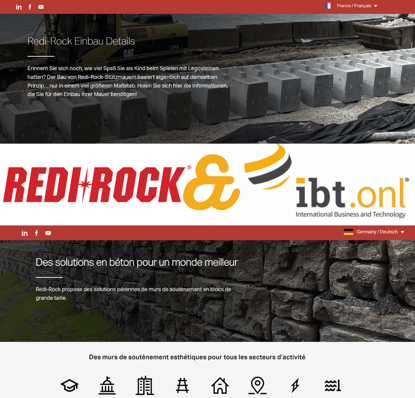 The Online Global Program is a proven path for launching brands into international markets and building a long-term sales pipeline.
That's exactly what Redi-Rock International, a Michigan-based company, wanted to do, as Mattie Meadows, Marketing Manager states: "We wanted to show that we are an international company". To achieve this objective with confidence, Redi Rock partnered with IBT Online to expand their global online presence, starting with the French and German markets.
Now Redi-Rock can demonstrate to their domestic and international prospects, clients and partners that they are, indeed, a global business with a local digital footprint.
Listen to Mattie Meadows to learn how IBT Online's helped Redi-Rock International achieve global business growth by leveraging a local go-to-market strategy!
Go Global Now!
Redi-Rock International is a Michigan-based licensing company that exports steal forms and moulds across the world. They have been producing their product in Europe for several years but had a minimal marketing presence there, as Meadows says: "We wanted to show that we are an international company".
Knowing that each market has its own nuances, business culture, languages etc. Redi-Rock realized that they needed a partner that had expertise in the fields of global business growth. They decided to partner with IBT Online and signed up for the Michigan Online Global programs which allowed Redi-Rock to develop a strategy that drives local success while remaining cohesive to their brand message and long-term objectives. The first piece of this was designing and launching two optimally localized, best-practice websites to reach their French and German customers.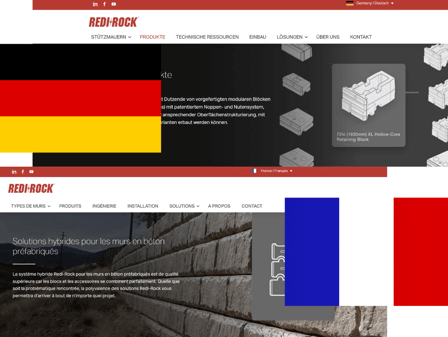 France: https://redi-rock.fr/
Germany: https://redi-rock.de/
Not only was this a smart business decision for Redi-Rock's brand image, but this was also a timely business decision, as global ecommerce is projected to grow rapidly over the next several years.
According to Shopify, the global ecommerce market is expected to total $5.55 trillion in 2022, which is 21% of all international sales. By 2025, industry leaders project a 6.7% increase, which means ecommerce will account for over a quarter of all global sales. Now is the time to enhance your online brand presence and ecommerce websites to ensure you can compete in the worldwide marketplace.
Framework for Global Expansion: the Online Global Programs
Entering new markets can be challenging and costly. Redi-Rock decided the best path forward was to take advantage of the Online Global Programs which would allow them to immediately tap into IBT Online's digital expertise and save time reaching their target global markets. As Meadows asserts: "This lowered our barrier to entry and yielded us a high-quality product."
The first step of the Online Global Programs is website localization. A localized website is a brand new website that is designed for a specific country or region. This new website is designed to mirror the look and fee of your domestic website but at the same able to speak to the local market, so your customers in that region can understand you, communicate and learn about your products in their native language and easily do business with you online!
The second step is to launch targeted marketing campaigns to ensure your new localized website is easy to be found by your target customers. We do this through a multi-channel strategy built around Search Engine Marketing, Social Media Marketing, and sophisticated analytics and reporting. The key here is to craft great content that resonates with the local target audience and speaks to their needs. This includes optimized keywords and value-add content that engages and delights your existing customers and prospective clients. Regular analytics and reporting make sure all is on track to maximize your ad spend returns.
The Online Global Program is a proven path for launching brands into new, international markets. In fact, 95% of IBT Online's clients say they reach their goals of growing their exports, sales, brand, and business internationally. Redi-Rock's experience reaching the European market is no exception, as Meadows states: "This is a great system and framework we can replicate so that we can expand into different countries. We plan to do the same thing in other countries we want to grow in."
Localization

Is The Way To Market!
As Redi-Rock continues to expand their brand presence in France and Germany, translation was one of their biggest challenges. As Meadows explains: "We are a very technical company and work with engineers and contractors. We have a lot of specialized terms that need to be used. We needed to find a partner we could trust that would work with us to ensure we're providing the best translations for our international markets and make sure we're localized for our customers."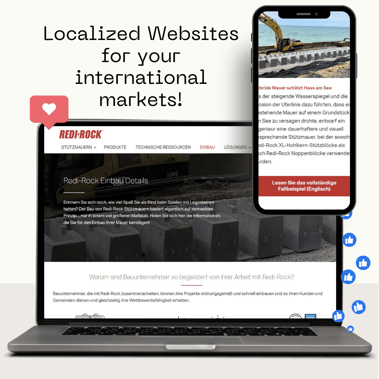 Proper translation is vital, especially if you want to connect with customers worldwide. According to CSA Research, 40% of consumers will not buy from websites in other languages. In a recent Flow.io survey of global consumers, evidence demonstrated that consumers want product descriptions, product reviews, and the checkout process to be in their first language.
A generic translation or Google translate isn't enough. Dialect, linguistics, and proper grammar are crucial to building trust with your audience and establishing your company as a reputable organization. When used correctly, you blend in with the local audience. When you have a typo or use U.S. colloquial slang, it's clear -- you're an outsider. When your website and marketing content is written in the local dialect, the reader is more likely to trust your site as a reliable source. This will increase the likelihood that they decide to buy!
Most companies do not have the time or resources to have experts in their chosen target markets around the world. For this reason, choosing a partner is a crucial decision that can help leapfrog your business into your international markets: "Working with IBT Online was really great" says Meadows. "There was an excellent and really diverse team, with a lot of different skill sets, so knowing that we had experts in translation, experts in content, experts in project management etc. it was really great to know we had people we could trust."
Meadows would highly encourage other companies to take advantage of the Online Global Programs to expand into new international markets and grow a global business with a local footprint. IBT Online specializes in helping you leverage your full global potential by focusing on what matters most: growing your exports, sales, brand, and business in your target markets around the world.