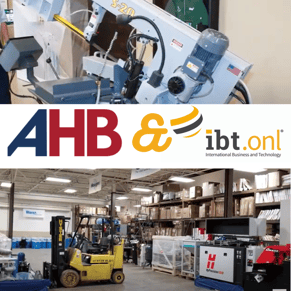 Selling and promoting your products around the world can be challenging! If you're part of a small or medium-sized business, you know that you need to employ the right strategy to achieve ROI as soon as possible. You don't have extra hours in the day or room in your budget to make mistakes.
The most efficient way to enter new international markets is by leveraging online business development tools. At IBT Online we specialize in building market-specific websites tailored to the local audience, helping US exporters being found, understood and become easy to do business with globally.
Of course, it takes an investment to launch a website - an investment of finances and your team's precious time. The time spent on big projects like this can be very costly, which is all the more reason why AHB trusted IBT Online's team of technical experts to become their perfect partner, providing all the technical expertise needed.
Read how AHB Tooling and Machinery recently expanded their online presence to reach Chinese, German, and Spanish-speaking customers online. "Launching these international websites allowed us to increase our business in places we didn't think possible" says Claire Marquette, Marketing Coordinator of AHB.
Getting Started: Identify Your Target Market
AHB Tooling and Machinery (AHB) is a Michigan-based distributor of metalworking solutions. They are known in the US as an industry leader for machines, consumables, and parts for waterjets. The company was eager to penetrate new markets worldwide, build brand awareness, showcase its products, and educate their new international audience about their company.
AHB discovered the Michigan Online Global Program thanks to Michigan Economic Development Corporation (MEDC) who advised them to partner with IBT Online to expand their online global presence, and they have seen ROI grow ever since.
The first step was to identify suitable international target markets. Previously, AHB discounted these markets because they thought they were too challenging to enter, but with the support and guidance of the IBT Online team, they felt confident it could be achieved and decided to focus on Chinese, German, and Spanish-speaking customers; "I can see this as being a huge step in the right direction," says Marquette.
The Right Partner at the Right Price
AHB considers itself a global company, but it had not been able to enter these markets previously. Mike Gleason, president at AHB said, "Our barrier to entry was the financial investment and the technical knowledge of building foreign websites."
Thanks to the great support offered by the MEDC, AHB received a STEP Grant from the State of Michigan, which they used to cover some of the new international websites' development costs.
Gleason admitted that they needed to complete the project well below market cost without compromising the final product's quality. Times are tough, especially for small and mid-sized companies. Every penny spent needs to make a substantial return and finding the right partner that has the technical skills is one of the most important decisions in that process. AHB Tooling found the right partner in IBT Online, as Gleason says: "IBT Online are truly one of the most professional, organized, results-driven partners that we have".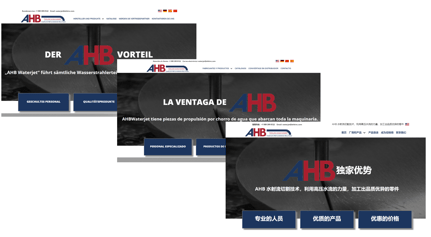 AHB has high criteria for whom they work with because their products are very technical, and their team is well-trained. The opportunity to grow their business in these target markets Gealson says presented particular challenges including time, expertise, and financial investment. However, "IBT Online satisfied all these criteria!". AHB Tooling were thrilled to find a highly technical partner in IBT Online who could achieve a fast turnaround for their online business goals and provide significant ROI on their investment. Gleason was very impressed with the high-quality of the team: "They have professional technical staff who know local markets. They know what's important for website localization in those local markets"
Launching three new websites was a big undertaking. However, the IBT Online team guided the process and did all the heavy lifting.
"Everyone was a pleasure to work with, and they walked us through every step, even the tedious ones. They made sure our project was completed in a timely manner and on schedule," said Gleason. "When we brought up challenges, the IBT Online team would turn on a dime to come up with solutions."
When it comes to expanding into foreign markets, you need a partner with experience. Gleason encourages other Michigan companies to partner with IBT Online, "You can have a professional, foreign digital presence with a minimum investment of time and finances."