Germany is known as an export power-house. But did you know it is also the 3rd largest importer in the world? A localized German website lets you reach +100 million consumers and engage with this affluent, huge market.

Germany is known for being a huge exporter, but businesses importing to Germany also know that it buys a lot of non-German products. In fact, Germany is the largest single importer in the EU and the third largest importer in the world. So for businesses looking to grow their sales and brands in Germany, what's the best way to be found, understood and do business? Get a localized German website. In this blog we share some of our experiences in helping exporters get great German websites. From German language characteristics to German market expectations, we show you what you need to know to grow your sales, brands and businesses in Germany.
Germany is by far the largest economy in Europe. In GDP terms, it is nearly 50% larger than the number 2 in Europe, making Germany the fourth largest economy in the world. It is also the world's third largest exporter and importer, a distinction it has held for many years, and only just trailing economic giants the U.S.A. and China. For both export and import, the U.S.A. ranks among Germany's top 3 trade partners. Take a look at the chart below and note the export size of Germany versus the U.S.A.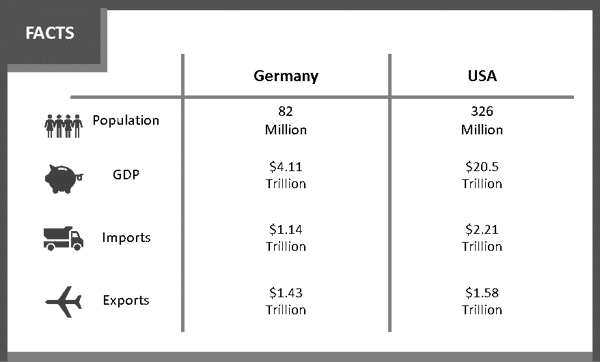 With 82 million inhabitants, Germany is Europe's most populous country, equivalent to the combined populations of California, Florida and Texas. And when looking at your online presence, the good news is that your German website extends out even further, to more like 100 million people. The German language is an official language in six countries: Germany, Belgium, Austria, Switzerland, Luxembourg and Liechtenstein. That makes a total of 87 million native speakers plus more than 9 million German second-language speakers. In addition, there are large border regions with the Netherlands and Poland which are also bilingual. We reckon, a German website reaches about 100 million consumers.
Countries with German as official language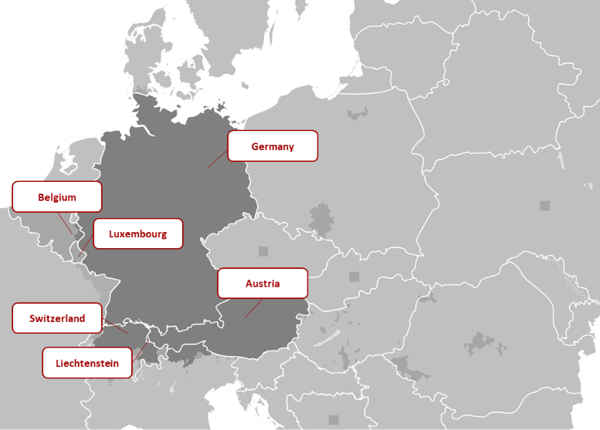 But what about the German language?
Getting a great German website is not just about a good translation. There are a lot of elements that go into making sure your German prospects feel confident and engage with your German local online presence.
Linguists measure differences between languages in various ways. One method is to measure the level of difficulty a person who speak one language has, to learn another language. Between English and the German language, the linguistic distance is 0.44. For comparison, French and English have a linguistic distance of 0.40 and Arabic versus English of 0.67.
We note three main aspects of German versus English that are especially important when we build websites for our clients:
Length
German just takes up more space. Translate text from English into and German and your end text will be longer. This basically reflects complex German grammar and a greater use of pronouns. German written style also lends itself to wordier pronouncements, adding subordinate clauses as often as possible.
For websites, especially conscious of mobile screens, the German love of compound words can also be a challenge. Germans love putting words together to create new words. Words like 'Massenkommunikationsdiesntleistungsunternehmen', which means 'mass communication service companies', are no rarity in the German language. Germans are used to picking apart compound words but how to fit them on a mobile screen?
One bit of good news is that Germans have no problem using abbreviations, even in official documents. Using the equivalent of 'e.g.' within a text is not considered too colloquial and the Germans have developed a long string of frequently used abbreviations.
Grammar & Vocabulary
One characteristic of the German language is the use of specific English words. While the word is English, it might not always be used that is familiar to English speakers. A great example is the word 'handy'. In English, handy is an adjective meaning practical and useful, while in German a handy is a noun meaning a mobile phone.
Expectations
Germans are more formal than most Brits or Americans and this extends to their online presence. For example, the German language has two ways of saying 'you': a familiar 'du' and a formal 'Sie'. Use the formal version for your clients and prospects and your online presence. Also, it is normal to address people by their surnames rather than the first name. Of course, these things always depend on your business model and the industry but addressing people in the formal form can never go wrong.
While the German language is wordier than English, your German business prospects also have content expectations when looking online: Germans expect more information and details about products. This counts especially for technical industries. For this reason, it is important to provide enough information about your products without flooding the readers with content. One solution is using downloadable documents with additional content, technical documentation or further details fitting your products and services.
What does this mean for your German website?
The German market offers a wide range of opportunities for your business but has also high expectations for the quality of your products, as well as your website. Here are a few must-haves for a successful online presence in Germany:
Know the law!
Germany has strict regulations for data protection, copyright and website ownership. Disregarding these laws is expensive. It is imperative to have a GDPR compliant website and ensure the usage and authorship rights (Impressum) of everything published on the German website. Want to learn more about GDPR?
Translation
While 70% of Germans speak English, Germans expect to find everything online in their own language. Germany is too big a market to ignore. Without a localized German website, you are invisible to your German prospects.
Correct grammar, spelling and vocabulary are a must for a good impression. Your website represents your brand and your business, and a low-quality, poorly translated content gives the impression of a low-quality product.
Localization
Localization is much more than simple translation. From currencies and measurement units, to correct texts, images and regulations, your website needs to give local prospects and clients the confidence they need for the buying experience. For the German market, this means: correct content, respect of data regulations and content!
Structure & Design
Compound words and subordinate sentences could trigger changes to your website design. Sidebars and the structure of pages could be changed in order not to look cluttered. Also, use common abbreviations to counterbalance the extra length.
References:
Chiswick and Miller (2005) 'Linguistic distance' Journal of Multilingual and Multicultural Development
Ethnologue 'Languages of the world – German, Standard': https://www.ethnologue.com/language/deu
Special Euorbarometer 386 'Europeans and their Languages': http://ec.europa.eu/commfrontoffice/publicopinion/archives/ebs/ebs_386_anx_en.pdf
International Monetary Fund 'Report for Selected Countries and Subjects': https://www.imf.org/external/pubs/ft/weo/2018/02/weodata/weorept.aspx?pr.x=37&pr.y=7&sy=2016&ey=2018&scsm=1&ssd=1&sort=country&ds=.&br=1&c=134&s=NGDPD%2CPPPGDP%2CNGDPDPC%2CPPPPC&grp=0&a=
The World Factbook 'Europe: Germany': https://www.cia.gov/library/publications/resources/the-world-factbook/geos/gm.html
Visual Capitalist 'Visualizing the World's Largest Importers 2017': https://www.visualcapitalist.com/visualizing-the-worlds-largest-importers-in-2017/
World's Top Exporters 'Top EU Import Countries': http://www.worldstopexports.com/top-eu-import-countries/