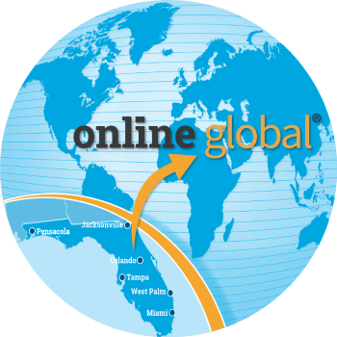 Reach new export customers and grow your business rapidly with Florida Online Global programs. The top 3 benefits are:

1) Attracting new international clients and growing your exports with global localized websites and international online marketing programs

2) Grow your Online Global exports, sales, brand and business success

3) $8,000 in grants to invest in your business development

How does that work for you?
Make the internet work for you globally: help your international prospects, customers and partners find you, understand you and do business with you… The internet has changed the "go to international market business model", enabling digitally-savvy exporting SMEs to grow their sales, brands and businesses globally.
IBT Online, an international marketing agency, partnering with Enterprise Florida, created the Florida Online Global program to help you successfully grow your exports, sales, brand and business in your target international markets. Check out the 3 top benefits for your business:
1. Exports, sales, brand and business growth for your export company.
Grow your export sales and brand recognition in international markets and add measurable enterprise value to your company as new clients are on-boarded and existing clients sales extended. Client testimonials demonstrate >20% YOY export sales growth. The Florida Online Global program will deliver websites in your target markets, working for your business 24/7 helping you be found, understood and easy to do business.
2. Starting your Online Global success story.
The business world has gone through a radical, paradigm "online" shift. Digitally savvy exporting companies have grown from SME's to multi-billion dollar multi-national enterprises (think UBER, Airbnb and 1,000's of others…) leveraging online opportunities, internationally. You can do the same! We help you get online, using the internet to grow your exports, sales, brands and business! Our Online Global program clients experience a "Eureka" moment, rolling out into, on average, 5 markets with local websites and marketing, as their global business grows.
Manny Mencia, Senior Vice President for International Development at Enterprise Florida, recommends "all Florida exporters explore this great opportunity with IBT Online". Watch his video here:
3. The $8,000 annual Florida Online Global grant.
Enterprise Florida provides Florida companies with unbeatable support and opportunities to expand internationally, through a range of programs and support grants. The Florida Online Global program is the newest and most cutting-edge of those programs, all about making the internet work for your export company internationally, and with an $8,000 grant that helps you get on the Online Global road to success. And guess what, you can get that grant each year, and our clients do!
Take advantage of this offer now with IBT Online, your international marketing agency. Get in touch today to discuss the Florida Online Global program and the 3 top benefits to growing your business online and globally.