Our blog How to sell online in Germany introduced the attractiveness of the German ecommerce market and outlined the main expectations of German e-shoppers, including payment methods, delivery, returns, mobility, personalization and terms & policies. Today, we will have a closer look at the theme of German online payment methods.
According to the German E-Commerce and Distance Selling Trade Association (bevh) study, the most popular online payment method preferred by 39% of German e-shoppers are online payment services. Besides the international platform PayPal there are many local online payment service providers such as Sofortüberweisung.de, ClickandBuy and Giropay that are well known and have a significant market share of the online payment services.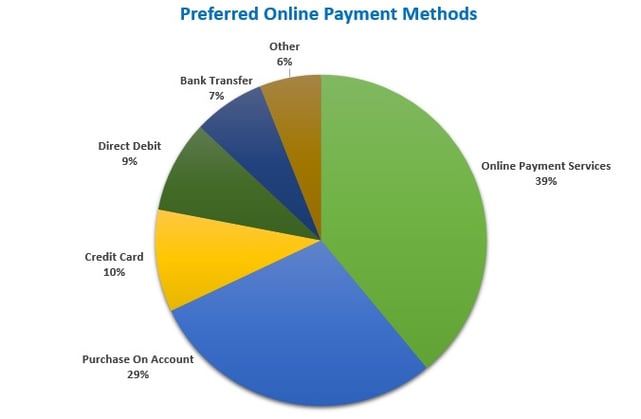 Source: bevh/Creditreform Boniversum 2015
The second most popular payment method is purchase on account, preferred by 29% by German e-shoppers, but rarely seen outside the Germany. In her interview with Marketing Sherpa, Nadine Späth, Consumer goods and e-commerce expert for Germany Trade & Invest, explains that Germans use online payment services for smaller purchases, but prefer purchase on account for bigger purchases, such as sofa or TV. This is due to their risk-averse nature and the possibility to receive the goods first before having to pay. Payment is usually requested via invoice and is payable within 2 weeks. Although this method is risky for the retailer, many successful companies selling in Germany offer this method in order to raise customer's confidence in placing an order with them. To mitigate the risk, retailers can for a small fee run background checks during the checkout process against the customer's address and only offer the purchase on account method to historically solvent customers.
Credit cards are not widely accepted in brick-and-mortar stores, so many Germans do not even own them. As a result, only 10% of German e-shoppers prefer to use them. While this is the most popular payment method in many European countries and the USA, the situation in Germany is very different. Entering a German ecommerce market and offering only a credit card-based payment option will result in losing potential customers during the checkout process.
While the pie chart suggests that debit card usage is very low, Späth explains that this might be because the chart reflects preferred online payment methods, while actual debit card usage is considerably higher. Cash and debit cards are the most popular payment methods in traditional brick-and-mortar stores, so the likelihood is that your German e-shoppers owns a debit card is higher than a credit card. Therefore, it is highly recommended to offer this online payment option as well.
Interested in Germany? Register for our webinar How to sell online in Germany on February 24th.
Sources:
http://www.marketingsherpa.com/article/chart/international-ecommerce-chart#
http://www.gtai.de/GTAI/Content/EN/Invest/_SharedDocs/Downloads/GTAI/Fact-sheets/Business-services-ict/fact-sheet-e-commerce-en.pdf