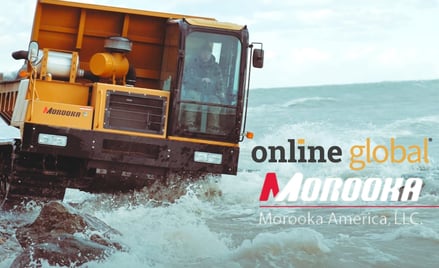 Morooka America is a manufacturer of all-terrain construction equipment based in Virginia. They work primarily through a global distribution network.
Up until 2020, they had reasonably good sales in North America from local distributors and were gaining traction in European and South American markets. However, when the pandemic hit in March 2020, their international sales came to a halt.
Read how this manufacturer launched 4 new optimally localized websites and international online marketing programs with IBT Online to expand into new markets and exceed their sales goals during a global pandemic.
As Takashi Inoue, CEO of Morooka America, says; "I'm very happy with IBT Online and the web marketing they provide, and I want to recommend them to our mother company in Japan!"
Localized Websites and Digital Marketing to Support Global Distribution Network
Morooka had ambitious sales goals for their distributors in North America, South America, and Europe in 2020. They quickly realized they had to do something different to reach their goals in the middle of the pandemic, as Takashi Inoue, CEO of Morooka America says: "Due to COVID-19 suddenly we lost the North America market and so we started the program!"
They decided to invest in Virginia's Online Global Program to get website localization and digital marketing support from IBT Online. They focused on four specific markets:
IBT Online's team of digital experts built Morooka America 4 new optimally-localized websites in each of their target markets and has developed, launched, and is managing their online marketing strategy and campaigns to support the traffic, engagements, and conversion growth in one of their key markets; Belgium.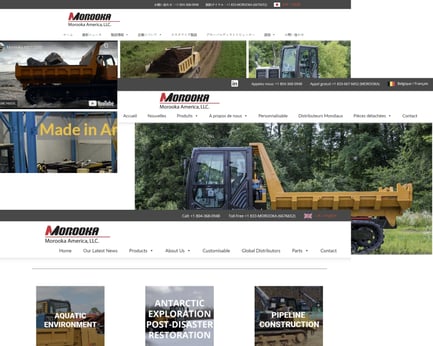 Aligned with Morooka America's objectives of increasing product sales from their U.S. production line, each optimized website is dedicated and tailored to the foreign market it sits in but supports the American, Virginia-based manufacturing site. Thanks to the newly launched websites, Morooka America is now being found, searched for, and engaged with online in each of its target markets, now across three continents. Thanks to this uptick in international visibility Morooka America have significantly increased their U.S. manufacturing production line sales.
The success of the newly launched websites and marketing is evident in Morooka America's international market sales. Previous to 2020, Morooka America had only sold two units in the UK. Now, Takashi Inoue, says he talks with their European partner almost every day because there is so much new interest in their products. They have now sold over 10 units in Belgium alone, and sales in the UK, Japan, and North America have soared.
As Inoue says: "In Europe, previously we sold the Japanese machines only but this needed a very long delivery time ... now I've connected with the General Manager in Europe and now the shipping time is just two weeks. 5 units of MST-3000VDR have already been placed to order. So now every day we are looking at the markets and it's really interesting and fantastic, I'm really happy to do this web marketing with IBT Online!"
The Online Marketing Package: How it Works
The key to Morooka America's exporting success is in having a strategy that includes setting up localized, best-practice websites and supporting them by ongoing online marketing campaigns. The power of IBT Online's marketing program is that we put the work into ensuring your website can be found, understood, and easy to do business with your target customers and that it continues to work for you and drive traffic to your website continually.
But does a one-size-fits-all marketing strategy really work? No!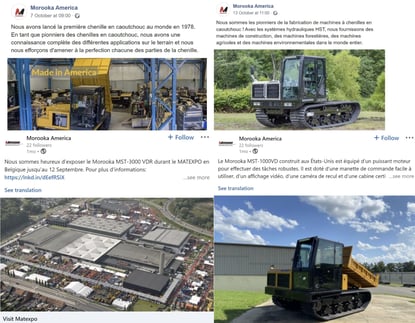 Morooka America has a clear goal of what they want to achieve over a 12 months period, so IBT Online took on the challenge and developed a bespoke strategy that spans search engine marketing (SEM), social media marketing (SMM), reporting and analytics tactics to ensure we can drive high-quality traffic to the website, engage users with informative and captivating content, supporting them in their buyer's journey, and providing them with clear conversion opportunities.
The key to getting the strategy right lies in an in-depth content analysis of your current marketing efforts. We work with you to develop a buyer persona and analyze the buyer journey. We also study your competition and relevant companies in your industry to create the optimum buyer experience for your target customers.
We design marketing media that can be used across the channels, from social media marketing to search engine ads and more. We localize the media for each of your unique target markets, to ensure the best engagement and user experience
The key to any marketing strategy's success is… data!
Our clients know this well as, as part of our program, we collate, manage and review reports that are available to them in real-time. Every month we take the opportunity to sit down (virtually, unfortunately) with them to review progress, discuss any changes required and ensure we continue to push forward in the same, strategic, aligned direction.
These combined efforts is what has been proving successful for Morooka America, and the results speak for themselves. They were able to expand into new international markets and exceed their sales goals during a global pandemic.