This blog's goal is to give you an overview of European domain registration requirements for selected countries.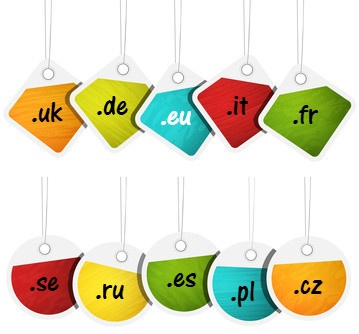 Can a non-EU company register European domains?
Even though the EU coordinates and standardizes many processes across the member states, requirements for domain registration are still managed by each country independently and often differ considerably. Some countries will allow you to register domains without further requirements, while others will require you to provide various local details, e.g. address or corporate tax number, in which case you'll need the help of a local partner. Some domain registrars provide local contact details for selected countries as part of their service too.
Should I register .eu?
.eu is an increasingly popular domain geographically associated with Europe that you should consider registering. Currently, Google does not recognize .eu as a country specific domain, but as a general domain, which means that on its own it won't help you with search engine optimization in Europe. However, using the .eu domain in conjunction with country codes in forms of subdomains, (e.g. fr.companyname.eu) or subdirectories, (e.g. companyname.eu/fr) will provide you with the same SEO benefits as having a country specific domain like companyname.fr.
So why bother registering individual European domains, one for each country? Because it protects your brand. If you're still pondering the benefits of international domain registration, read our blog on SEO and branding benefits brought by international domains.
Below is a table that gives you an overview of requirements for European domain registration across the most demanded countries.
Country
Domain extension
(country code)
Registration requirements
Austria
.at
No restrictions
Belgium
.be
No restrictions
Belarus
.by
No restrictions
Croatia
.hr
Individuals, companies and organizations registered in Croatia
Czech Republic
.cz
No restrictions
Germany
.de
Local postal address
Denmark
.dk
No restrictions
Estonia
.ee
No restrictions
EU
.eu
Individuals, companies and organizations registered in the EU or EEA
Finland
.fi
Individuals, companies and organizations registered in Finland
France
.fr
Individuals, companies and organizations registered in the EU or EEA
Greece
.gr
No restrictions
Hungary
.hu
No restrictions
Iceland
.is
No restrictions
Ireland
.ie
Proof of connection with Ireland, e.g. Irish residency, company registered in Ireland, proof of trade with Irish customers
Italy
.it
EU postal address
Latvia
.lv
No restrictions
Lithuania
.lt
No restrictions
Netherlands
.nl
No restrictions
Norway
.no
Companies and organizations registered in Norway
Poland
.pl
No restrictions
Portugal
.pt
No restrictions
Romania
.ro
No restrictions
Russia
.ru
No restrictions
Slovakia
.sk
No restrictions
Slovenia
.si
No restrictions
Spain
.es
No restrictions
Sweden
.se
No restrictions
Switzerland
.ch
No restrictions
Ukraine
.ua
Companies and organizations registered in Ukraine
United Kingdom
.co.uk, .uk
No restrictions
Exporting to South America? Read our blog on South American domains here.
Country specific requirements for domain registration can change, please check with your domain registrar for the latest updates or contact us.
Source of domain registration requirements: EuroDNS