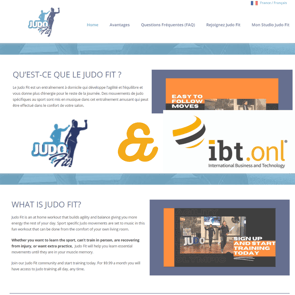 It's no secret that the pandemic hurt a lot of businesses in 2020, especially brick-and-mortar businesses. As the premier Judo training center in Southeast Idaho, Blue Line Judo was severely impacted by the pandemic and was among the companies struggling to stay in business.
At IBT Online we have always been in the digital space, keeping and helping our clients stay ahead of the curve, but in 2020 the importance of being found, understood, and easy to do business with online became clearer than ever.
We know that digital is here to stay, and so does Blue Line Judo who has invested in two optimally localized, business development websites to help them make their new digital service global!
When the State Governor issued a stay-at-home order, Blue Line Judo's Owner, Janna Van Witbeck, could no longer hold physical classes for her students. Her income began to decline. She knew she had to diversify and create other income streams, or she would struggle to re-open her studio. She decided to take what she already knew -- Judo -- and convert it into a versatile online service.
"I needed to create the second stream of income, so we created a new online product during the pandemic called Judo Fit" says Van Witbeck, which would offer online Judo classes for a variety of age and skill categories.
The best part about launching an online service is that you can sell it anywhere in the world. Judo is not very popular in Van Witbeck's hometown (or in the United States in general for that matter!). However, it is wildly popular in the United Kingdom and France. Van Witbeck had heard about the Online Global programs and was determined to launch Judo Fit in her two international target markets. She applied for a state grant and was awarded funds to partner with IBT Online to help make it happen!
Eighteen months after she was forced to close her studio doors temporarily due to the Pandemic, Van Witbeck now has a thriving global online business.
Van Witbeck was spot on in thinking that in order to be successful with her online services they needed to be tailored to the new markets she was trying to reach. She knew she could not expect her existing US website to be found in France or the United Kingdom, it simply won't show up in people's searches. People in France and the UK are searching differently for judo and there are also different expectations, as Van Witbeck says: "Even though the product is the same, the culture around Judo domestically is very different than it is in France, where Judo is a household name and everyone knows the sport. Whereas in the U.S. nobody knows what Judo is."
Through the Online Global programs, IBT Online built two optimally localized websites, one for France and one for the United Kingdom.
The New Normal Requires a New Business Model
Over the last decade, brick-and-mortar stores have struggled to keep up with their online competition. The pandemic only made things worse. Now consumers have grown accustomed to shopping online and aren't going back in store. According to Forbes, this type of brand interaction "will stick well after the pandemic ends. With these changes likely becoming permanent, businesses will see less foot traffic in their brick-and-mortar locations."
Janna's decision to launch her service online proved to be both forward-thinking and a sustainable business initiative. Now her business has a diversified strategy with a service she can sell anywhere in the world.
Brick-and-mortar stores can begin to compete in the online marketplace by creating virtual products just like Judo Fit. Third-party app developers, ecommerce platforms such as Shopify, and consumer shopping online trends make it easier than ever to launch an online product or service. The hard part is the website localization and international online marketing -- and that's where IBT online comes in.
IBT Online is committed to helping small businesses find and adopt new strategies to succeed in the "new normal." We know that the secret to scaling a business is creating online products and finding new customers to export them worldwide. In fact, IBT Online received the President's "E" Award in 2020 for export service, recognizing our contribution to the expansion of US exports. Our team has the expertise to make sure your online service gets found in all your target markets.
Personal Touch is the Key to Customer Acquisition
The pandemic has changed the way customers engage with online brands. Harvard Business Review (HBR) says that organizations must take an approach that is "customer-centric," and this is especially true for B2B companies who want to stay competitive post-pandemic.
Most companies get it wrong by being company-focused – that is, focused on their own company objectives. HBR (and IBT Online) recommend taking a personalized, client-focused approach. When entering a new market, it is imperative to take the time to research and understand the customer in that market. Then a marketing strategy can be built based on this intelligence:
Look for clues:
Who

are they?

What

are their needs?

When

do they shop?

Where

do they live?

Why

do they need the product/service?
Remember, the way customers shop online has shifted. They now expect that brands meet their needs (AdAge, Jane Ostler). To be able to do that, you need to understand what they need!
Van Witbeck did just that. With help from IBT Online, she chose to launch Judo Fit in France and the UK because there is a lot of interest in the Judo sport in these countries. "The culture around the sport is different" says Van Witbeck.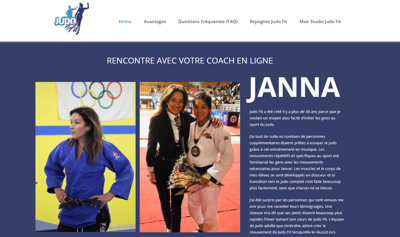 In the US, Van Witbeck's main marketing objective was to raise awareness around the sport. In France and the UK, the average household knows and loves the sport of Judo already: "We needed professional help to understand how our marketing strategy would be totally different in a country where the sport is popular."
IBT Online created and launched two new optimally localized, best-practice websites for Judo Fit: one in France and another in the UK. These websites are locally optimized to ensure they are found by the "Judo-loving sports fans" in these countries, communicating in the right language, with the right keywords and phrases, and imagery for the target audience. They are also optimized for search engines so that when these "Judo-loving sports fans" are looking on Google to find Judo-related services, they will find Judo Fit.
Van Witbeck admits, "I was intimidated expanding into France." She chose IBT Online specifically for our experience and expertise when it comes to growing your exports, business, brand, and sales in new international markets: "IBT Online assured me that the French people would love my services and feel included because the website is in the French language and designed for them."
Play the Long Game
When you launch a new product or service, the work is just getting started. In the same way, when you launch a new website, the work has just begun!
There are four ongoing strategies needed to ensure your website continues to deliver ROI for years to come: SEO; social media; paid advertising; and analytics and reporting.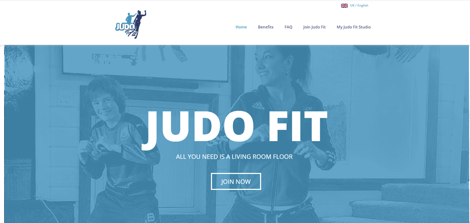 These tactics, especially SEO, require expertise and a long-term vision to generate leads. As Hubspot says, "SEO is far from an exact science." Your online strategy needs to be consistently refreshed, revised and fine-tuned, so you continue to be found by your target audience. Forbes reports that search volume has doubled in the past year, so this will only become more challenging.
IBT Online's offers international online marketing services centered around your localized websites in each of your international markets. We work in tandem with your marketing teams to define country-specific objectives, building the online marketing strategy and roadmap.
"It makes a big difference when you're working with a really confident team of people," says Van Witbeck. "It was cool to work with people from all over the world."
Crafting great content that resonates with the local target audience is IBT Online's specialty. We draw upon the expertise of our global team -- from optimized keywords to value-added content that engages and delights your existing clients and your prospective clients. Regular analytics and reporting make sure all is on track to maximize your ad spend returns.
IBT Online's vision is to make Online Global programs so that companies such as Blue Line Judo can access global opportunities and overcome all barriers to entry in their export target markets. Van Witbeck now recognizes and leans on IBT Online as a trusted partner in her international business objectives, as she says: "Working with IBT Online was so fun, I've never had such a professional team backing me up! I would love to get to a place where I'm expanding into even more countries … it makes a big difference when you are working with a really confident team!"