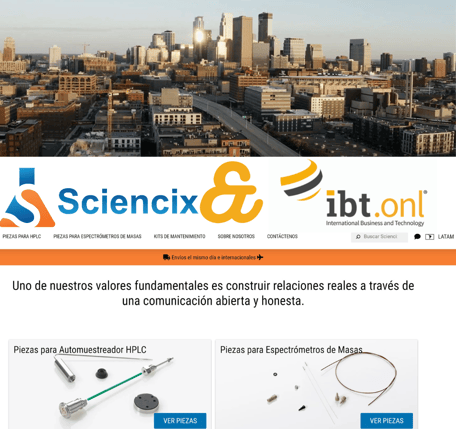 IBT Online is proud to share with you that our client Sciencix was awarded The SBA 2023 Exporter of the Year. It is a great case study on how Online Global programs work, and deliver exports, sales, brand, and business growth.
Starting in 2021, supported by SBA State Trade Expansion Program (STEP) grant funding, IBT Online began delivering best-practice, optimally localized business development websites, so Sciencix would be found, be understood, and be easy to do business with in their target export markets. Today, Sciencix has "a growing list of clients around the globe", and "exports now account for one-third of Sciencix's total sales, and its products support research laboratories in over one hundred countries, spanning all continents".
Listen to Raj Bhandari, President, and Lisa Bamford, Director of Global Marketing, as they share the Sciencix story and the path to becoming SBA 2023 Exporter of the Year!
Since 1985, Sciencix has worked hard to grow their brand organically in over 100 countries. However, it was time to take a more strategic and proactive approach. Sciencix partnered with IBT Online to build, optimize, and launch two new websites for the Latin America and India market.
"We've already seen a really positive response from our customers in those areas" says Lisa Bamford, from Sciencix. In IBT Online, Sciencix found a partner to help them build out a bespoke strategy that would speak to their international prospects and ultimately, reach their global business objectives, as Bamford says: "It pays to be very specific in your website marketing. I know it was the right choice." Now that their Latin American and Indian websites are up and running, Sciencix is planning their first trips to Latin America and India to visit their customers and strengthen relationships there. They've also expanded their goal to reach more countries, as Bamford says: "The Online Global Program opened our eyes to potential and possibility we had never considered. I know it was the right choice."
Watch this video of Lisa Bamford, Director of Global Marketing and Business Development at Sciencix, discussing the ongoing brand and business growth thanks to the localized websites, all delivered by IBT Online. As Bamford says: "I recommend any company to strongly consider taking this path with IBT Online so you can expand and go to places you've never been before!"
Catering to the Customer
Sciencix works in the laboratory analytical space, providing parts for lab instruments all over the world. Coming out of the pandemic, they realized it was time to strengthen their online presence. They decided to focus on developing websites that spoke directly to their potential customers in Latin America and India. "Being a small company, we don't have a physical presence in these markets" says Bamford. Sciencix understood that launching a digital presence would be crucial for growth in those markets.
Connecting with customers is the key to growing sales, especially in international markets. Sprout Social reports that 64% of consumers want brands to connect with them. They are eager for connection, even online! Sciencix wanted to put the customer first in their global exporting strategy. They signed up for the Online Global programs with IBT Online to create a more bespoke and personalized experience for their international prospects, as Bamford explains: "In this day and age where virtual tools are a lifeline, having websites that speak directly to various parts of the world makes those customers feel included, and it demonstrates that your company cares enough to reach out to them proactively."

Many companies struggle when they rely on one central website. They think that their English-language website will speak to everyone. That's simply not the case – Babble notes that only 17% of the world's population speaks English. Therefore, your English-language website is missing out on connecting with 83% of the world's population. That's a lot of potential customers! In addition, CSA Research's Report states that 65% of consumers prefer content in their own language, and 40% won't buy from websites in other languages. These statistics demonstrate the importance of translating your website into the language of your target customers and making your online presence accessible, relatable and culturally aligned with your foreign audiences' expectations.
When you develop websites that are specifically catered to the local customer, it brings value to them and demonstrates your company's commitment to the market. Bamford says; "They feel like you're meeting them on their playground instead of expecting them to come to yours." Creating a 'local presence' that speaks and nurtures prospects in your international markets is key to achieving your global exporting objectives.
Some brands rely on Google Translate or browser plug-ins to facilitate the language barrier. Unfortunately, this isn't ideal. These tools only provide a basic translation that is often flawed. Customers will pick up on this and lose trust in the organization, often before making a purchase. That's why the IBT Online team takes the localization process to the next level. Every word, graphic, and piece of content on the website is analyzed and converted so that it connects and appeals to the local target customer. We take into consideration dialect, linguistics, conversions, and more to ensure that you are understood by your target customers and easy to do business with.


With Sciencix, their Latin American website was developed in the Spanish language. The Indian website was developed in the version of English that's spoken (and searched for!) in India (which is very different than US English).
Check out Sciencix's two newly localized, best-practice websites here: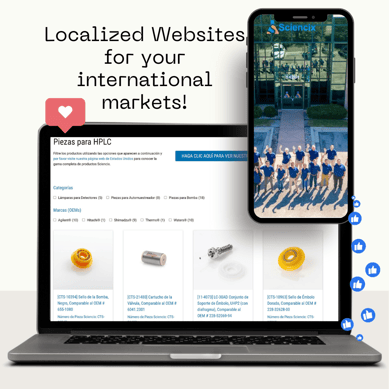 Finding the Right Partner
"When we mentioned that we wanted to capitalize on opportunities in Latin America and India, the EDPNC suggested the IBT Online to us" says Bamford. The program provided the best "venue" for Sciencix to achieve their exporting growth objectives.
In the beginning, however, Bamford and the team at Sciencix were concerned about the project, knowing how complicated their industry could be. They were worried that their brand message and content wouldn't be showcased appropriately after being translated for the Latin American and Indian audiences. Bamford admits she was pleasantly surprised; "The IBT Online team grasped our business immediately. They are well versed in high-level concepts and challenging technical industries. If they can work with us, they can work with anyone!"
In 20 years in business, the IBT Online team has created over 2,000 new websites in over 40 countries and 25 different languages. This breadth of experience has equipped our team to take on challenging industries and complex brands. That's why we offer so much online educational content for free!
This is an added bonus to the Online Global Program and helps to ensure that businesses are always making informed and data-based decisions, as Bamford explains: "They educated us outside the scope of work by providing free webinars on how to strengthen our virtual presence or present in trade shows more effectively. This was unexpected." At IBT Online our objective is to help your business grow their export, sales, brand, and business internationally and make sure that the Online Global programs offer significant and quantifiable return on investment. Sciencix was delighted by the professionalism of the team, the quality of the work and certainly felt it was well-worth the investment, as Bamford says: "We got so much more than what we paid for!"
As you look to work with a partner to help expand your brand presence around the world. We advise you to look for a diverse team that has real-world experience. Part of our team strength lies in our diversity. Bamford loved hopping on meetings with us and hearing our team members' different accents. "I felt like I was getting to travel around the world. The experience they have from each market was brought to our new websites and seeing it now in the final product is remarkable."
Looking Forward to the Future
Now that their Latin American and Indian websites are up and running, Sciencix is planning their first trips to Latin America and India to visit their customers and strengthen relationships there. They've also expanded their goal to reach more countries, as Bamford says: "The Online Global Program opened our eyes to potential and possibility we had never considered. I know it was the right choice. I recommend any company to strongly consider taking this path with IBT Online so you can expand and go to places you've never been before!"