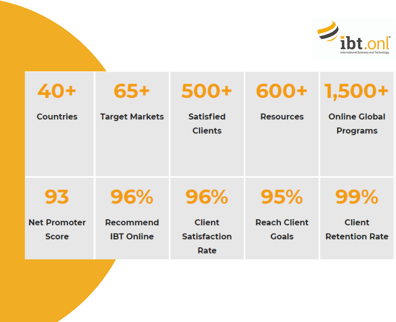 At IBT Online, our mission is to help U.S. exporters navigate the online global environment, reach their international target markets, and grow their exports, sales, brand, and business globally.
We are proud to say that we currently work with over 500 companies, in over 65 target markets around the world, delivering over 1,500 Online Global Programs.
In recognition of this, IBT Online has been awarded the President's 'E' Award, which is the highest recognition any U.S. company can receive for contributing to national export expansion efforts that support the U.S. economy and create American jobs.
How do we do this? Well, we have designed innovative Online Global Programs to fit the needs of U.S. exporters for whichever market they are trying to reach. We value our clients, and we work in collaboration with them to build an Online Global Program that is unique to their needs and business objectives.
But we could not grow and continuously improve our services to ensure we can serve you better, without our client feedback!
Client Feedback helps guide and shape our strategies, as well as make sure we are consistently improving to better serve U.S. exporters. With this in mind, we make a point of collecting feedback throughout the journey as well as after their optimally localized websites go live.
Our Net Promoter Score of 93 as well as our Client Retention Rate of 99%, demonstrates our commitment to providing quality services that solve today's and tomorrow's online global challenges. We strive to always maximize our expertise and use cutting-edge technologies to provide innovative global business development opportunities for our clients.
As Mike Gleason, President of AHB Tooling and Machinery, says: "IBT Online is truly one of the most professional, organized, results-driven partners that we have!"
95% of our clients say that we successfully reached their business goals and express a satisfaction rate of 96%, demonstrating our commitment to our client's unique journey in going global. We strive to create Online Global Programs that work and are tailored to each and every one of our clients.
As Michael Strope, Vice-President of Sales and Marketing at MSSC, describes; "IBT Online built us three new websites in Mexico, Brazil, and UK. These were the three markets that we really wanted to strengthen and grow our online presence in. We consider the Online Global Program a success for us, as it increased brand awareness in those international markets and we are very pleased with the results of each of these three websites. We also felt very connected to the project throughout."
But we also value and enjoy the partnership and the collaborative experience throughout the journey. We see this reflected in the experience of our clients as 96% say they would highly recommend us, or as Jonathan Szucs, CEO and Founder of Advanced Superabrasives, says:
"IBT Online really does a great job in working with its clients, to not only understand and take care of your needs but to really be a part of your company. I think that's what sets IBT Online apart from anybody else that I've ever worked with. I really feel that IBT Online is the right company for your website and your website globalization and I definitely would recommend them to anybody out there. I hope to see you as an IBT Online client as well!"
We value the diversity of our clients and recognize that every client's journey of going global is unique. And this is reflected in our client testimonials!