Content Management Systems (CMS) are not our fellow human beings, they are just online tools for building and editing websites. So why do so many of us feel so passionate about them? If you discover a new CMS feature that will simplify your work, you love your CMS. But if it doesn't work as you instructed and the editor displays a mess instead, you hate your CMS. The relationship gets sometimes complicated. But whatever that is, today's question that we will answer is: What should you require from your CMS when building multilingual websites?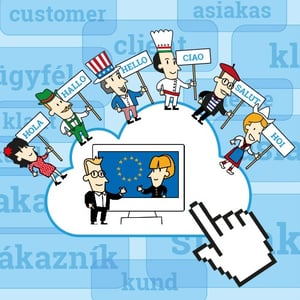 When building a website, you will have many of your own specific requirements. Some general website properties required by many businesses include:
Intuitive
Easy to use
Flexible
Customizable
Compatible with third party add-ons/plug-ins
With features that support SEO
Without an ongoing management fee
When it comes to building multilingual websites, there are even more requirements that you should take into account. If your CMS does not fulfil these requirements, your multilingual website might be unable to provide a pleasant user experience, might suffer in performance on search engines, or both. Below is an overview of multilingual CMS requirements, with multilingual e-commerce requirements listed towards the bottom.
Multilingual website structure and navigation
Building multilingual websites is not only about creating a new page using the same template in a different language. The website navigation (menu) also needs to be in a given language and the multilingual version needs to be therefore separated from the original home market version. Google recommends doing so in one of three ways:
By using a different top-level domain, e.g. www.yourwebsite.fr for France and www.yourwebsite.de for Germany.
By using a different subdomain, e.g. fr.yourwebsite.com or fr.yourwebsite.eu for France and de.yourwebsite.com or de.yourwebsite.eu for Germany.
By using a different subdirectory, e.g. www.yourwebsite.com/fr or www.yourwebsite.eu/fr for France and www.yourwebsite.com/de or www.yourwebsite.eu/de for Germany.
Not all CMS can facilitate this, so make sure you select one that does.
Hreflang code
In addition to using different top-level domains, subdomains or subdirectories, it is also recommended that your CMS allows you to embed rel-alternate-hreflang code, which tells Google more precisely what geographic/lingual market your website is targeting. This usually fairly is easy to do with the majority of CMS, provided you are not using a template design with restricted access.
More advice from Google on managing multilingual websites is available here.
Multilingual URLs
Some systems allow you to create multilingual body text and navigation menu, but do not allow you to create customized URLs in each of your languages. Since URLs are one of the most important locations for your keywords, your web pages might be ranked considerably lower in the local search results if the URLs are kept in English.
Multilingual meta titles and meta descriptions
Similarly to URLs, meta titles are one of the key ranking factors, and your CMS must allow you to create customized meta titles for each of your language entries. Meta descriptions are not useful in helping you rank higher in the search results, but are of a paramount importance when your web page already appears in search results and the meta description's job is to convince the person searching the web to click on your link and visit your website.
Remember that when entering a new geographical market online, you have to build your online authority from scratch. Search engine optimization will help you improve your local online authority and increase your visibility online.
If you're thinking of having a multilingual e-commerce platform, there are even more things that need to be addressed. See our recommendations below:
100% editable text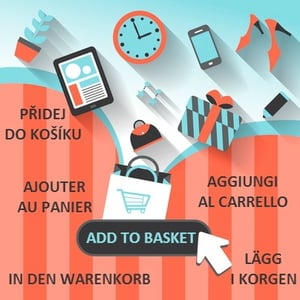 This might sound obvious, but it is the single most important thing when it comes to building multilingual websites. Many e-commerce solution platforms and similar web editors claim to be fully editable and multilingual, but the fact remains that you often have access to only about three quarters of all text that needs to be translated and you might find yourself having to write many complex java scripts to address this issue. Moreover, sometimes it's proving very difficult to identify all, often pre-set, English content. You can't just translate product descriptions and your homepage, you have to think carefully about text on pages related to the following activities:
Adding goods to basket, editing and updating the basket
Checkout and payment process
Account creation, log in and management
Order/payment confirmation
Automated emails relating to all of the above activities
It might be extremely difficult for your customer to place an order if part of the process had instructions in a foreign language and many would be discouraged from completing an order if they failed to understand the process.
Currency
Your customer is increasingly likely to buy online if you can provide prices and facilitate payments in local currencies. Many banks charge fees for international transactions and thus discourage e-shoppers from purchasing in other than their local currency. Example: Zloty in Poland.
Tax rates
Different countries and different products require different tax rates (VAT). Make sure you can specify them in your e-commerce platform on a country basis. Example: Italian standard tax rate is 22%, reduced tax rate is 10% and 4%.
Units of measurement
If you are using pre-defined fields to describe your product dimensions or volume, verify that you can do so in local systems of measurement. Example: metric system in France.
Payment methods
Different countries prefer different payment methods. If you can't offer your customer's preferred method, you might just have lost a sale. Check if your CMS or its add-on supports various payment methods, such as credit cards, online payment services or COD (cash-on-delivery). Example: sofortueberweisung.de online payment service is a very popular payment method in Germany.
Shipping methods
Ensure that your CMS or e-commerce add-on does not restrict you to one of the global shipping providers. Many countries have their own preferred, often cheaper, shipping methods, only available in their home market. Example: Uloženka in the Czech Republic.
The above is just a list of CMS requirements for building multilingual websites and multilingual e-commerce, but there are more things to think about when selling internationally, such as content localization and policies. Our ebook on E-commerce in Europe will help you understand what other issues need to be addressed, so that you don't lose any sales just because you haven't localized your multilingual website enough.