Satamazone know that their target clients are tech-savvy and that they will search for Satamazone products on the web. Getting great websites for key export markets is therefore essential for the company to grow and realize its international ambitions. In addition, the company does not always have local distributors in export markets but relies on its website to generate leads and uses its home US-based website as a secure ecommerce platform.As a provider of satellite telephone communications products and services based in Florida, Satamazone consider Latin America to be a prime target market. Management chose to focus on Brazil and Peru: two very different but high growth potential markets. Through the Enterprise Florida Online Global Program, Satamazone now boasts two new websites in Peru and Brazil that resonate with the local target clients: the websites are in Peruvian Spanish and Brazilian Portuguese, key words have been identified and used to optimize the sites and even a few additions were made to the design to ensure a great local user experience.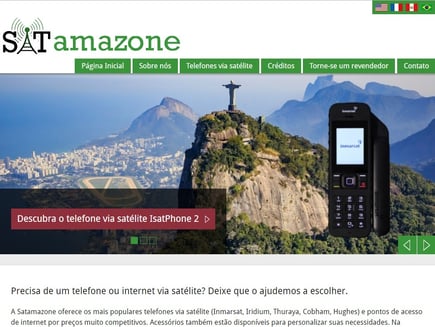 Company Director Nisha Ramnarine noted that Satamazone used to target "jungles and deserts" in their customer searches but can now leverage the localized websites for lead generation and "reach even more people" (click on the video below to hear what Nisha has to say).
Management are keen to start using the websites and promoting their services in key export markets. They are also looking at the next steps with IBT Online, including how they can use the Spanish and Portuguese websites as a base to further extend Satamazone's global reach and brand development.