Building global brands
Roll-Rite sell their innovative tarping systems to trucking companies, haulage groups and speciality transporters from a range of different industries. Their clients are all looking for quality, reliability and strong service support. Brand recognition is therefore key to building that trust and in today's world, websites and social media play a vital role for brand development.
Listen to Roll-Rite CEO Brad Templeman talk about how localized websites have helped his company grow their international business and global brand awareness.
Localized websites as platforms to grow
Management identified Europe as a market with solid growth potential. This was boosted by their Dutch distributor who had the capacity to expand and help Roll-Rite grow their business in neighbouring markets like France and Germany. Building their websites, IBT Online adapted the terminology and even the case studies to reflect market specifics. The websites also had to serve as a platform to attract new in-market agents and a "Become a Partner" page was added to each local website.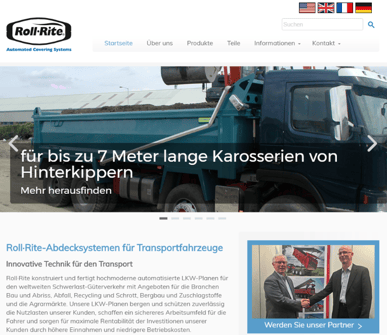 Social media nurtures the brand
Social media campaigns were planned with IBT Online to start as soon as the websites were live. International trade shows are an important part of Roll-Rite's export budget and social media aimed to optimize those investments, ensuring management get great meetings and showcase the Roll-Rite product range to a maximise audience. On-going social media is aimed at nurturing the brand over time, making sure Roll-Rite stay front of mind to prospective clients.
Regular analytics improves results
IBT Online reviews the monthly website analytics with management. While evaluating the success of any social media campaign the reviews also help set the priorities for the next social media campaigns. Keeping content fresh and targeted on the company's priorities gives the on-going support needed to nurture the Roll-Rite brand over time.