Peterson Spring management were so pleased with their first 2 international websites that they decided to add another two and IBT Online is proud to have helped them! Within just 6 months, the company has extended its online presence to Germany, Poland, France and Spain: all now boast fully localized websites generating leads and building the global reputation of the largest privately held spring manufacturer in North America.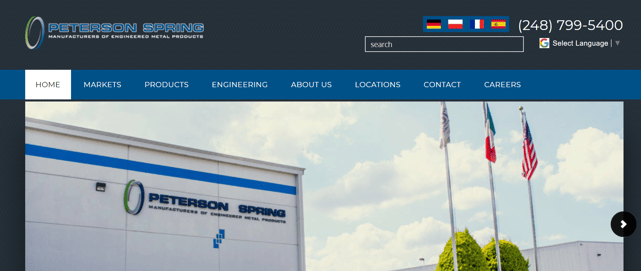 Peterson Spring, founded in Michigan over 100 years ago, manufactures springs to serve the automobile, industrial, defence and manufacturing industries. The company started exporting early in its history and opened international subsidiaries – in Canada, Mexico and the UK. But they were cautious about setting up localized websites for their export markets. They had worked hard on their US core website and knew the time, effort and skills required to get good traction with a local website.
The Michigan Economic Development Corporation's (MEDC) offer to help companies get international websites through the Online Global Program prompted the company to spring into action.
Peterson Spring management decided their biggest priority was increasing their exports to key automotive manufacturing markets like Germany, Poland, France and Spain. But how and where to start getting a local website? Peterson Spring's own US website had taken considerable time and while they had web experience and knowledge in-house, no-one was quite sure how to build and manage local websites in global markets. Management knew that localized websites means more than just translating a few pages. Effective websites need to engage with local concerns and "speak" to the local, target market.
IBT Online, through the MEDC Online Global Program, was there to help. On time and within budget, the German and Polish websites that were launched for Peterson Springs received good results from the start. The company was pleased with the traffic generated, noting that "we are getting really good hits off the websites" as of their launch. Localized websites for the other main export target markets, France and Spain, followed quickly. Management were especially delighted that it had proven an easy and effective process to deliver localized websites for their export markets, saying "putting the sites together was very painless…IBT Online did a fabulous job."
Management are now planning to roll out localized websites for more key export markets using IBT Online.
IBT Online is a privately held company that has worked with some 30 Michigan exporting companies, building and managing localized websites to help Michigan exporters grow their sales, brands and businesses globally.