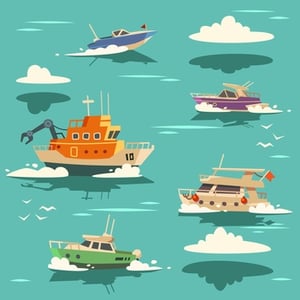 Ever attentive to the international ambitions of its members, the US National Marine Manufacturers Association (NMMA) conducted a survey in June 2016 appropriately titled "Looking to Navigate Beyond US Borders?" 84 companies responded, providing results that re-inforce what those charged with navigating those challenges know: that there are two main routes to grow exports and international business, namely that of i) international trade shows and then ii) online marketing and social media.
International trade shows, the staple route to international markets since such events commenced (in France) some 120 years ago, remains the leader with 73%. But what is interesting is the rapid uptake of online marketing and social media. Off most navigators horizons just 5 years ago, online marketing now commands the attention and budget of 65% of the respondents. And watch that number and % figure continue to rise…

NMMA is the leading association for the North American recreational boating industry, with over 1,500 member companies that together "produce more than 80% of the boats, engines, trailers, accessories and gear used by boaters in North America"! The NMMA runs many robust programs, helping its members through public policy advocacy, market statistics and research, product quality assurance and promotion of the boating lifestyle. The association points out that "with more than 95% of the world's consumers located outside of the United States, exporting opens up a huge untapped market for U.S. businesses. Companies that export are more profitable, grow more quickly, and are better equipped to navigate economic downturns. So driven by the very competent and maritime seasoned Export Development Director Julie Balzano, who has implemented a range of export development programs to help members expand into the global marketplace through: "•international programs •business-to-business connections •market research •exporter education •trade advocacy".
International boat shows, of which there are many for marine manufacturers in the US and across the globe, is highlighted this year by the Marine Equipment Trade Show (METS) November 15–17, 2016 — Amsterdam, The Netherlands. It is the world's largest trade exhibition of equipment, materials and services for the international marine leisure industry. Do see this useful link: https://www.nmma.org/international/shows There is a US pavilion which is always a welcome helping hand offered by the U.S. Commercial Services.
Online marketing and social media is considerably more nebulous. Best practices to help NMMA members go global with website localization and hence navigate online beyond US borders are taking shape. Starting the process, on Thursday July 21st, there is a webinar hosted by Julie and ibt partners, entitled Online Internationally for Marine Manufacturers. Website localization for NMMA members, in other words, country specific websites, helps global expansion, build brand awareness, create local engagement and support in-market representation. Today's online technologies enable NMMA members to speak to the world with online marketing and sell everywhere with e/mcommerce through localized websites and international social media, deployed on the global social media platforms.