A global business challenge
Kasco's challenge was how to support an international distributor network. As a recognized global supplier of pond aerators, fountains and de-icing equipment, Kasco has over 30 distributors across the world and is committed to supplying them with great marketing material as well as helping them generate new leads. In its home USA market, the company uses its website to support its domestic sales reps and to showcase its know-how. Management knew that an online solution was the best way to grow their global business cost effectively but how to do it?
Online solutions
Kasco Marine and IBT Online started working together in 2014, focusing on the largest and most established markets where Kasco had some of its best distributors. IBT built 5 websites, 4 in Europe and 1 in Australia, all of them localized for their domestic market. A year later, localized websites were also rolled out for South America.
Go global – go local
IBT built each website according to the local specifics – not just translating the text but making sure the language, the pictures, case studies and even product selection, provided all the right answers to the local business questions. Where relevant, IBT worked with the local distributor to reinforce the in-market user experience.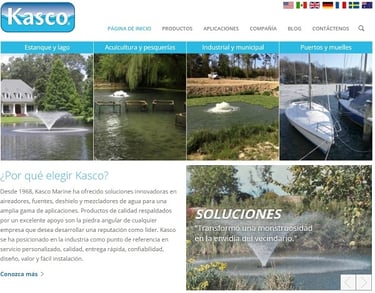 Communicating locally
Guided by Kasco, IBT supported each website with fully localized online marketing in the local language for both B2C and B2B audiences. Search engines are configured according to local markets so each website needs to be looked at and optimized individually. Social media also differs by country but once the key channels were identified, IBT can tailor the Kasco message.
Great return on investment
Kasco's original 5 international websites proved cost efficient and effective at supporting local distributors, lead generation and generating brand recognition in key export markets. Results were so positive that within 12 months, management decided to extend their localized website presence to Spanish-speaking South America. Today, a global active online presence means that Kasco is helping its distributors generate more sales while building its worldwide brand recognition.
"It's been great for us. We've seen a lot of increased traffic, a lot of good qualified leads coming from it so if you're looking at increasing your web presence, I highly recommend IBT Online": Jo Holtz, International Sales Manager for Kasco Marine.
IBT Online is proud to work with Kasco Marine to help develop their global brand, generate leads and support international distributors using localized websites and international online marketing. Please come and check out Kasco's websites, starting with Europe: www.eu.kascomarine.com