Last week I spent four days attending the Paris Air Show, supporting Business Oregon and their three companies exhibiting, as well as Northeast Pennsylvania and their five companies attending the show. If you have not been, it is an enormous seven day event. This year there were 2,260 exhibitions from 47 countries. The USA had 320 exhibitors, 230-plus in the US International Pavilion where I was based. Around the show itself there were many side events, receptions and evening networking parties.
Getting the most from a trade show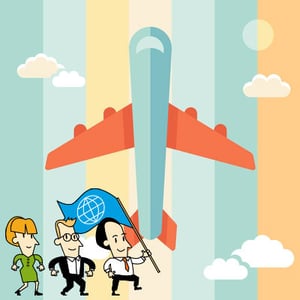 Tradeshows are important events for all companies, especially if they are in your export markets. Beyond the financial commitment, which is often high, there is also the time commitment for people to attend, so the pressure to making the event a success – potential sales – is high. The key to this is really:
Do your homework and plan your visits
Man your stand – give people a reason to come to you
Walk the show and meet people
Tell people you are there
The last point is the one I really get excited about because there is a huge potential to make the trade show a real success by using social media to reach well beyond the event itself.
Planning the social media for the trade show
Let's look at a quick case study. For the three Oregon companies attending the Paris Air Show we used the Business Oregon Europe Facebook page to promote their attendance. Here is what we did…
Promoted the companies attending and their products before the event
Posted regular updates on their products during the show
Created short videos with them at the show (just shot on a iPhone – yes, it works)
Promoted the videos using selected keywords
Used paid social media marketing for selected target audiences chosen by location and by interest usually running a 3 day posting campaign with a $4 per day per post budget
Mixed in postings about the show in general
Results of the social media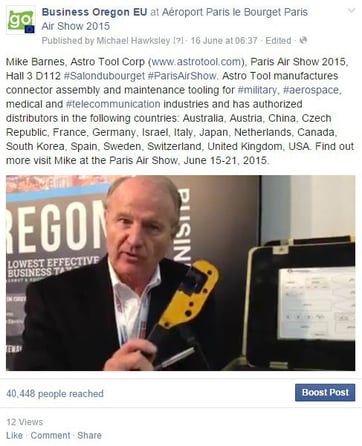 For us the best result is that all companies reported a better than expected show in the number of people seeking them out and the quality of meetings and contacts they made. In time we will know what the financial returns are in sales orders placed.
From a social media side the results were very pleasing too. The video results particularly so: Cascade Engineering Technologies (7,644 people reached), Integrated Surveillance and Defense (5,952 people reached), Astrol Tool Corp (40,488 people reached), Business Oregon (14,264 people reached).
The paid marketing for the products also had great results; the top posts for each organization are: Business Oregon (23,296 people reached), Cascade Engineering Technologies (16,984 people reached), Astrol Tool Corp (12,640 people reached), Integrated Surveillance and Defense (22,200 people reached).
You can do the same!
If you would like to find out more about how you can maximize your trade show attendance and how to use social media to do so then download our asset "International Trade Shows".