We are continuously looking to see how effective our online marketing is, and one of the great benefits of digital marketing is that there are some excellent tools to tell you just that. We are running a series of webinars which are very popular, with over 50 people registered for the last one. Now, my challenge is to set about doubling that number. We share some of our own online marketing activities to help you improve your marketing return on investment.
The marketing chain and traffic sources
There are a lot of different links and correlations in our marketing chain between email shots, social media marketing, direct marketing, landing pages, registration pages and follow up activities. You can start to improve a marketing process at any point and in many ways it is a virtuous circle; once you have improved one you move on to the next and eventually return to where you started.
Here we have started by looking at a webinar registration landing page's traffic sources. As you can see from the below image we are measuring 8 different categories and each category can be further sub-divided. In this case, both our highest number of views and registration form submissions came from email marketing to 3,500 people. TIP: Know your traffic sources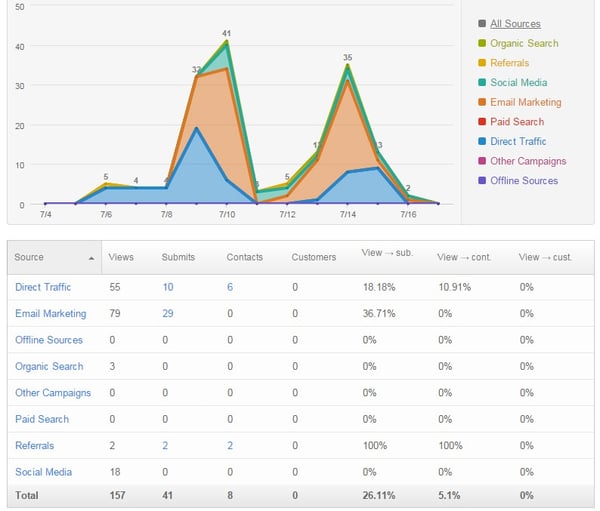 Look deeper into each source
So our question now focuses on ways in which we can improve the view rates from the email campaigns. As you see from the screen shot below, there is an almost equal divide between those who opened the emails on a desktop and those on a mobile device. However, when we look at the click through rates 91% came from desktop users and only 9% from mobile users. To improve our landing page view rates we need to achieve a more proportional balance between open and click through percentages.

This clearly shows that our emails are not effective for mobile users, so we are off to fix this and do a little split testing to get it right. TIP: Look behind the headline numbers
Check out the issue
From the social media activity we were engaging in for the webinar, I was expecting a larger number of people coming from this source. Both the number of page views and especially the submission rates were disappointing compared to the effort made. Looking at the details, we can see that LinkedIn outperformed Facebook by 3:1, so this will help us focus our efforts next time with Facebook messages changed and twitter posts too. However, we know from experience that some of the visitors recorded as "direct" actually came from the social media. We can prove this by matching the direct traffic times to marketing activity times. TIP: Cross check your results to your activities. Every tool has limitations.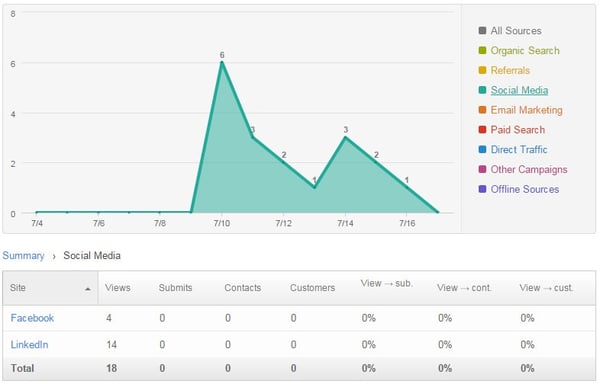 Don't give up on your ROI
Improving your digital marketing ROI takes time and determination but it is important to do so. Find the right channels for your prospects, improve your messages, test, improve, and keep on going.