EuroDentalDepot is the brainchild of VistaDental, where innovation is key to success. The company invents, patents, manufactures and distributes highly specific dental devices and equipment. For its home market, the United States, the company has built up a trusted network of distributors and has an established reputation for quality, built since its foundation in 1997. But for export markets, management were keen to fast-track its growth. Going online with great local websites coupled with a strong ecommerce platform provided the solution, and IBT Online was delighted to help from the outset.
Just as VistaDental is known for innovative products, their EuroDentalDepot strategy for generating export sales is also carefully thought-through and unique. As a first step, IBT Online built fully localized websites for 6 key European markets: France, Germany, Italy, Poland, Spain and the UK.
There are 3 key goals for the websites:
To grow the reputation and brand

of the company. Social media was therefore incorporated into the online strategy from the outset to leverage awareness and marketing.

To provide a platform to buy dental equipment. In other words, ecommerce, with all the necessary payment facilities, security and logistic abilities that go with online purchasing.
To nurture a community of users, practitioners and manufacturers that are involved in dental equipment and devices. Again, social media provides the tools.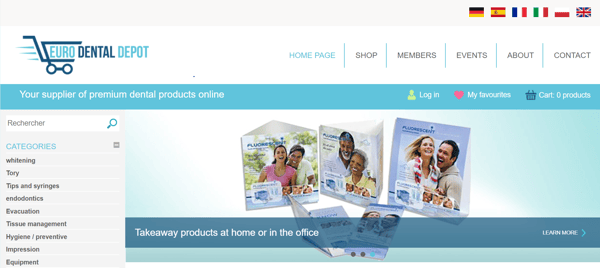 Using EuroDentalDepot, VistaDental is rolling out their strategy, starting with the UK. For VistaDental the UK seemed the easiest market to get started in as it benefits from a dynamic, trusted in-market partner. The UK agent could help writing content for social media campaigns and build the community as well as provide logistic and ecommerce support.
In other European markets like Germany, IBT Online provides the content and social media, although relying on technical support from the company.
Within just 3 months of the ecommerce websites in Europe going live, the model is already proving its success. The community is gathering momentum, establishing the base for nurturing the brand needed for sustainable long-term sales growth. Sales are being generated from the ecommerce platform across the target export markets while cross-border sales have even generated business from the Middle East.
IBT Online is delighted to be working with EuroDentalDepot and parent company VistaDental together with its in-market partners to help the company's ecommerce strategy work across its export markets.

Want to learn more about how IBT Online can help your company grow your sales, business and brand globally? Get in touch!