Finding and nurturing international distributors
Bulman Products is a 100-year old privately owned manufacturer that relies on a dense distributor network to sell its quality rolled paper cutters and dispensers. This means that getting the right distributor is key. But new distributors need to be constantly recruited to feed the group's international expansion and all of them need marketing support. This is not easy across multiple industries and markets.
Online is the answer
Traditionally, Bulman management spent a lot of effort helping existing distributors and finding new ones. This included participating in international trade missions, but it's tough work, returns are hard to measure and results can be mixed. The distributor network is especially complex because of Bulman's strong reputation and range of products which means the company serves a wide spectrum of industries – from schools and art suppliers to retail, industry and agri-food. These challenges – of how to find and nurture distributors as well as optimizing international trade events, were major preoccupations for management. They decided online tools could help.
Social media from the start
IBT Online started working for Bulman first in their established markets in Europe and a Bulman Products website was created. This was expanded to cover 7 countries, including the USA, Germany, UAE, Australia, China, Spain and Singapore.
Social media and other online tools are key to help promote and shape the global Bulman brand, and localized marketing campaigns were launched as soon as the websites were up and running. IBT Online's Google Adword campaigns have been particularly important for achieving success in complex markets such as the USA, UK, and Germany.
Another important factor was to integrate the new websites with a multi-currency ecommerce platform to help increase the flow of business from direct sales, providing purchasing access and shipping to Bulman clients in 34 different countries!
IBT Online ramped up the marketing campaigns ahead of international trade events for Bulman, using local social media channels and localized content. Clients, candidates, prospective distributors, can all be contacted locally to set up meetings and pre-screenings. This has proved a great way to help organize and optimize Bulman management time at international trade missions.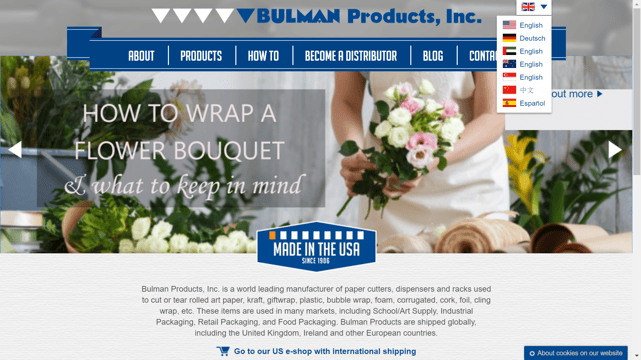 Attracting the best
Returns on investment are quantified and analysed monthly but positive feedback from the trade events is also confirmation that the localized websites and marketing are doing their job. New distributor candidates have proven easier to identify and are impressed how the localized websites demonstrate clear market knowledge as well as Bulman's long term commitment to international markets. This helps Bulman attract the best international distributors.
IBT Online is proud to be part of Bulman Products' global success. Ann Kirkwood-Hall, President of Bulman, named IBT as "one of the top 3 vendors I have ever had the pleasure of doing work with. They have a standard of professionalism that you don't often see and their project management skills are excellent. If you are looking for a partner to help you get online in Europe and help you sell more products there I think IBT Online is the one to go with".