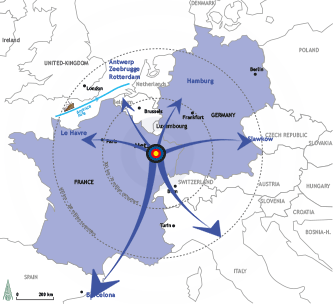 Moselle Developpement will be an exhibitor at this year's Hannover Messe 2014 industrial fair with two stands, one in Hall 17, Stand B53 and also Hall 13, Stand C30. The annual event will be taking place in Germany between 7-11 April, and there are typically 250,000 visitors each year.
This year's event will place a solid emphasis on Industrial Automation and IT, Industrial Subcontracting, Production Engineering Energy and Environmental Technologies, and Services and Research & Development. These are areas in which Moselle has a wide range of advantages and technological features for companies looking to establish themselves in Europe. They include:
... The attractiveness of the area: 350 foreign firms are already operating in Moselle, employing nearly 32,000 people
... A skilled workforce: The workforce in Moselle has expertise in industries involving technology, materials, and energy.
... A privileged geographical position: Part of France, Moselle is located at the heart of a vast European area, close to Germany, Belgium, and Luxemburg.
... An efficient communication network and technological tools: Make of the region a great area to accommodate data centres
To find out more visit http://hannovermesse.moselle-developpement.com/ and see what else Moselle has to offer.
Moselle Developpement was founded in 1951 and is an economic development body. Its organisation is built from a team of highly experienced and multi lingual executives, with team members and project managers based in Metz, Beijing, New Delhi and Tokyo. It provides essential assistance for startups and assists businesses in its applications for grants and search for investors both domestically within France and abroad. Moselle Developpement is a business primarily concerned with the international and economic promotion of Moselle which boasts a population of one million and sits firmly in a market of over 400million consumers. All of the organisation's services are both confidential and are completely free of charge.
Here at IBT Partners we believe that participation in an event as large and as renowned as Hannover Messe is essential for identifying likely prospects. We believe that businesses such as Moselle Developpement are provided with the invaluable opportunity to maximise their presence to their targets within the industry. They are ultimately able to expand and cement their reputation in a competitive market and attendance is vital in order to establish a dialogue between targets. Hannover Messe is known for being the number one portal for key decision makers to attend and it is an essential visit for companies in the industry who insist on remaining competitive. Its prestigious and leading position as the largest global industrial fair is endorsed and proven by its high number of exhibitors, of which there are typically over 4000 annually.
Going to Hanover Messe? IBT Partners encourages all visitors and exhibitors to expand their existing online presence and contribute to social media documentation of the event. To extract the most from events such as Hannover Messe 2014, it is vital to be proactive and reactive on social media to remain competitive and relevant, and to provide an online voice by tapping into popular technologies such as social media platforms. IBT Partners is working with Moselle Developpement to maximise their online presence and social media activity before and during the event. We believe that if businesses and organisations participate in conversations with their targets at these times, there will unlimited benefits in increasing online presence and crafting a unique business voice.
Let us know if you are attending and join in with our conversation. You can also follow us on Facebook and LinkedIn! Join the conversation @IBTPartners and use the hashtag #HM14 to keep up to date with the latest Hanover Messe news and developments. See you there?
You can find the Moselle Developpement team at Hall 17, Stand B53 and also Hall 13, Stand C30 or visit the website http://hannovermesse.moselle-developpement.com/