Enterprise Florida Online Global Program – Go Global with Website Localization
Management at Miami-based Avionics Support Group, Inc (ASG) were quick to take advantage of Enterprise Florida's Online Global Program. Hugo Fortes, ASG's Senior Vice-President, noted that they had been looking for some time for an online solution to build and support their global business so the Online Global Program was an obvious choice.
Results exceeded expectations: within weeks of going live, the new Chinese website was key to winning an important new contract while the South American website was already generating great new leads.
ASG's management believed their best returns from the Online Global Program would be with a Chinese website to help their in-market agents and a Spanish-language website to make sure they would be visible to potential clients and new sales agents in South America. Management are delighted with the results and are now looking to roll out localized websites in other key markets: Portuguese, French and Arabic. Hear ASG management tell their story:
Working closely with management
Building the websites, IBT Online (www.ibt.onl) worked closely with the ASG teams, involving the Chinese agents and Spanish-speaking in-house technical teams to ensure the new websites would provide the best possible communications platform. This was especially necessary as ASG manufacture and service high tech specialized equipment for aircraft, requiring strong product support for the sales teams.
Tangible results
The return on investment was rapid - both in China and South America. ASG's Chinese sales agents were delighted and used the websites and Chinese content to email China airline companies and associated businesses. The proactive approach paid off as they signed a contract with China's largest civilian-run airline company, Hainan Airlines, within a month of the website going live. For the Chinese sales reps, the localized website is the best sales tool they have.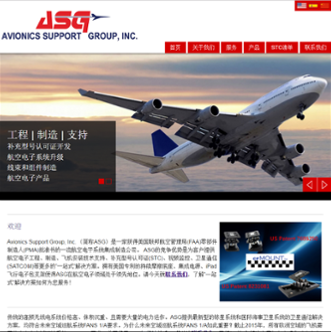 Optimizing trade shows and generating leads
In South America, ASG need to ensure that local airlines are aware of the company and their product range. In addition, ASG needs the online visibility to attract the best agents. An upcoming trade show is a great opportunity to meet potential airline clients as well as prospective sales reps and the new localized Spanish website provides the ideal platform to showcase the range and sophistication of ASG's products and celebrate their successes. ASG used their South American Spanish-language website to get great meetings with local airlines and prospective sales reps at the trade show.
IBT Online is now working on the main US website, updating and upgrading the user experience. John Worthington, CEO of IBT Online, said "We are absolutely delighted that ASG has seen such great results from their localized websites in China and South America and we are really looking forward to working with them to grow their online global website presence in all their key global markets."
For more information on Avionics Support Group, Inc check out: http://asginc.net/