The Florida Online Global (FOG) program has delivered for Avionics Support Group year on year export sales, business and brand growth. In 2017, ASG benefited from their first 2 online global websites in China and Mexico. Returns were rapid, proving a huge export success and ASG followed up with websites for Japan, Brazil, the UAE and Russia. Exports have grown by almost $5 million over this time frame.
How did this mid-sized Florida company do so well globally? With great management, great products, a great sales team and great international websites. ASG took advantage of the Florida Online Global Program to get international localized websites, allowing them to get found, be understood and do business globally. The Florida Online Global program: online tools to help Florida exporters grow their business, their sales and their brands globally. Let's follow ASG's journey to see how it's done…
ASG is headquartered in Florida but operates in global markets. Management knows it needs to grow the brand internationally and in today's world that means having an online presence. The Florida Online Global program is designed for just that. ASG has taken advantage of FOG to build an online presence in 6 international markets, covering their top prospective export destinations. But brand consistency is vital, so management asked IBT Online to re-examine the group's core domestic website. The goal is to make sure the online presence reflected the group's brand, core competences and values across all markets. IBT Online is proud to have delivered a new ASG domestic website in harmony with its international presence.
THE GREAT new WEBSITE: EASY AND CONSISTENT with good user experience and branding
THE OLD WEBSITE: DATED and not responsive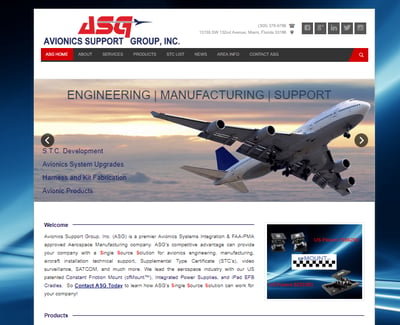 While brand consistency runs throughout all the websites, each country website is specific. Optimizing websites for the local search engines (SEO) is at the core of all good localized websites. While Yahoo is a strong contender in Japan, Google commands over 90% share in Mexico. So, IBT Online has now built 6 export websites for ASG, each website is specific to the country, optimized for the local market and search engine, providing a unique, customized online business development tool.
There are challenges to ensuring website consistency across international boundaries, from obvious aspects like different script formats, to technical and online issues like data compliance regulations (GDPR across Europe) and Firewalls of China. IBT Online has experience in these market-specifics and the Online Global program for Florida exporters offers this expertise to Florida exporters. Just take a look at ASG's Japanese, Mexican, Brazilian, Chinese, UAE and Russian websites to see how consistent branding can look in different formats: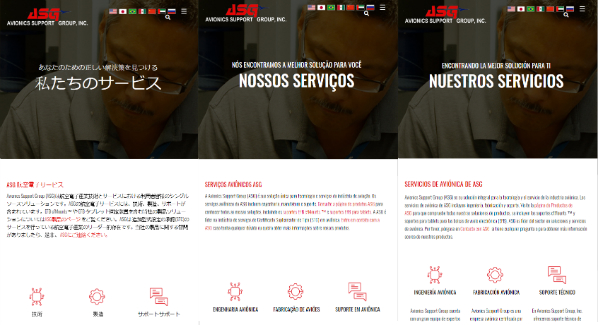 https://asginc.jp/ https://asginc.com.br/ https://asginc.mx/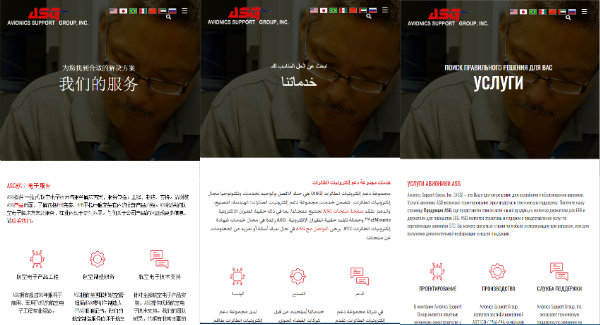 https://asginc.cn/ https://asginc.ae/ https://asginc.ru/
ASG management wanted to offer their in-market partners the best possible sales tool available today: a great localized website that can be found, understood and engaged with by local prospective buyers. At the same time, ASG management wanted to make sure their brand developed consistently across all markets. Taking that holistic approach to brand management means ASG is set up for longer term success internationally. The rewards of the FOG program for ASG is measured by the growth in export sales generated over the last 2 years. The FOG program works for any mid-sized Florida exporter concerned with nurturing their brand internationally and growing their sales, business and brand globally.
IBT Online is proud to be associated with ASG's growing international success. Samantha Soffici, Online Business Development Manager at IBT Online says: "It's great to see the export markets responding so well to the new websites. ASG operate in a global business so the global online presence is really important for the buyer experience." Check out what ASG management has to say: